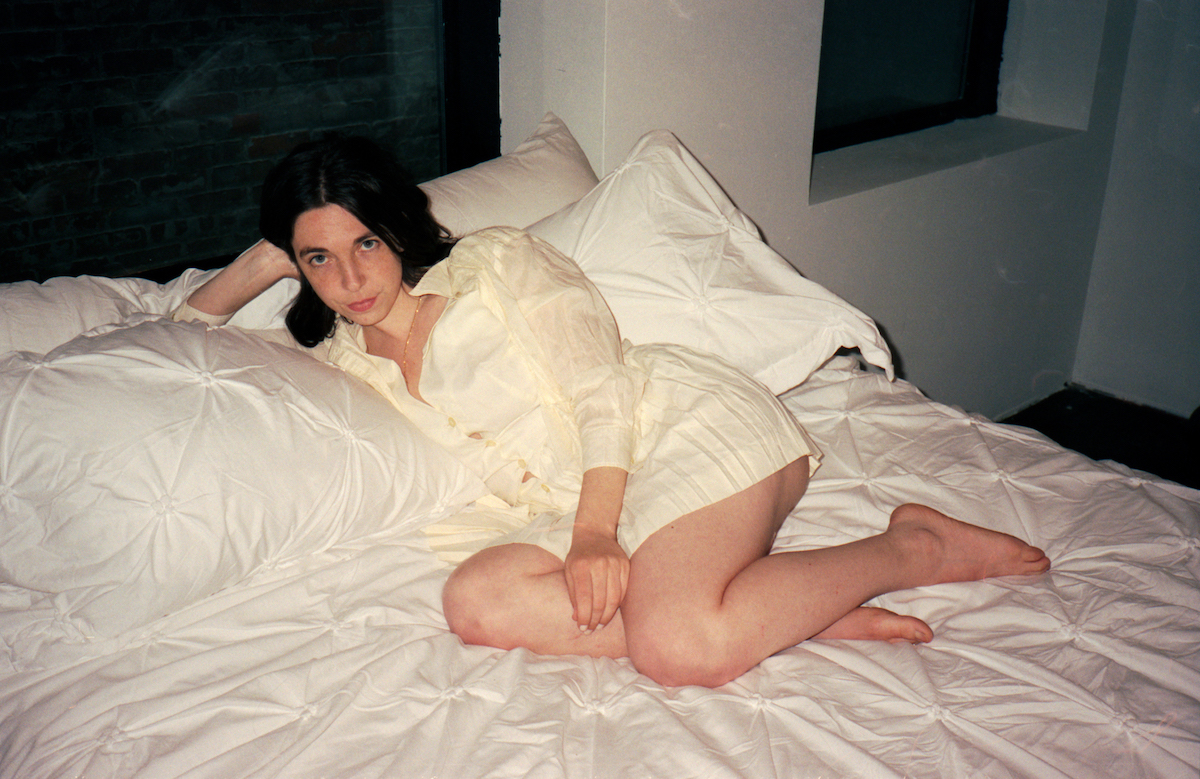 "Qu'est ce que l'art? Prostitution." Perhaps put most succinctly by Charles Baudelaire in 1887, the rhetorical evocation of "the oldest profession in the world" is arguably the oldest metaphor for the contemporary art industry; artists and critics have long used the figure of the sex worker as a ready-made allegory to express a wide variety of critiques: a comparison of the formalist fetishization of the art object and the pornographic commodification of women's bodies; the derogatory dismissal of the "art whore" as one who compromises their values according to the whims of the market; and, as modeled in Marina Abramović's Role Exchange (1975), the performative equivalency of the positions of artist and prostitute as indicative of anxiety about the value and commodification of creative expression.
In her inaugural solo exhibition, "Untitled (Incall)," at Recess Gallery in Brooklyn, Sophia Giovannitti attacks this kind of figurative comparison, calling for an abandonment of metaphor in favor of material analysis and a total collapse of the separation between the art and sex industries. The show's title is a formal reference to the Andrea Fraser piece Untitled (2003), in which Fraser filmed herself having sex with an art collector to complete a contractual agreement for an art acquisition; the collector then purchased the resulting sex tape, reportedly for $20,000. Following a barrage of dismissive criticism, Fraser took pains to distinguish her piece from sex work; in a 2016 interview with The Brooklyn Rail, she insisted that the piece was "not really about prostitution;" rather, it was an institutional critique of the extractive, fantasy-based relationship between artists and collectors, "about what it means to be an artist and sell your work—sell what may be, what should be, a very intimate part of yourself."
For Giovannitti, who transformed the gallery into an erotic reading room and incall space (narc translation: a place where sex workers meet with clients), inviting potential collectors to solicit her for the price of $20,000, the metaphorical offerings of Abramović and Fraser are "just not interesting." What is interesting, she tells me as we perch under the space's fluorescent lights atop a bed strewn with dried roses, is money. Specifically, the "actual, circular flow of capital," which betrays the material overlap between the art and sex economies. Giovannitti follows the logic of Annie Sprinkle, who famously stated that the sex industry funds more artists than the National Endowment of the Arts. Giovannitti points out that the purchase of erotic labor from precarious, emerging artists funds much of the individual cultural production in New York City today. By placing herself in Fraser's role, but directing attention to the material rather than the metaphor, Giovannitti invites a critique of her own position; as was also true for Fraser, class, race, gender and education are what allow her the institutional access to lucratively and self-protectively identify as an artist rather than a sex worker, and to frame her work as a creative provocation rather than a punishable crime.
Part of what drives the comparison between artists and sex workers, Giovannitti explains, is that each occupies a similar position under capitalism. Both sex and art are rampantly commodified, yet we are told they shouldn't be, that sexuality and human expression should be kept sacred and protected from the tainting, consuming jaws of the market. Both sex and art are sold in hypercapitalist spheres that exist on the outskirts of the formal economy, and the illicit/anxious nature around this exchange makes it possible—for some—to profit handsomely from either. For Giovannitti, liberation—and the end of the illusion of scarcity that creates wealth disparity for sex and art workers—can only come from acknowledging that sex, like art, is "always already commodified," and from a materialist perspective, there is no way out but through. In an email, Giovannitti tells me that "I think that only in fully embracing this reality, and abandoning all pretense that either area is somehow inherently outside of capital's reach, can we begin to find areas that do feel wholly free, and wholly ours."
At Recess, there are photographs of Sophia in a state of post-fellatial coitus, modeled after one of Cicciolina's poses in Jeff Koons's infamous Made in Heaven series. ("I think some of the most beautiful art is pornographic images of people in love," Sophia tells me, "and I think the Koons and Cicciolina photos are beautiful—I just think he then treated her like shit.") On June 12, the gallery will host a screening of a new short film, In Heaven: An Alternate Reality Game, directed by Giovannitti and co-starring and produced by the artist Tourmaline, a cherubic hurt/comfort fantasy that will function both as a stand-alone artwork and as an advertisement for an escort service. The design of this show is seemingly prefigurative of a larger vision Giovannitti puts forth in her artist statement:
I want to put on a Guggenheim show that is a glorified brothel throughout the spiraled gallery, staffed by friends who are in need of new clients, who otherwise wouldn't have the same access to gentrified art spaces— and the wealth implicit within them—that I would. I want Andrea Fraser to admit she made Untitled just because she needed the money. When the Eros Guide advertising platform finally shutters, I want Artforum to give ad space to whores, heralding the return of previously shut down professional Adult classifieds under the guise of studio visits and one-woman shows. I want the art collector who buys oral sex to consider it a commodity that appreciates in value—if he sells its memory to the next collector for $10,000, up from $500, then the artist herself can now charge $10,000, up from $500. I want everyone to see that really, it's blow jobs—if you will—all the way down.
If anyone cares to mount a critique of Giovannitti's vision of criminal utopia, or defend the sanctity of the art world from a proposed total union between the industries of sex and art, speak now. More provocations from Giovannitti are imminent; her first book, Working Girl: Art and Sex Under Capitalism, is forthcoming from Verso in 2023.
Craving more culture? Sign up to receive the Cultured newsletter, a biweekly guide to what's new and what's next in art, architecture, design and more.