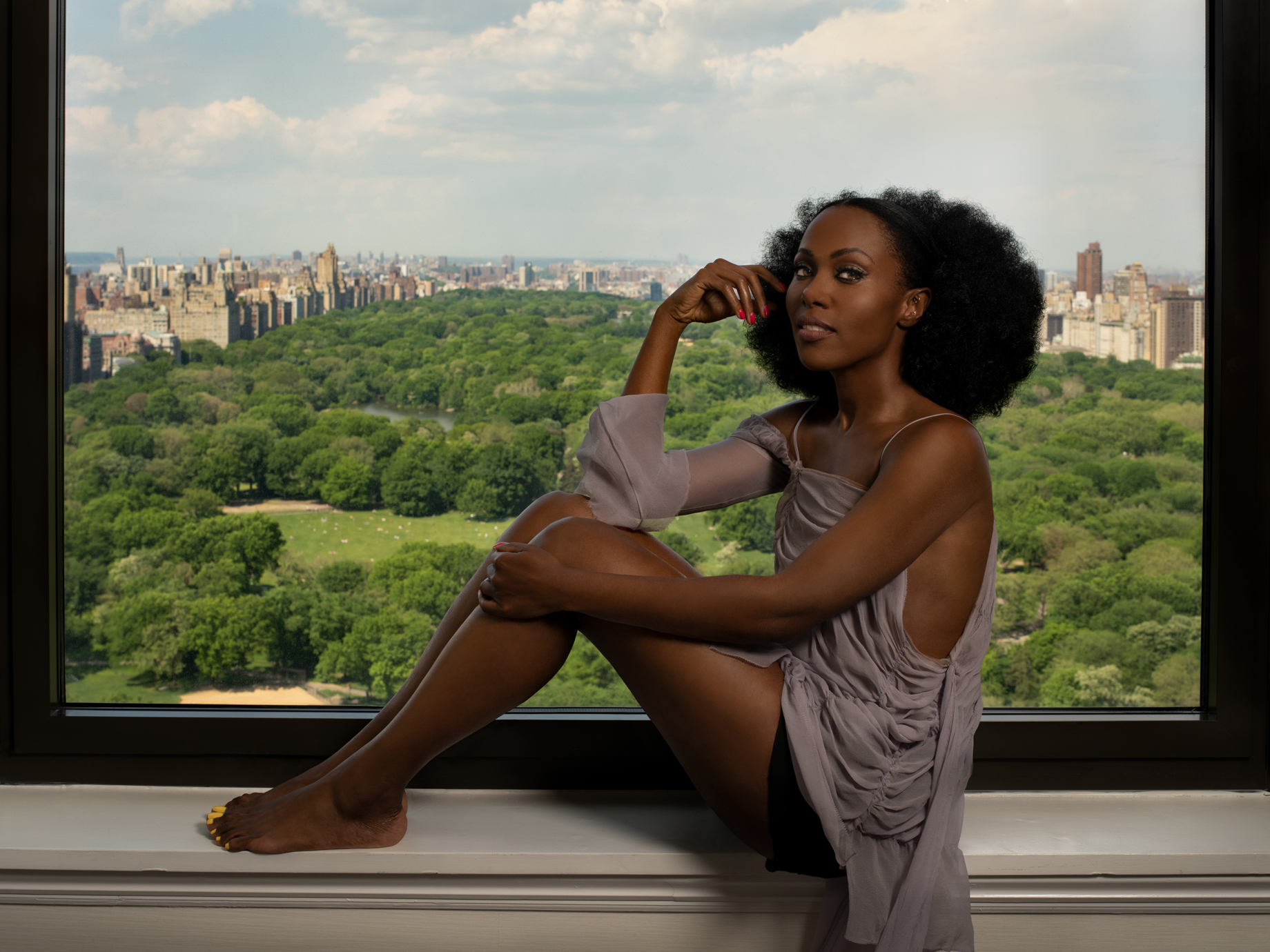 When actor DeWanda Wise reads a script, she considers weeping a good response. For her latest film Fatherhood, out today on Netflix, that was certainly the case, she admits. Based on the 2011 memoir Two Kisses for Maddy, the movie follows a touching story of a widowed father and his daughter navigating parenting, grief and family. Wise costars as Swan, the cool-girl love interest of newly single father Matt, played by Kevin Hart. But her character is also so much more than that. She's witty, playful and perfectly satisfied being alone—she's whole.
That truly resonated with Wise, a talent known for her roles as lead women of conviction. Recently, she starred in Spike Lee's 2017 to 2019 television series She's Gotta Have It and Jennifer Kaytin Robinson's 2019 film Someone Great, and will make her dinosaur debut next year in Jurassic World: Dominion. Unlike many films about love, the female characters in Paul Weitz's Fatherhood are fully developed. "It is really refreshing," she says of the screenplay by Weitz and Dana Stevens. "I read it in the spring of 2019 when I had already been on this personal trajectory where I was in a real joy practice—beyond just wanting to be happy, but really learning about a scientific exploration of joy and what actually builds a more consistent sensation of dopamine. To see someone like Swan on screen is radical and impactful; it's huge."
This past year and a half, so many more of us have come face-to-face with the indelible emotion that is grief, and certainly death is one of its most tangible causes. But, as Wise points out, we also often grieve change generally, despite eventual positive effects: growth, maturity or evolution into wiser versions of ourselves. There is relief found in the collective, and beautiful moments of togetherness as well. When Hart's Matt feels low, an incredible cast of Black women (relatives played by Deborah Ayorinde, Alfre Woodard and child star-to-watch Melody Hurd) raise him up. It's a feeling that Wise has had her whole life, even in the entertainment industry.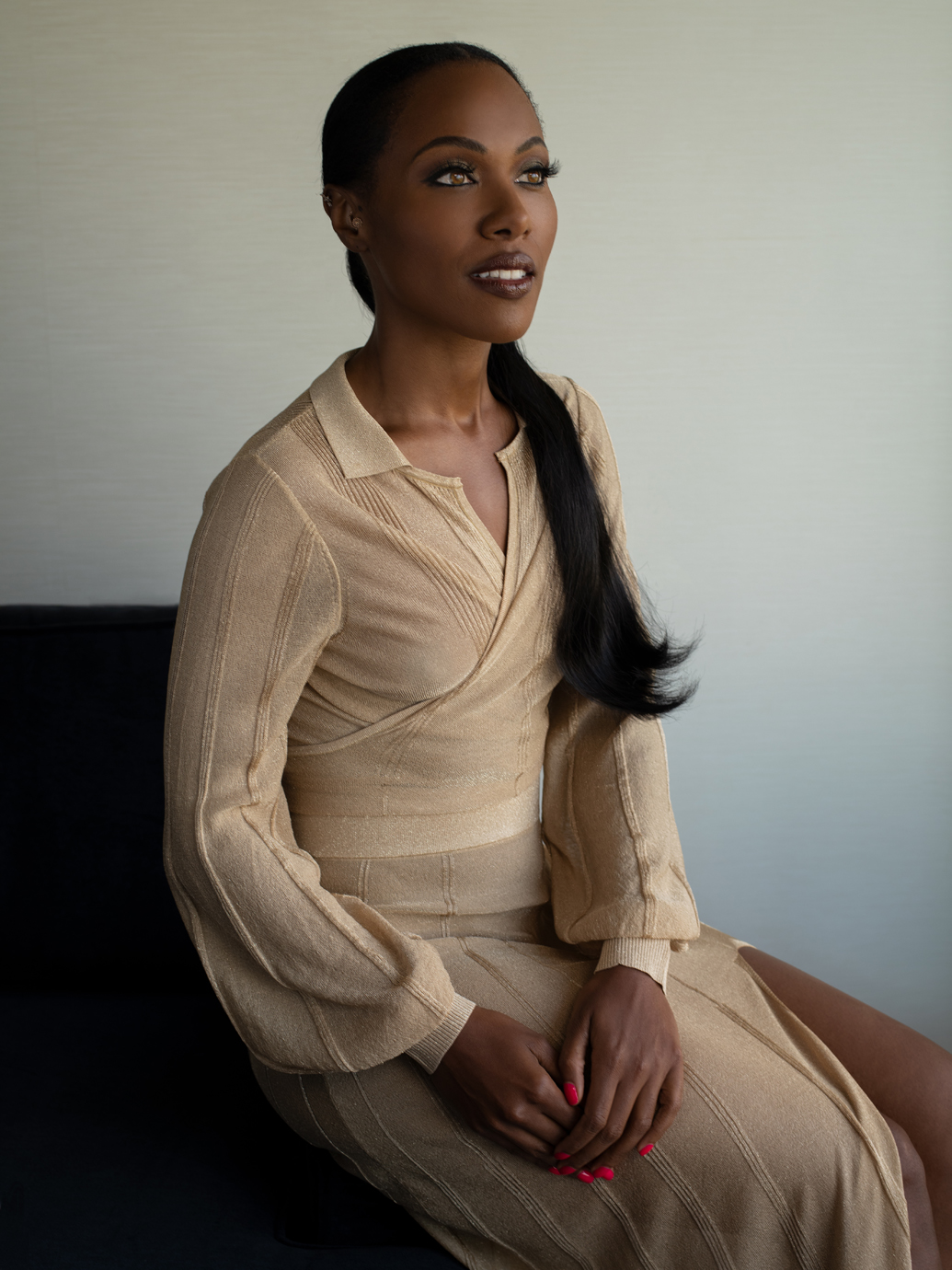 "It just feels true," says the Maryland-born talent, laughing. "My father is one of eight: he has one brother and six sisters. Every time I go home, they lift me up. It's the most affirming, supportive, honest and active love. I feel that way in Hollywood with a lot of my peers as well. I love them; I root for them; I love to see them thrive. We check in; we compare notes. It's a really strong, full and beautiful community."
She acknowledges, however, that her experiences are often atypical for actors of color. She reveals that even discussing auditions with her own husband, fellow actor Alano Miller, "It's night and day." Though the racial reckoning initiated across the United States by the murder of George Floyd, a tragedy now more than a year past, has seen promises of change from industry leaders, Wise desires true diversity: a seat at the table, a true sense of collaboration and the ability to help creatively construct a new, equitable vision of Hollywood.
Even Fatherhood, she says, with its cast of "four chocolate leading ladies" feels like "a small miracle, especially because it's not a movie where the drama is surrounding their Blackness." Those are the stories that Wise wants to tell: deliberate and intentional, complex and truthful. As she sums: "It feels like a world that I know."
Craving more culture? Sign up to receive the Cultured newsletter, a biweekly guide to what's new and what's next in art, architecture, design and more.