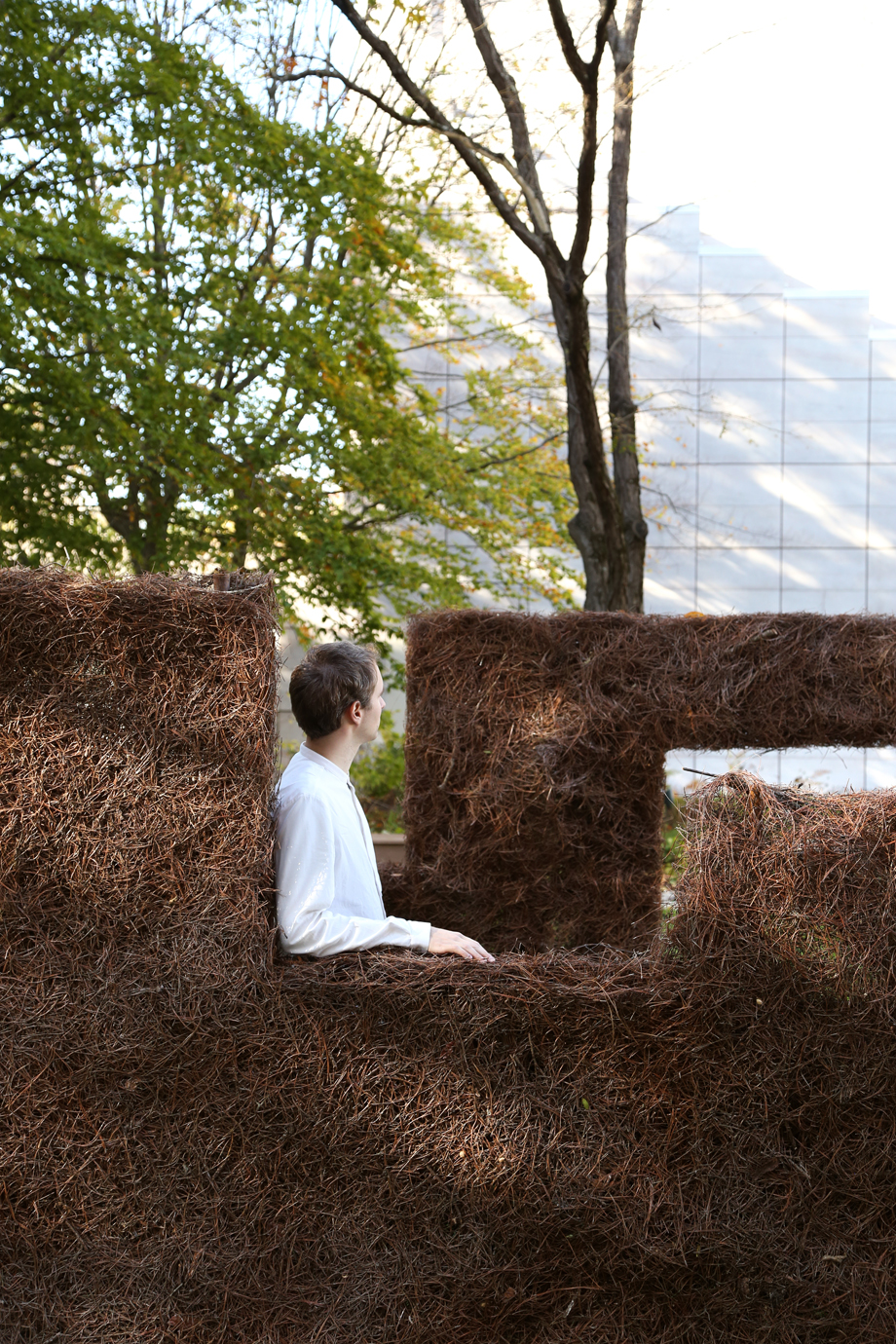 At the Knoxville Museum of Art this past fall, a tangle of plant fibers formed the walls of an open-air structure. To Katie MacDonald and Kyle Schumann, this is the future of architecture. The design duo heads After Architecture, a Charlottesville, Virginia-based practice dedicated to explorations of alternative building materials, grown or harvested. Homegrown, as the installation was called, put their latest bio-experiment on display.
Domestic in size, the project is a critique of the standard practice of wood-beam construction and the deforestation and material waste caused by cutting trees into dimensional lumber planks. MacDonald and Schumann instead suggest that we turn to forestry waste and the natural materials ecologists don't want to self-renew: invasive species such as bamboo and kudzu, whose resiliency and prolific regrowth make them eco-friendly and structurally sound building materials. "We're interested in exploring new ways that biological materials can be used and implemented aesthetically that will cause people to question their preconceptions," sums up Schumann, who met MacDonald when they were attending Cornell University's professional architecture program. With similar design interests that combine technology and nature, the two decided they wanted to begin a firm together before they had even matriculated.
"By doing scholarly research to prove the structural integrity of these systems, we can then bring them back into more traditional modes of practice, be they buildings or public art," MacDonald explains. Parallels can be found in mass timber, a once-experimental material that has since entered the mainstream. In addition to the plant fiber panels, the duo—both professors at the University of Virginia and recent fellows at the University of Tennessee, Knoxville—is exploring chairs grown of barley and composite bamboo panels, the latter currently being tested by researchers at Virginia Tech. Though biologic materials left untreated in the elements may not last as long as their traditional counterparts like metal, concrete or glass, "we're critical of the value that has been placed on infinite longevity of materials because as tastes or needs change, we are left with artifacts in our environment that can't degrade," she explains. Ecologically friendly and variable, these natural materials are a step toward a sustainable future with much less permanent waste.