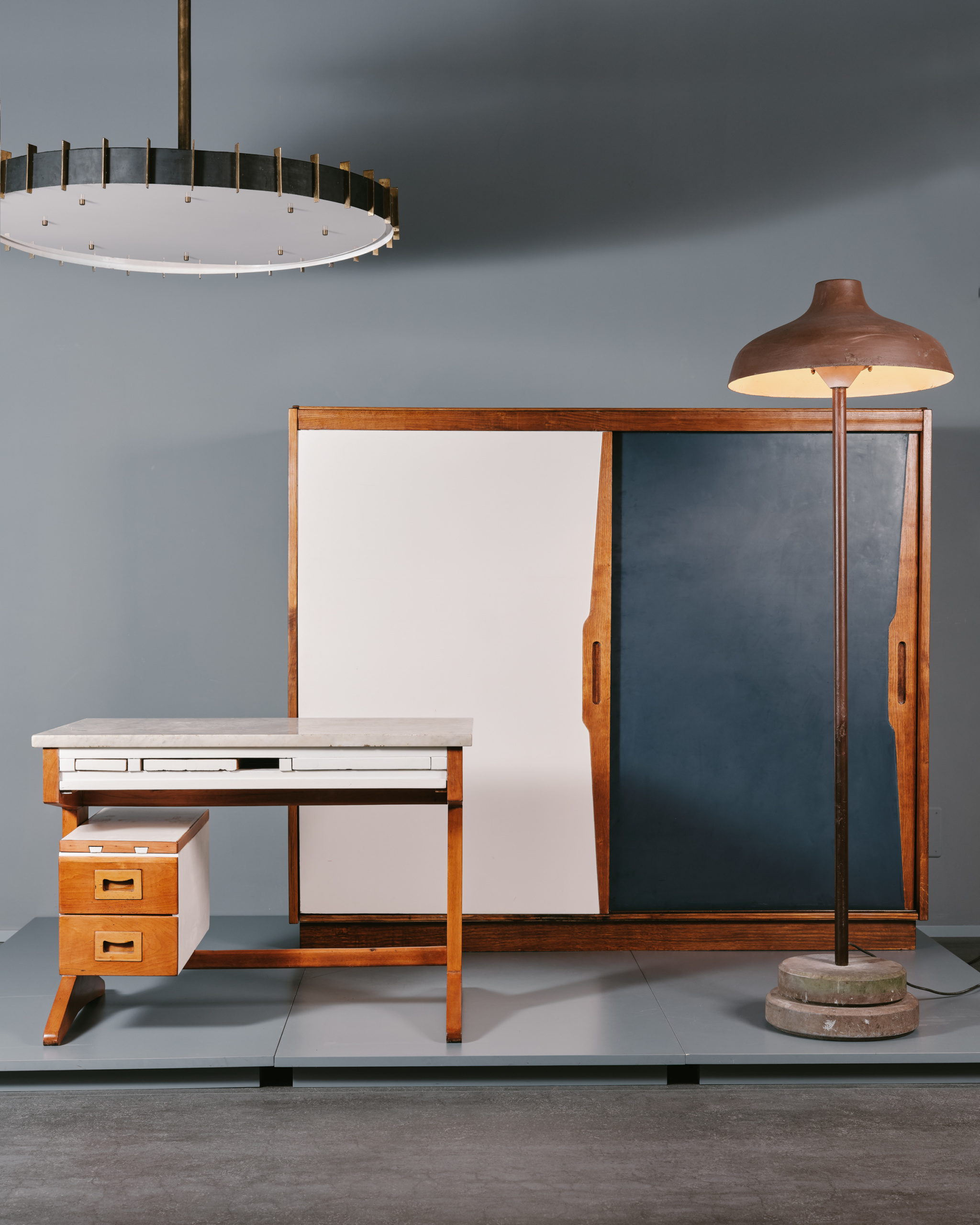 Collecting design requires more than a great eye; it requires a trained eye, one that can discern not just the value and pleasing aesthetic of an object but its sentiment, its provenance and its revolutionary place in the canon. Since 2011, design historian Dr. Daniella Ohad has organized and hosted Collecting Design, a biannual education program in partnership with the New York Chapter of the American Institute of Architects, that gives architects, interior designers, collectors, and design aficionados the chance to develop their own tastes for objet d'art, furniture and more with guidance from some of the world's top design experts. This year, for the first time, Collecting Design is moving online and will be presented as a series of virtual study programs by global collectible design legends, from three-generation Italian midcentury design dealer Rossella Colombari to American contemporary clay authority Jason Jacques.
While some collect for beauty, some for a passion for the historical and others still for objects in which they find their own selves expressed, collectors of all types contribute not only to some of the most beautiful 21st-century interiors but also to a greater responsibility to preserve, appreciate and study history of our decorative arts. The newest generation of collectors are interested, too, in the sustainability of preserving the old and the beautiful in favor of something new, a mindset that our planet needs desperately. Beginning on October 6 and running weekly until December 16, this fall's Collecting Design: The Legends will give unprecedented access to experts including the aforementioned, as well as, Marc Benda, Michael Boyd, Ulrich Fiedler, Evan Snyderman, David Gill, Paul Jacksons, Ben Brown and Libby Sellers, who will lead a virtual audience in discovery, education and critical analysis of collectible design from a variety of time periods and origins. Ahead of the accredited program, we spoke with five of those dealers and collectors about the enduring interest in their design eras of specialty and how the marketplace moves, or doesn't move, their spirits.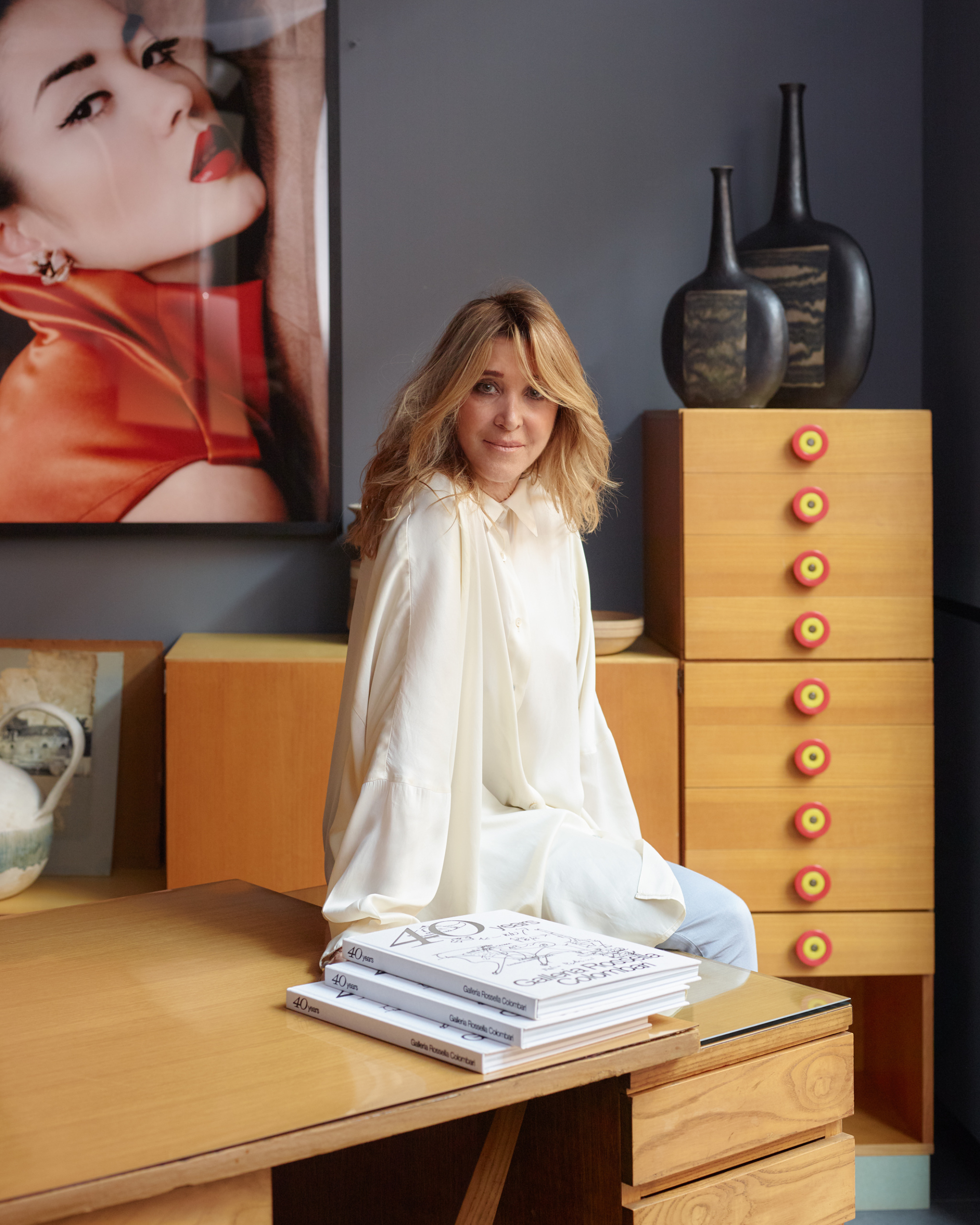 Rossella Colombari
Rossella Colombari heads her eponymous Milan design gallery, Galleria Rossella Colombari, which specializes in historic Italian design. The influential dealer is well-known for her efforts in uncovering the works of Carlo Mollino, an architect and designer who helped shape the legacy of midcentury Italian furniture and design objects. Her Collecting Design: The Legends program, "Midcentury Italian Design," is on October 6.
Cultured Magazine: Having come from a family of antique dealers, how did you develop your interest in midcentury Italian furniture and why does it continue to fascinate you?
Rossella Colombari: It is curious that each member of my family has concentrated on a different time period. Each one of us chose a different period. My grandfather started dealing with the Renaissance, the 14th and 15th centuries, while my father followed with the 18th and 19th centuries and French pieces. The 20th century, on the other hand, was meant for me, mostly due to the fact that I grew up in Turin in the 1960s and 1970s, the most active city in the contemporary art scene of the time thanks to the Arte Povera movement. At the time there was a frenzy of innovation, and I started buying objects that I would have liked to have created myself. Today, I continue my research in the 20th century with the same spirit of an antiques dealer.
CM: How have you seen tastes for midcentury Italian design change over the last five years?
RC: I believe that trends have a cyclical pattern. Each century leaves the traces of its moment of glory. Antiques stopped being the protagonist for collectors 20 years ago, but in reality, they never left us. They were simply reinterpreted, and the separation of concepts was highlighted: decorative objects intended for everyday use and the "work of art." This is also happening in 20th-century design: on one hand there are decorative objects linked to trends and on the other the so-called masterpieces, furniture pieces which are immortal works of art.
CM: Who are the top designers that collectors are after and why?
RC: After the Second World War, Italy experienced a period of pure innovation and creativity: Gio Ponti, Carlo Mollino, Franco Albini, Ico Parisi, BBPR, Ettore Sottsass and Joe Colombo are just some of the names of architects who have written the history of architecture and of Italian design. It was a creative period of great importance, as valid as the Bauhaus movement.
CM: What is unique about Italian designs from the midcentury? What makes them Italian in spirit as well?
RC: The difference between Italy and other countries in the midcentury is due to the Italian manufacturers of the time. I do not mean that the United States, for example, did not have a creative post-war period, because in fact it was equally developed and fascinating, but it was extremely tied to serial production, for example with the pieces by Charles and Ray Eames for Herman Miller.
The difference is that Italian entrepreneurs of the time really allowed for experimentation, thanks to the eccentric entrepreneurs and collectors who served as patrons and supported the inspiration of the architects who were often given "carte blanche" on projects. A perfect example of such an entrepreneur was Adriano Olivetti. Also indicative are the building plans by Marco Zanuso and Ignazio Gardella in Liguria, as well as Gio Ponti's Cathedral in Taranto. There was a great desire to reinvent and innovate Italy. What makes Italian midcentury design unique is precisely this spirit of creativity applied to research and design.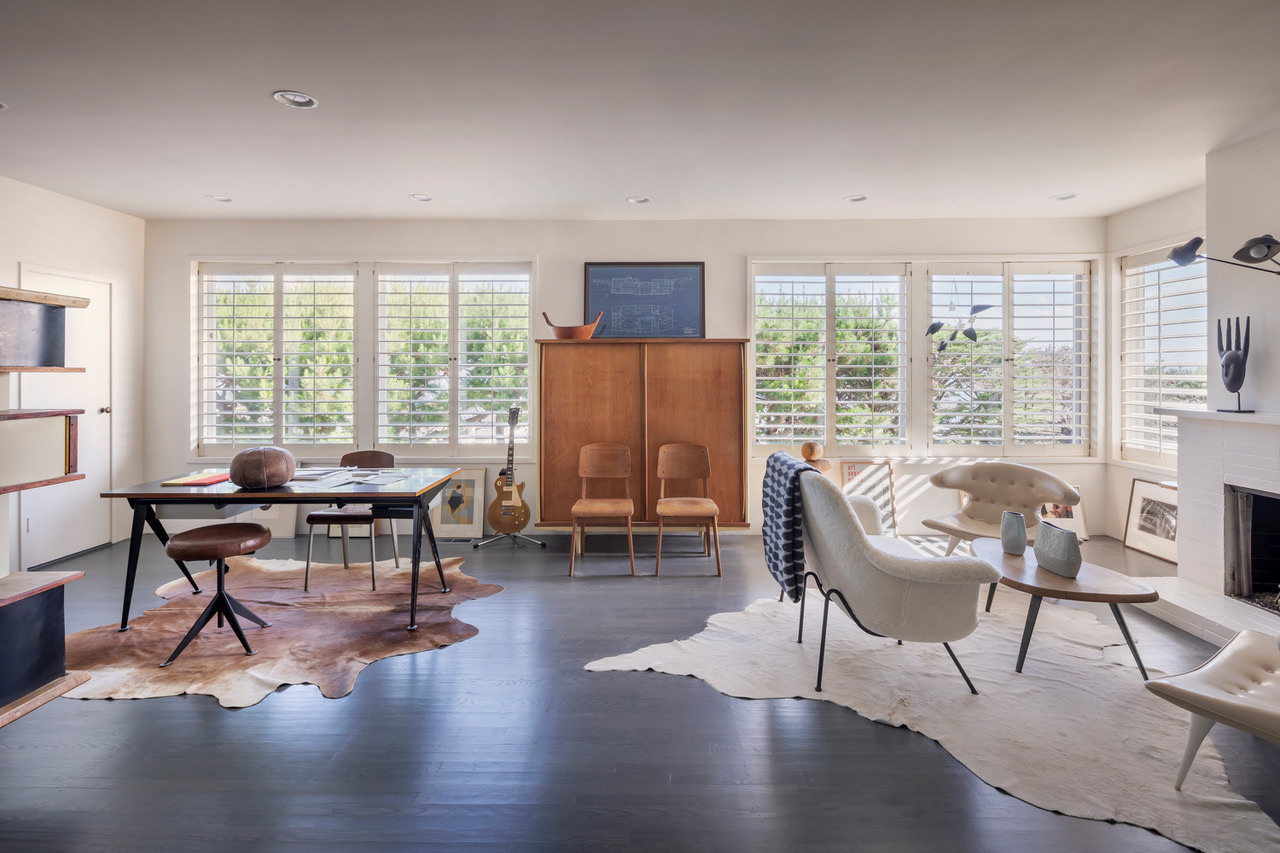 Michael Boyd
Michael Boyd is a Southern California-based furniture, landscape, interior, and architectural designer, whose design and restoration work has been featured in books and magazines internationally. Boyd has created PLANEfurniture, which has been accessioned into the permanent collections of SFMOMA, Palm Springs Museum of Art, and the UCSB Gebhard Architecture + Design Collection. Boyd has restored historical architecture by many of the modernist masters: Oscar Niemeyer, Paul Rudolph. Richard Neutra, Craig Ellwood, John Lautner, R.M. Schindler, William Wurster, and A. Quincy Jones, among others. He regularly advises museums and institutions on modern architecture and design. His Collecting Design: The Legends program, "Eye of the Design Connoisseur," is on October 20.
CM: How do you collect for the eternal and not the ephemeral?
Michael Boyd: I have always been really skeptical about hype, whether it hurts or helps the majority of the time. It can be like the movie you heard too much about before you saw it. Turns out that market-driven or critical build-up around a design or idea can really cloud the issue. I'm on the hunt for universality and timelessness in design. "The harder they come the harder they fall…" mostly, to me. The marketplace is reality so always good to be in sync, however that is not the engine driving the fascination. The market is what it is. Like a horse race or a card game, sometimes it goes your way, sometimes it goes the other way. Designs that look really dated or arbitrary later seem like objects empty of soul. When the hype dies down you are left with a (hopefully) simple idea, a (hopefully) pure form. I guess I have a classicist's approach towards the avant-garde. In other words I search for authenticity, radical design quotient, materiality, function, etc. Only when everything else is stripped away, can you truly evaluate a design object—free of background noise and trend-chatter. Design objects almost become canonized as eternal when there are interesting answers or solutions to the questions: "This is amazing. We all agree. Why is that? What is it doing?" The Prouvé Chaise Standard or a Hans Wegner Cowhorn chair are eternal. Nothing but the concept is visible, nothing extra, nothing missing, engineering made sexy, beauty, logic, artistry—all in perfect balance.
CM: What, if any, preference changes have you seen in recent collecting?
MB: The best and rarest pieces will always be just that. The push and pull between architecture-centric and decorative-dominated marketplaces has given way to an appealing reduction or blend (I hesitate to say compromise). For example, a Lalanne sheep now looks architectural and right at home next to a Gerrit Rietveld chair, which could easily be acting more like an abstract sculpture in an interior. Decoration is no longer the sin that purists proclaimed but it is now very stringently judged for timeless merit, which in the end is anybody's guess and just speculation. Specifically, the micro-markets of Brazilian Modernist design or Japanese midcentury modern go up and down. The work of the ebonsistes and French Art Deco masters have recently declined, sadly, and newer work can be as desirable as vintage/museum quality. As long as there is not "built-in collectibility engineered into the (newer) thing" it can be fine. Everything goes full-circle and comes back around. My question is: Or does it?
CM: How did you begin to build your own collection?
MB: I started at flea markets and secondhand shops and graduated to auction houses and galleries. I read as much as I could about the history of modern design and tried to gauge where things of interest might turn up. I was drawn to some proto-modernist design (as early as the 1851 Crystal Palace), Christopher Dresser and cohorts, then my interest rises as the 20th century unfolds, but then my golden zone comes into view: post-World War II—my years of special interest in movies, fashion, car design, architecture, etc. is 1946-66. By 1968 I fall off a cliff and lose my way with postmodern design trends. I never felt moved or amused by the inside jokes, quotations and put-ons. Whenever we travelled we went to museums and galleries and book stores and we educated ourselves about the context of "now"—what came before? What is redundant? What is groundbreaking? Why? Going to Holland and France and Italy afforded different collecting possibilities than Los Angeles or New York (where I used to follow Andy Warhol around the 26th St. Flea Market religiously—What did he just buy and put in his satchel? What did he pick up and put down? Answer: hardly anything.)
CM: What pieces inspired you to continue?
MB: Heaven is in the details. When I first started seeing how Eames chairs made the connection(s) in different materials, jumping from metal-to-rubber-to-wood or how Jean Prouvé bent sheet-steel pieces were made, it was enthralling; I was hooked. Today I still am on the same hunt for deep quality, "atmosphere" in the way Peter Zumthor uses the word about architecture. From a bowl to a building, a chair to a letter opener, integrity in design seems to be identical, even when the scale is very different.
CM: What designers are inspiring you right now?
MB: Same cast of characters—Gerrit Rietveld, Jean Prouvé, Gio Ponti, Charlotte Perriand, Pierre Jeanneret, Charles and Ray Eames, Isamu Noguchi, Alexander Girard, Hans Wegner, Sori Yanagi, Oscar Niemeyer, and, of course, we are always trying to suss out any stellar design—authorship is secondary. A magical and transformative object speaks for itself and can be the work of an unknown or anonymous designer. Form is form.
CM: Does the marketplace help your discovery process? Why or why not?
MB: The market is the market, nothing more, nothing less, meaning that you try to be aware of the reality of market prices and auction results—Are they looking up or down or are they already going up or down? Are you ahead of the market? (That can happen.) Behind the market? (Sorry to say, that can happen too.) Are the pieces you are chasing blue chip? It's fine to have emotional acquisitions but with limited physical space (and in the interest of clarity of narrative), it's best to stay with the best of the best. There is always, I would say, an overlap between my interests and the marketplace. It's just like the movies or anything else. Some things that are popular, according to you, should not be, and sometimes things that are unpopular should not be. The point is the only thing we know about the market is that you cannot fight the market. The treasure hunt is exciting but even more exhilarating is the knowledge and experience gained in living in and around these pieces. I work for the resurrection of lost modernist design—a journey towards, but never achieving, perfection.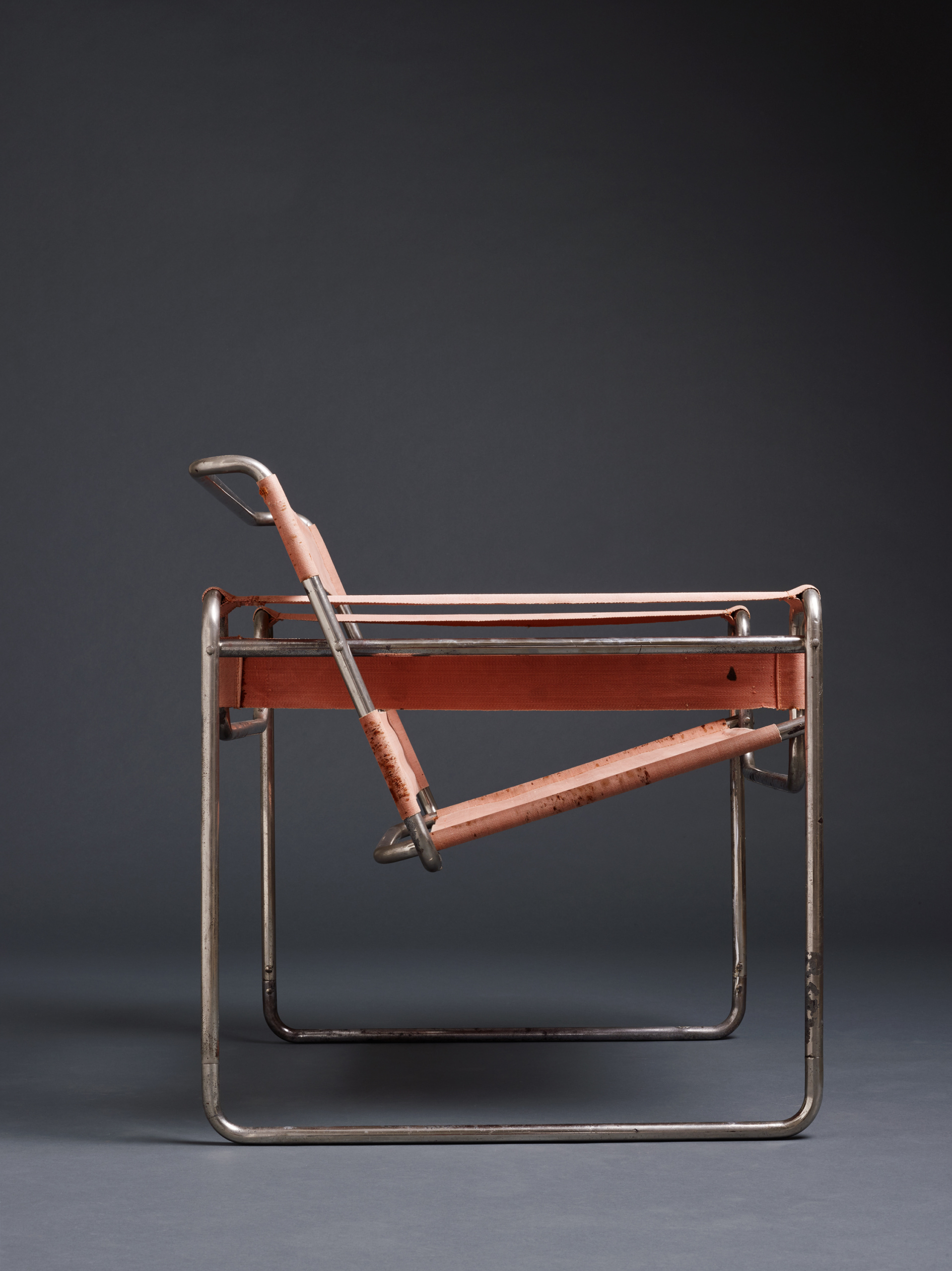 Ulrich Fiedler
Gallerist Ulrich Fiedler heads his eponymous Berlin-based gallery, Galerie Ulrich Fiedler, which specializes in modern German designs and their relatives, from Josef Hoffmann to Marcel Breuer. His Collecting Design: The Legends program, "German Modernism and the Bauhaus," is on October 27.
CM: How did the short-lived Bauhaus movement make such a lasting impact in the history of design?
Ulrich Fiedler: I think it was something like a revolution which happened after the first world war. What Gropius did there, he took the chance where everything was down to found this school with so many different people from different movements. So Bauhaus is not one movement, you never can say it was a one style. He brought together international people; he brought together people from totally different movements in the arts and architecture and I think he generated a kind of explosion in Weimar with this because people got together, they had a lot of discussions and disputes, some left, others came. On the other hand, a sad fact is that the closure due to the Nazi regime meant that all these people who were educated at the Bauhaus spread all over the world. They went to the States, India, China, Japan because they came from everywhere and then they went back there because of Nazism. This sad fact was one reason for its success because it was spread everywhere. And what they created was a new idea of the world; they took away all the boundaries. They had this idea that you can change people through design. Also ethical ways, not just that they feel more comfortable but that they get less violence, less war. This was one plan to create a new world and they were very optimistic about it. And now on the market what you have is like an archeological project: you find realized relics of this thought school, just a small group of people bought or used the furniture. It was other artists, it was not common. This is the reason this material is so rare because it did not have the chance to spread. It's also the reason that Hitler came and destroyed it. They had no chance to put things in production which they were dreaming of but they never did it.
It was more the idea that was spread over the world but the actual pieces, very few of them were mass produced. They produced everything by hand but removed all traces of the handwork from the pieces. They made a lookalike industrial product but they are all made one by one. You don't see the hammer on the bent metal pieces, it was all polished away which was a lot of work because they wanted that eventually a machine would do it a 100,000 times. It was a dream accessible for everybody, very cheap to sell and now these pieces are little icons which today they do re-editions but at the time they were rarities.
Sometimes I was able to find a very rare set of Breuer chairs but when I bought them and I put them side by side they all were different heights. They look like an industrial product but people who made them changed one centimeter there, one centimeter here cutting the tubes as they don't care. In the beginning of my career, there were catalogues that gave measurements and at first I always took the measurements of the piece to authenticate it but they are so different. There are some scholars that assume they are fake but it's not this; it's because they are handmade and everyone wanted to give the appearance of an industrial product, which was normally all the same.
The pieces that get produced now have a chance on the market today. The designs are 100 years old and when they came on the market in the 90s, 2000s, people were consuming them like they were just designed. This is one quality of this design that, after 80 years you start production and people are still liking it. I think you won't find that very often with other designers or designs because they came to something that was the start of modernity and the story is ongoing. They are still relevant in architecture and fashion, you can see it. And it's not like one style followed by another style, it's something which has influence everywhere. I think it's going to go on another 100 years. It was not about chairs, it was not about architecture, it was not about teapots, it was this ethical approach to the process of designing something, which has to be an instrument for a human being which is not taking his personality, he has freedom to arrange it, it was the transparency to nature, the outside to inside and back, a lot of light and air and this is a continuing story.
CM: Was the multidisciplinary nature of the Bauhaus designers unique? If so, why?
UF: You found multidisciplinary before but what they did that was unique was called pre-course or fore-course, that every student has to go through general education despite their disciplines. It was a year where they had to make mostly nonfunctional objects, models. This is a unique approach; nobody had done that before.
CM: How is German modernism distinct?
UF: When I think about German modernism, we start already in the 19th century with the classicism of Friedrich Schinkel who was admired by Mies van der Rohe, but I don't think it was a very national movement. You have the same thing happening in England with the arts and crafts movement. You have it in Vienna with the Wiener Werkstatte. They are all connected and inspire each other. It was the beginning of the International Style. In Germany, we have Peter Behrens. It was the beginning of globalization. I wouldn't say that German design was something unique. The political situation was the old feudalism destroyed and suddenly there was a big gap and Gropius just took the chance to get money for the school.
CM: Which modern German designers are current collectors most interested in and why?
UF: First of all, most of the pieces are very rare. Most of our clients come to the gallery and have never seen the pieces we have for sale. They have seen them in books or catalogs, but never for sale. The attraction is not the idea to use them but the idea to collect them, where they can place them in their apartments. Our collectors often have the idea to collect to later show their collections publicly.
The same thing happened for me. I was a design student and by chance, I found a broken Mies van der Rohe chair on a container and I knew this chair from shop windows. It was broken but it gave me a total fascination with this legendary chair in a first edition in a state of aging where it obviously had a very hard life. This is something that I follow in all our gallery shows. I try to show pieces that will talk to you and show you the beginning of an idea. Sometimes it was not so perfect but it's very charming when you see the solution now is easier or technological, but this is one fascination which occupies me today. You are dealing in relics of ideas. Things that are used as decorative objects and you are collecting a fragment of a very important movement. It's not only a design process; it's a technological process.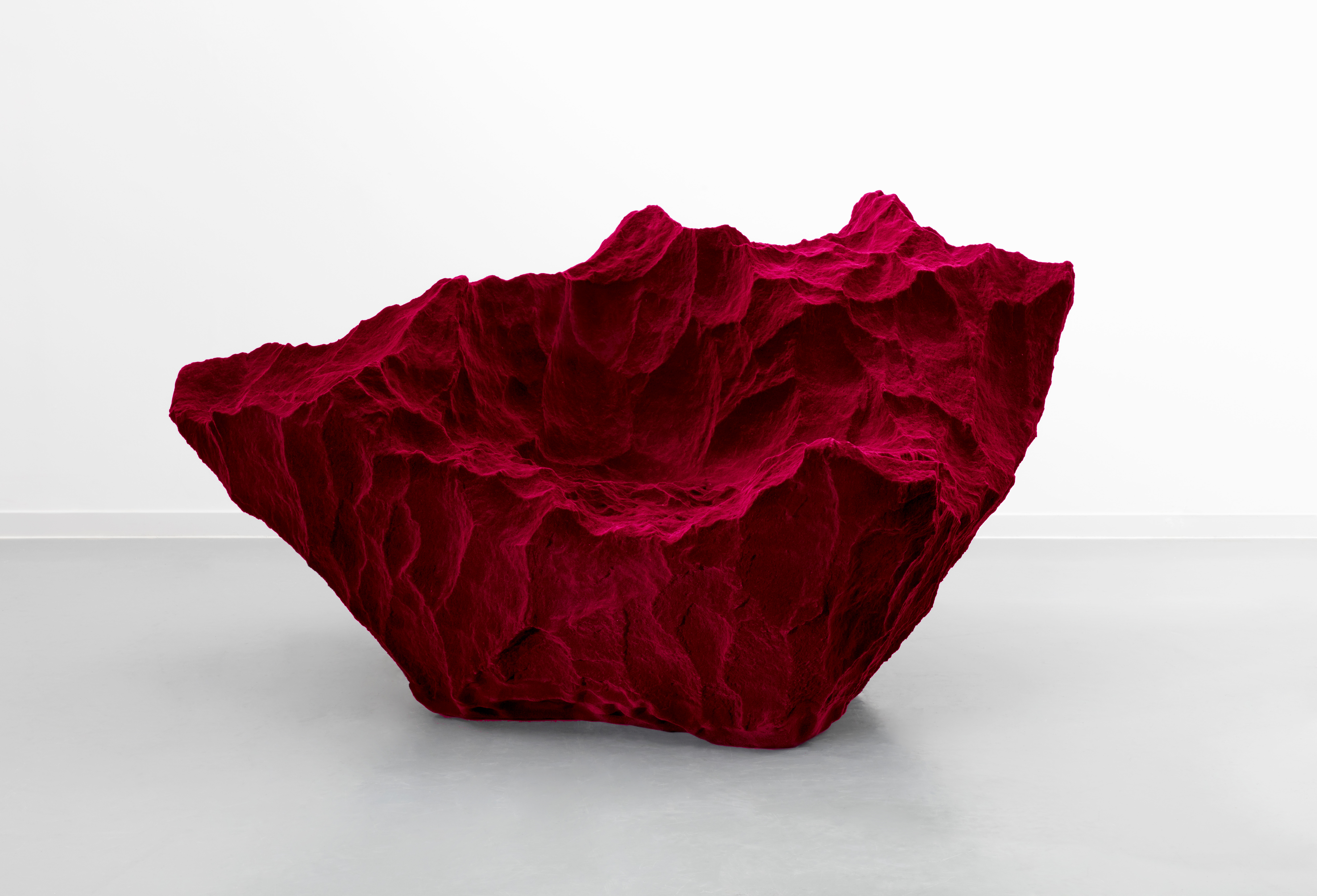 David Gill on Fredrikson Stallard
David Gill is a London-based contemporary design dealer and head of David Gill Gallery. He represents Fredrikson Stallard, a duo known for intricate and fantastical designs that both push technological boundaries and the limits of handwork to create functional art. His Collecting Design: The Legends program, "Fredrikson Stallard," is on November 17.
CM: How do you and Patrik combine your respective backgrounds in ceramics and industrial design to create your designs?
Ian Stallard: It's part of the way that we have always worked. We were a bit odd in art school because our courses in industrial design tried to put people together because I think they wanted to push the ceramicists at Central Saint Martins into working in a more industrial way. But, when you push people in one way they often go the other. And Patrik and I have always worked in a way that we think is more like fine arts. In college, in a design context, they would talk about giving you brief, etc. and that was never something that was right for us. We almost would create thoughts and had different ideas about what our medium could be, what our subject was possible to be. And within those disciplines, hand-making things is still very important to us, it's something intrinsically in ceramics. We are probably going more and more toward hand-making works now. We just really value that the hand of the artist is really old-fashioned. The way Central Saint Martins is now set up is that all the disciplines are in one building. All of them feed into each other. That's how we've always worked.
Patrik Fredrikson: It's something that me and Ian carry with us all the time. We can do whatever we want as long as we can say why we are doing it. And if we depart from a certain way, we have to be comfortable saying like we're moving to start making a body of work that is just paintings. We would naturally go, if we've got to do 25 paintings for a show in two year's time, why would they be paintings? When we set out, we didn't have a catalogue of work but also there was a lot of trial and error, a couple of times things got bought by museums and then we moved towards what the heart was telling us to do more so than what the brain was telling us to do. Even today, I think the pieces that we do for both us the heart beats stronger, those are the pieces that are most successful. Those are the pieces that people love and can really engage with.
Maybe the distinction between disciplines was conscripted by those that sell design and art. Those are the ones who needed to put it in pockets. And here we have Ian the sculptor and me the painter, neither of us sculpting and painting. There is always a link between our pieces, whether 2D or 3D. Making a monograph this year allowed us to better understand the links between our own work.
CM: What inspires you? Is it ephemeral, real, something in between?
IS: There are things in the real world, in nature and other fine arts, that might jog something and a lot of it is purely imagination or a combination of those to and it's also an accumulation through the years because it can be something thought about or seen decades ago that it's then when you see or think of something else, the two clash together and you realize this idea is something that's viable or something you need to do.
PF: It's a little bit like what I was saying before where you build up your repertoire or body of work and then again, very rarely go back to square zero. It doesn't come naturally to us because then we would create something that anyone who has a creative mind might create via a brief. It's very mathematical and dead. What we do is just build on the work that we've done already so it's a continuous process of what we are doing. That work couldn't have been done ten years ago; it just never would have materialized. Everything has its reason and when it should be brought out to be experienced by other people.
IS: The project that we did not for coronavirus was fantastic because we worked with ceramics. Last year, we bought a new kiln and we just never had the time to do work with it. Now, since the pandemic, the phone stopped ringing a bit and we just had a bit more time in the day. So we started doing all these glaze tests, 300 over months and months. And at the same time we started to work with clay. We've been working together for so many years that it's a constant collaborative experience. You are instinctively working together. It's like two heads that we try to sync together and when we sync, we know it's good.
PF: I think something that always excites us is when our audience experiences our work. It's one of the most exciting things for us in terms of the creation of it. It's not actually complete until you view it or sit in it or put your wine glass onto the table. Then you have a certain experience tied to that piece. Also when we name our work it's very abstract titles because what I might see in my head when I look at this piece is not necessarily what you would see and there's no right or wrong in that.
CM: Why is it important, or maybe necessary, to blur the distinction between art and design? Or between functional and aesthetic?
IS: Function isn't the most important thing but it is important. We make sure that it works but it looks like we haven't. We make it function but not make the function detract from the sculpture.
PF: It our opinion if you look at these pieces they are beautiful as sculptural objects but then you have this layer that is completely off that were you to sit in it, it's really comfortable.
IS: It brings a whole extra layer to it. For example, our Species sofa is a beautiful sculpture on its own but then function isn't a byproduct. It's part of the story of the piece. It feels almost effortless. We hand-carve the Species sofas from huge blocks of foam. It's incredibly difficult. It's painful. You can't use any tools; it has to be done by hand. But then also you can't upholster it because it's too complex so we've had to find this really high-tech way of upholstering it but the method of construction is totally archaic and it's that combination of being craft and technological endeavor to create something which has never existed before and something that people can really respond to much more than if it was just on a plinth at a museum to just look at.
PF: Talking about the Species is a really good example. It's a crazy piece. It's not normal. It takes a special person to appreciate it for what it is. It's not that I'm saying that I'm sure if it sat in a museum and people were allowed to sit in, that would be amazing because I think we would open a lot of people's eyes as to where furniture moves into sculpture into fine art and the other way around. A lot of these institutions are there to educate people so that would be really exciting. When a museum is buying our work we always ask, even though we know the answer, just that: can we have it out to be used? And they go, no. So, then can we have you buy two?
IS: You forget what level they go to to conserve which is great that they do. When we first sold the sofa to the Victoria & Albert museum, they called us and said, it's got a bit of dust one it, what should we do and I said, well I use a vacuum cleaner and they were just floored. Probably the last time it was like this would have been the 18th century where furniture, ceramics, fine art, there was no hierarchy one above the other. Or go back further to the Renaissance where the ultimate work of art was a tapestry, a textile, which today is throwaway. Having a tapestry then was like having a private jet, it was that big of a deal. And so it changes throughout history and what has happened in recent history was we had modernism in the 20th century that drove such a wedge between design in terms of form and function and contemporary art. They really diverged and I guess what we are seeing at our stage is bringing them back together again and working in the multidisciplinary nature of the 18th century. It was perfectly normal then for a painter to be an architect or a garden designer. It wasn't looked at as a strange thing like it was in the 20th century, we almost look down on it where in fact these disciplines feed each other.
PF: Because we don't put disciplinary labels on ourselves it means that I can paint but I will question what I would do when I am painting. You still have to have artistic integrity where you only do it if it is of value to somebody else, but you can't sit in a painting, you look at it and the painting needs to say something to you in a more psychological way akin to the way you might feel when you sit on a sofa.
IS: As well as reevaluation of what art can be, it's also reevaluating what furniture can be because the idea of modernism was the democratization of high design, which is ironic because the early Bauhaus pieces were extremely expensive. Now when you have mass market furniture we have to evaluate is that good? Because our grandparents' generation would have saved up and bought an expensive dining table, say of solid oak, and when that table got damaged they would repair it and later in life resold it or passed it down. That was how we dealt with furniture, they were objects to be cherished for the greater part of your life. Now, the disposable nature of furniture particularly when people say it is environmentally friendly because it is made of bamboo but a rainforest was cut down to grow that bamboo and in one year the piece ends up on the street to a landfill. We have to question, is this the right way? Was modernism the answer? Our furniture is very expensive but it will last your lifetime and beyond.
CM: I think this trend has helped you to be better understood in your want to work in a multidisciplinary and undefined way.
PF: That's so true. About eight years ago, we were criticized by the press for being elitists and they were glorifying mass produced furniture companies. Now, I think your generation now values the things that my parents' generation valued. There is something really fantastic about that. If you go out and find yourself a dining table at the flea market, that is amazing.
IS: It's that kind of way of thinking that going to a flea market is so much better than going to a big chain store.
PF: It's just more ethical in terms of the future of design. We really need to think sustainable about what we are buying, what we are using and how we are disposing of it. The same sofa we were just talking about is plastic, it's polyurethane so it's not the kindest material for the plant; it's a hazardous material but we are making maybe three of them, four of them a year.
IS: And they last. There is nothing wrong with plastic. The problem with plastic is single-use plastic. If you use plastic correctly, the fact that it lasts so long is good.
PF: We are part of a much bigger industry and we are trying to put a point across.
IS: Even if not everyone can afford what you make, the principles behind it trickle down into non-luxury spheres. We use everything. From waste and leftover materials, we make sculptures and pillows.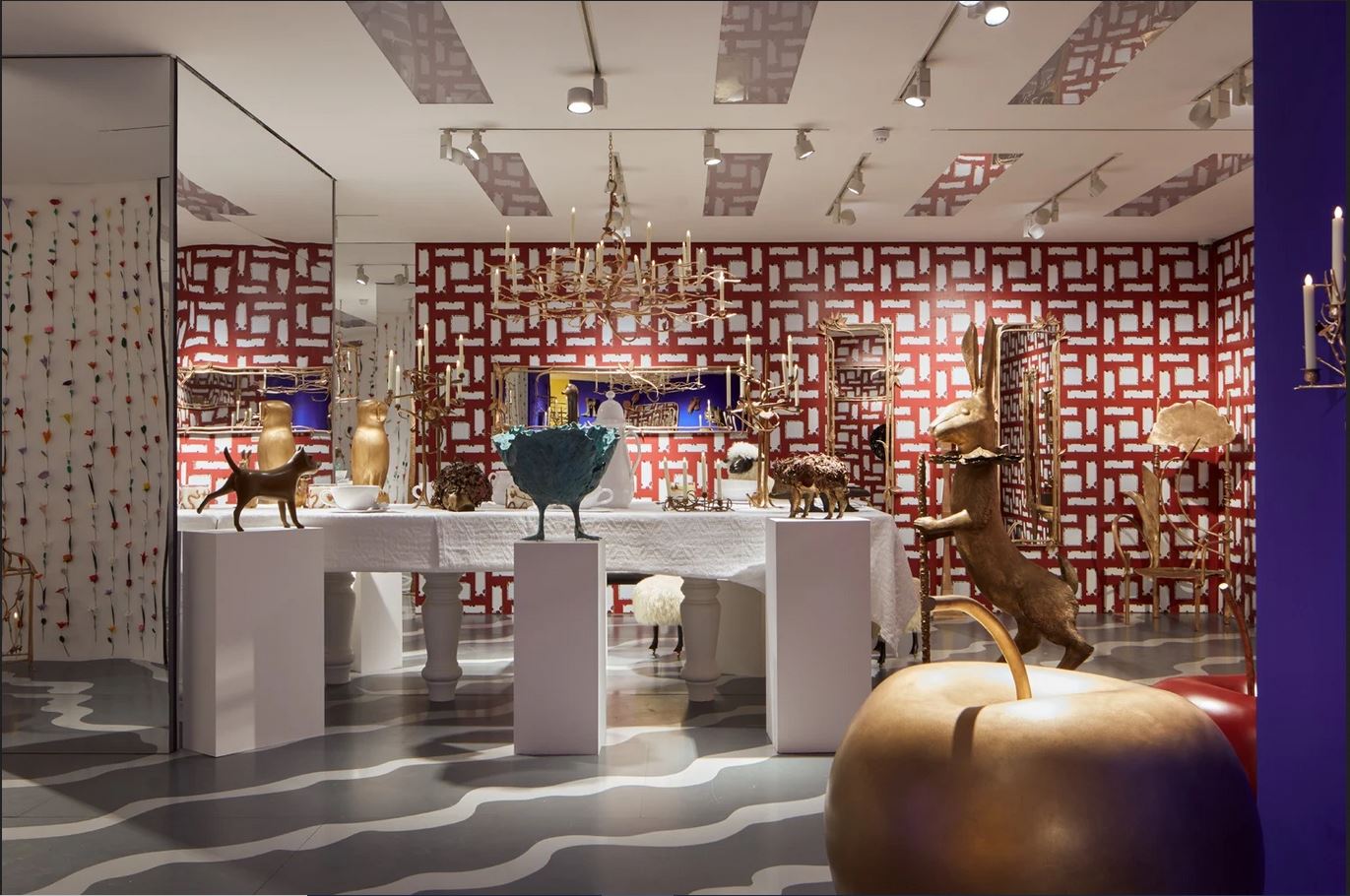 Ben Brown
Having begun his career with ten years of experience in the contemporary department at auctioneer Sotheby's, Ben Brown now heads Ben Brown Fine Arts, a London-based gallery that he founded in 2004. He deals contemporary design and art as well as 20th-century Italian works. His Collecting Design program, "Claude Lalanne," is on December 9.
CM: The work of Les Lalanne is imbued with whimsy. What is so enduring about these fantastical pieces?
Ben Brown: The works of Les Lalanne are timeless, transcending any boundaries between art and design, form and function, or eras of art history. Their work truly spans decades of modernism: Claude and François-Xavier were neighbors with Brancusi, traveled in the circle of the Surrealists, and were courted by fashion designers, social luminaries and the art world up until Claude's recent passing at the age of 93. Their work has always been sought after and seamlessly fits into all periods of art history and collecting, looking just as comfortable in a traditional home of Old Master paintings as in a contemporary collection—they are truly classic. Perhaps it is the Lalannes' dedicated reference to nature—to animals, flora and fauna—and their unabashed embracing of fantasy and folly, that makes their work so iconic and enduring.
CM: How do the styles of François-Xavier and Claude differ?
BB: François-Xavier and Claude shared a studio and exhibited together throughout their careers, and even created wonderful collaborative pieces together, yet there is an evident distinction between their styles. Claude's work has a more sinuous and ethereal form, often incorporating examples of the natural world into the work, such as lotus leaves, branches, flowers, bamboo and crocodile skins. François-Xavier's pieces tend to have more of a masculine gravity of form and exhibit functional ingenuity, from his iconic sheep to his elaborate desks and bars, often in the form of monumental animals such as rhinoceros, hippopotamuses and gorillas.
CM: How do François-Xavier's works marry function and fantasy?
BB: Both François-Xavier and Claude felt strongly that art should be part of everyday life, and in turn functional and useful. François-Xavier was particularly interested in imbuing his works with clever mechanisms and utility of form. From incorporating a safe or fireplace into the belly of a large ape, to transforming a mouflon or rhinoceros into a writing desk, to splaying open a hippopotamus or a grasshopper into a full service bar, to creating fanciful bathtubs and basins, François-Xavier was a ceaseless innovator.
CM: How and why, in your opinion, have these sculptures developed an almost cult-like following among certain collectors?
BB: Claude and François-Xavier's work is absolutely inimitable and iconic—they have formed a category of their own without competition or comparison, and collectors are always looking for the rare and unique, not to mention the recognizable. Their works are at once timeless, elegant, stylish, ingenious, humorous, fantastical and functional, and naturally attract the attention of anyone involved in aesthetics, from fashion designers such as Yves Saint Laurent and Tom Ford, to architects and designers such as Peter Marino, to myriad art collectors around the world. The serial format of sculptures and the fact that many of their pieces are exhibited outdoors, means that the Lalannes' classic imagery of apples and sheep and cabbages, etc. have become part of our collective memory. We have seen great prices achieved for their work, both at auction and privately, and the demand is greater than ever now, particularly as their production has ceased. All of these factors have helped develop a cult-like following of their work over the years that will only continue to grow.
Register for Collecting Design: The Legends here.