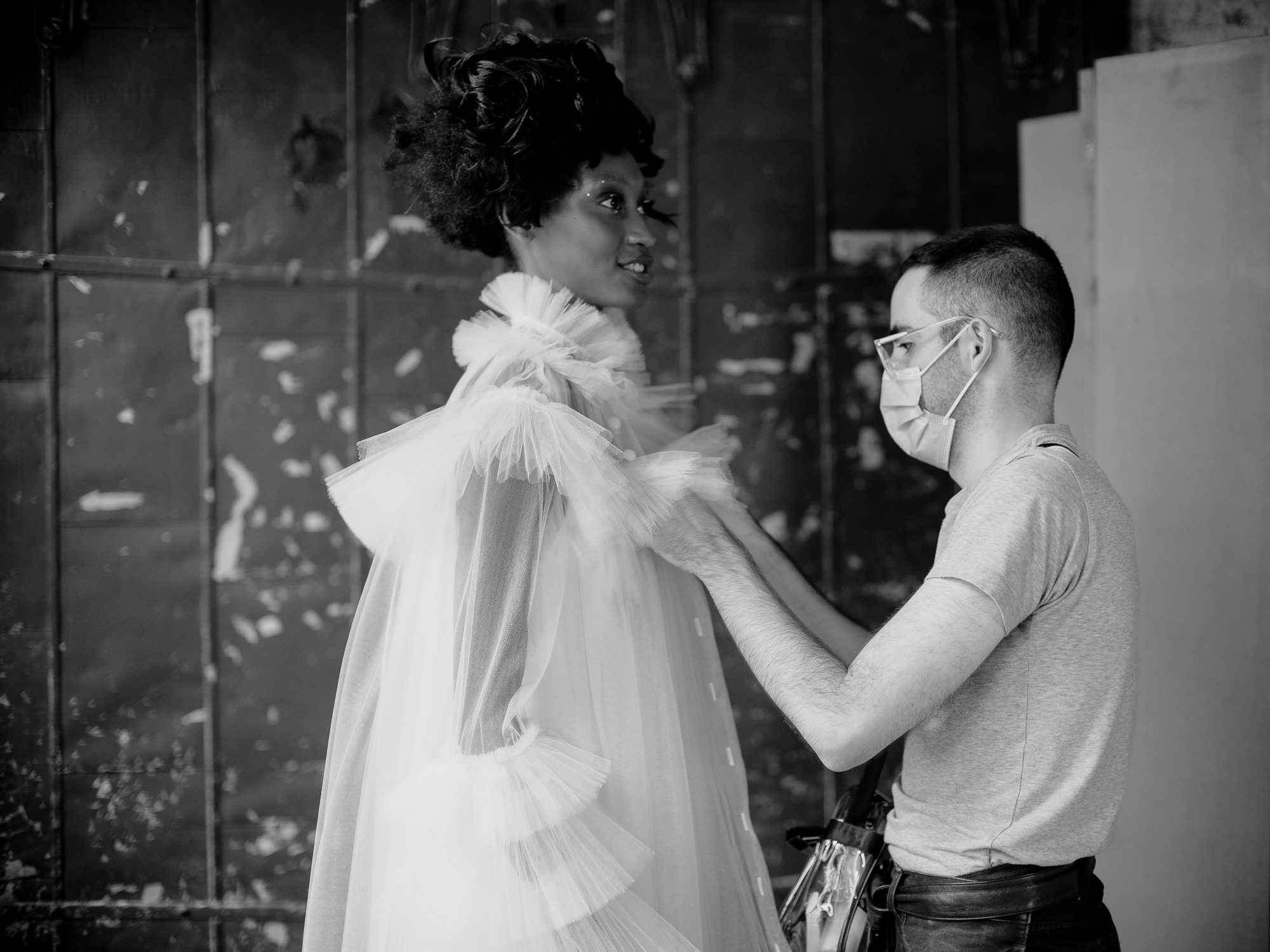 My friend Valerie taught me that if you ask very nicely, the man standing at the computer propped on the railing of the New York Metropolitan Opera grand staircase can be a miracle worker. I remember a night using this trick landed us uncomfortably near a rebelling stage horse in an otherwise satisfyingly garish production of Aida. Bailey, Val and I all thought it was going to be Guernica in the orchestra pit. We could taste danger in our almost-front-row seats, yet I still couldn't tell what Soprano Anna Netrebko's costumes were made of, despite my best squinting. She certainly sold the role anyway, cementing herself as one of the most believable characters I've seen on that stage.
Two years later, I'm getting answers, sort of. "The historically accurate buttons on an actor's coat, for example, are not necessarily for the audience's sake, but for the actor's. They help the actor get into character—they become the container to fill," Jackson Wiederhoeft tells me when we connect by phone on a thick August day. "Details are fundamental to belief; they are the messages, secrets, we share with ourselves." For the designer, this applies to fashion that goes beyond the lip of the stage to include garments for daily life and, most recently, weddings. The Thom Browne alum made his bridal debut in late July with a suite of mix-and-match offerings for nuptials to be.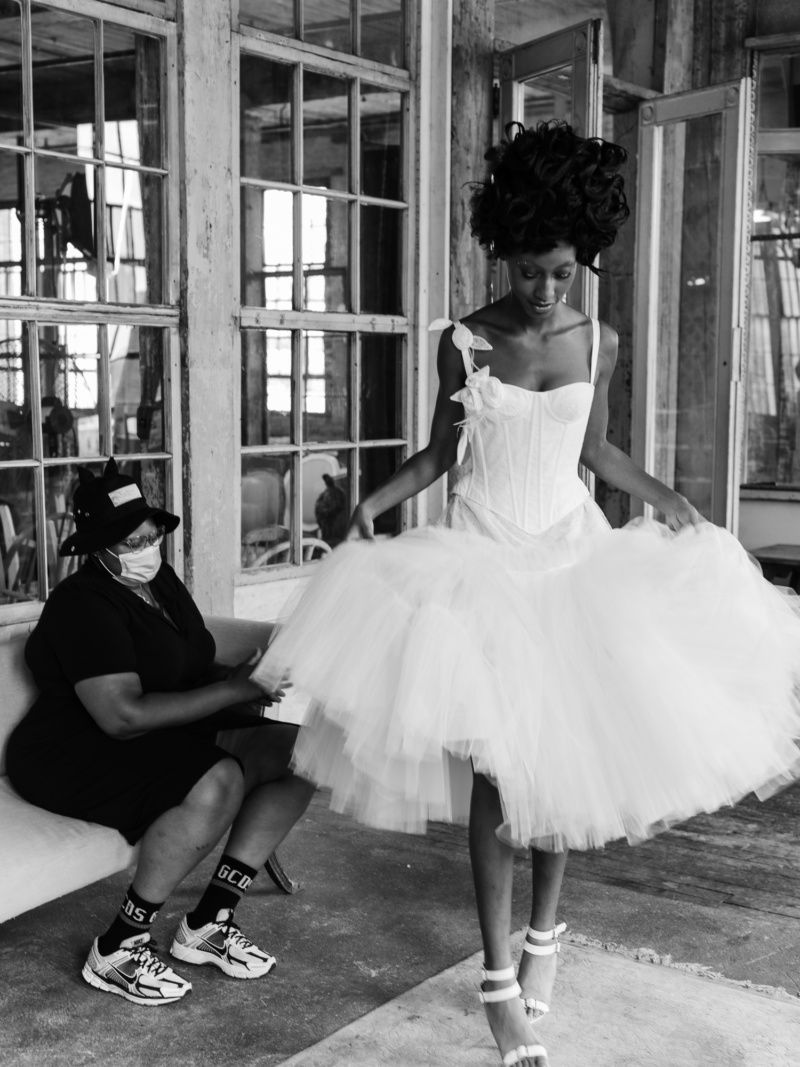 The collection is unorthodoxly low on dresses, focusing instead on separates which can be reconfigured and stacked to evoke different moods. There are tiaras, corsets, skirts, see-through blouses, lacey masks, voluminous tiered skirts, slips and veils. Little slivers of desire borrowed from different eras.
Every current sample bears Wiederhoeft's handiwork, which is not always the case. The specialty ateliers that the couture-oriented designer usually works with shuttered in early March, leaving Wiederhoeft stranded with a whole collection sketched out and no one to help realize it. "I had nothing better to do than make a million little bows," laughs the designer, who used COVID's social pause to take on months-long stretches of executing intricate techniques. The resulting samples were then shot with the help of photographer Paul Simon, makeup artist Raisa Flowers and hair stylist Sean Bennett, his "dream" team in New York, when restrictions relaxed enough to make it possible. The team has been working with Wiederhoeft from the beginning, which made this look book even more special. "By the time we were all together on set the collection had changed so much; it was rewarding to be able to invite people into a world that I had been occupying for so long alone. I can't describe the energy of that day." The resulting look book bears the traces of both Wiederhoeft's obsessive months of construction and the ease of the bride he aspires to dress.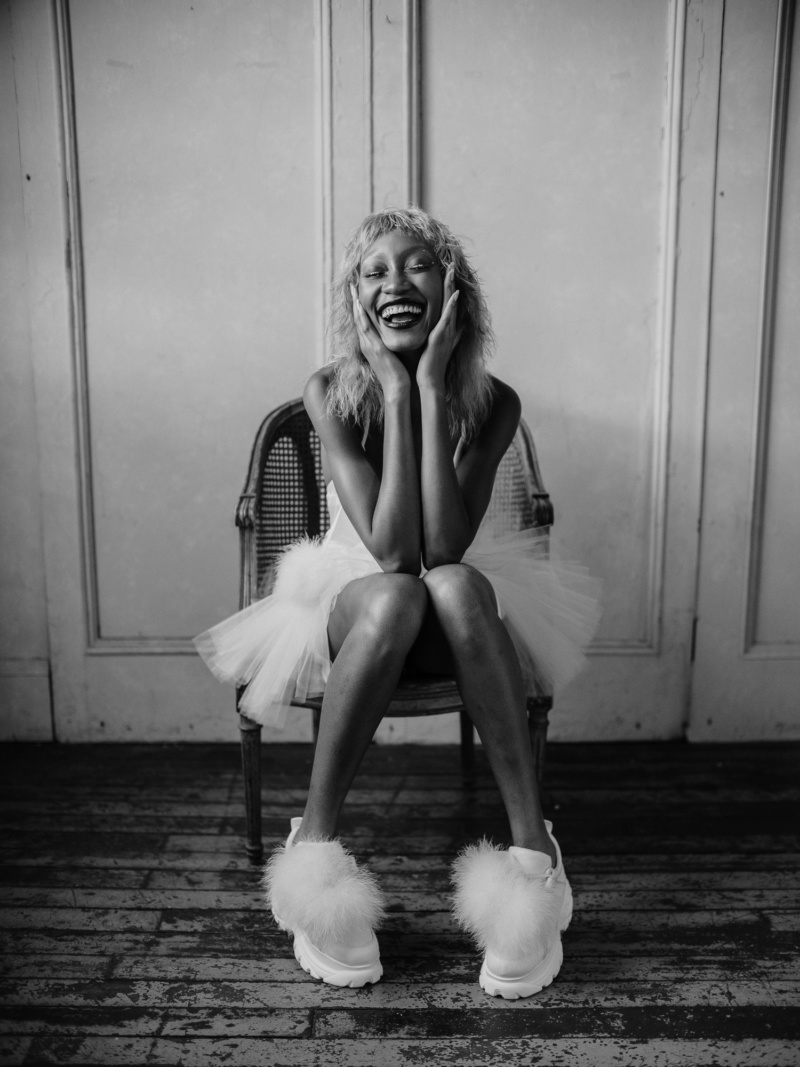 What makes Wiederhoeft's take on bridal so appealing is the way it deftly bridges the fairy tale and the everyday. The garments are too exquisitely ornamented and exaggeratedly shaped not to read as formal wear, yet I can still envision my friends partying in them because the silhouettes are not so far off from what a certain kind of Downtown woman wears on a night out. Wiederhoeft's garments rely on an almost comical deployment of the traditionally pretty, in that the pieces are riddled with lace, bows, jewels, tulle, creamy layers, flute columns and ample curves, but his theatrical vision keeps these motifs feeling fresh and new. He conjures infinite, timeless desire. What more could you want on your wedding day?
When my mother got married, she wore a huge bow with a veil trailing behind. It was my most beloved matriarchal heirloom, and the first to perish. At 18, I dumped my friends at the door of a particularly restrictive Parisian club and never saw neither them or the bow again. Je regrette. Yet here they are reincarnated: a mullet of glimmering tulle topped with a dollop of silk ribbon.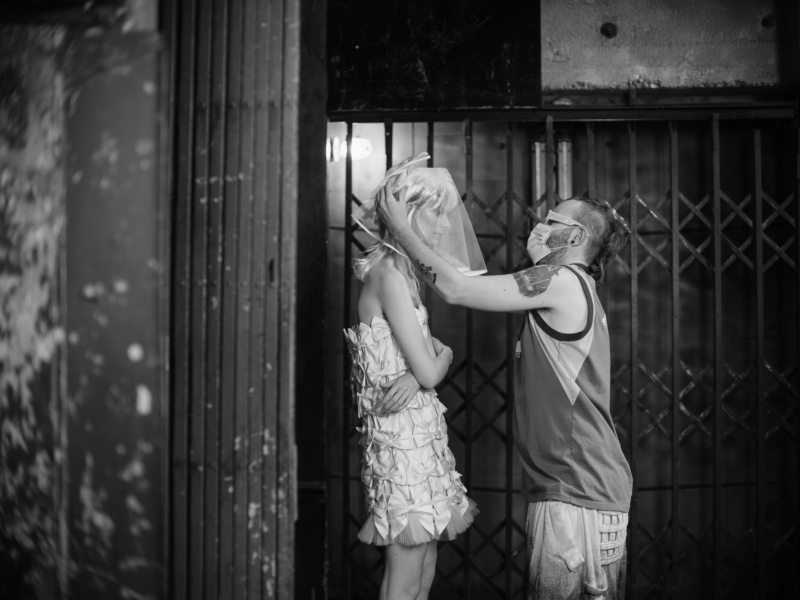 In the look book, Wiederhoeft pairs this veil with one of his favorite pieces from the collection: a mini-dress made entirely of bows. "When you want to give someone something special, you put a bow on it. It's the gesture of love that adds that last bit of polish," the designer says. "I've always liked it as a motif in fashion because it can function the same way. 'Here is a little present for you.'" Generosity is a primary informant in Wiederhoeft's work. The pieces in the separates-heavy bridal collection are designed in part to fold easily into existing closets and plans. The outfit comes second, the individual comes first.
What comes next in Wiederhoeft's world? A collection for spring 2021 and the expansion of his bridal offerings, now that his collaborators are up and running. "Embroidery studios are back open, and I can't wait to bring that element back into the garments," Wiederhoeft says. "In general though, I'm keeping production relatively small and nimble, especially now that we don't know what the landscape will look like." My prediction is that, pandemic or not, Wiederhoeft's attention to the small things will make him a force to be reckoned with, sooner or later. I, for one, can't wait to see where the plot goes.