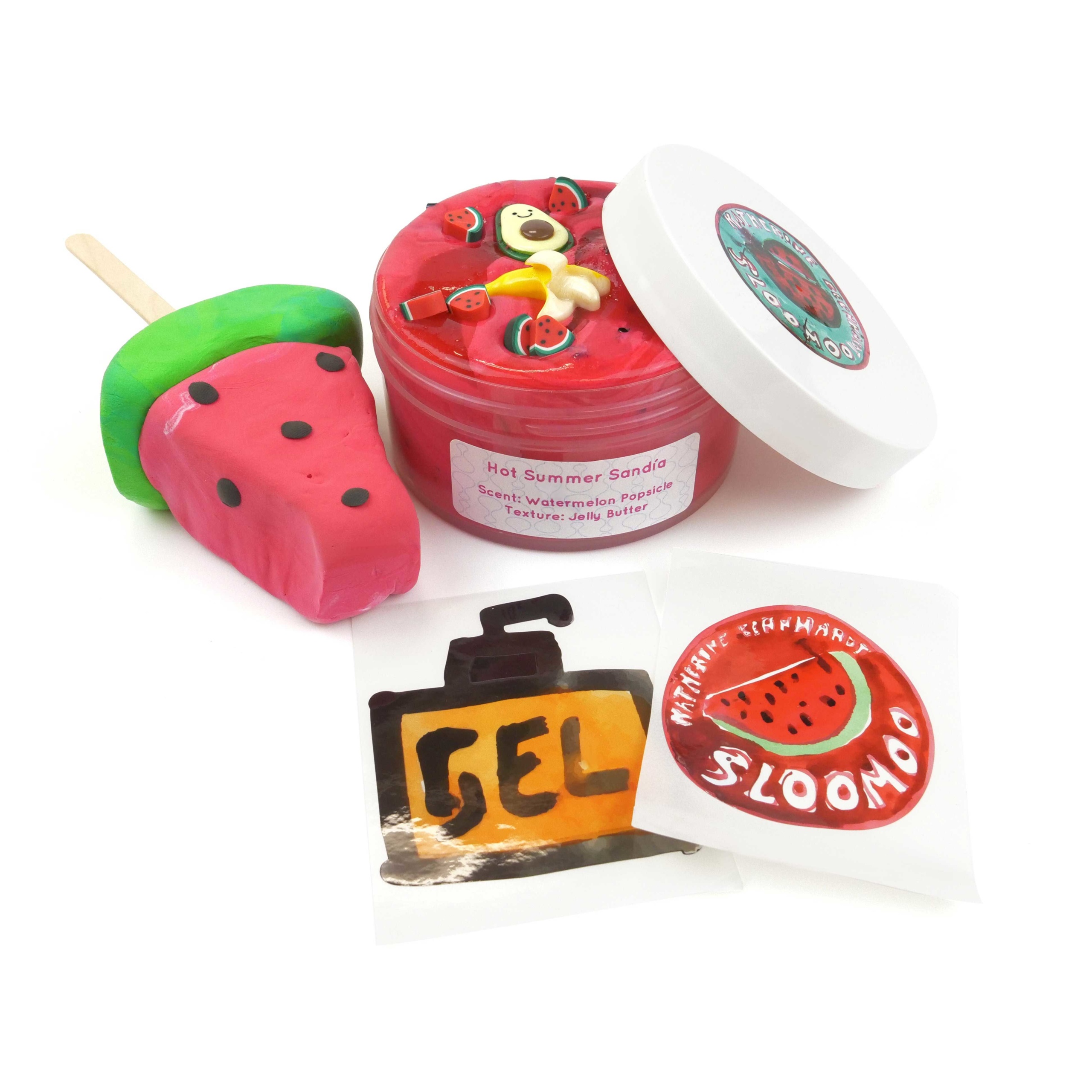 Katherine Bernhardt is taking her signature gestural iconography, which always seems to drip and ooze off her canvases, to a slimy new place—a collaboration with the stress relief-oriented art experience and online shop, Sloomoo Institute; 100% of the profits will benefit three mental health charities: Sad Girls Club, NAMI and Love is Louder.
Known for legitimizing the slime phenomenon by bringing it to an 8,000-square-foot space in SoHo while also (during COVID) pivoting to a full ecommerce brand specializing in soothing artisanal slime, merch and virtual experiences, Sloomoo Institute has made a name for itself Downtown. Now, they are teaming up with Bernhardt for what they call their "dream collab."
"We have always been inspired by art. It was a large part of what lead our design process and activations," say Sloomoo founders Karen Robinovitz and Sara Schiller, both of whom are on the Board of Advisors of the Brooklyn Museum. It all began when Bernhardt happened to bring her son to visit Sloomoo in the fall of 2019, right after the opening. Robinovitz, already intrigued by her work, asked the artist if she might consider partnering. But the painter—heralded for her vivid canvases that overflow with everyday items (think fruit, computers, hot dogs and sneakers paired with iconic retro characters like E.T., Garfield, the Pink Panther and so on)—wasn't quite sure how her vision would translate to slime.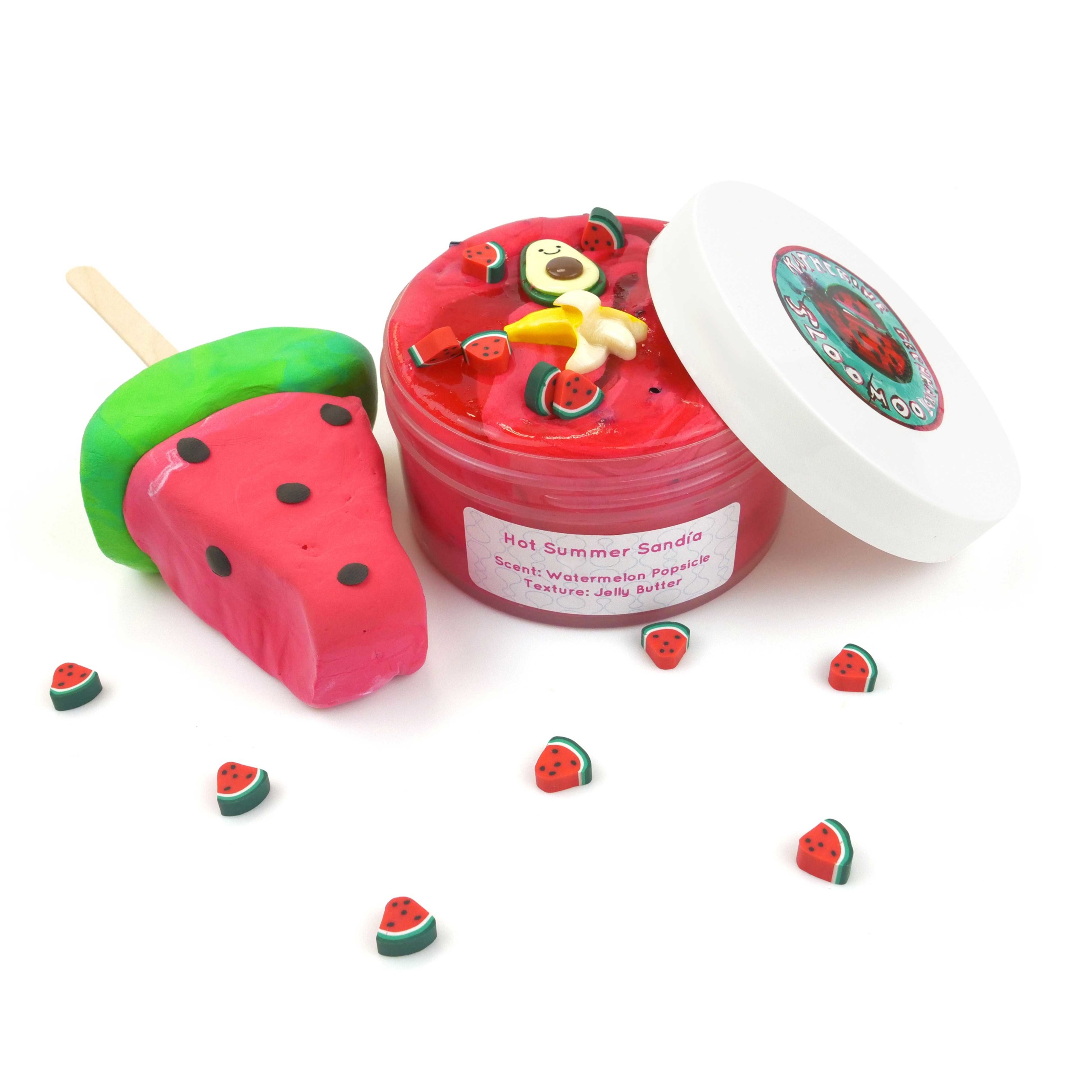 Yes, slime. As in the non-Newtonian substance. While kids are obsessed with slime for obvious reasons, there is now a massive movement of adults playing with slime as a form of stress relief. It's prevalent on social media and has sky-rocketed during these unprecedented times."During the pandemic, Katherine posted an image of an ice cream popsicle she was eating. It was shaped and colored like a watermelon and looked like one of her paintings had come to life," Robinovitz explains. DMs were exchanged. Excitement was shared. Both parties agreed that this could be the perfect slime creation.
The process took shape over a back and forth on WhatsApp in the span of several weeks. The final results: Sloomoo's team created a clay piece that looks exactly like a slice of watermelon and paired it with a texture of slime called jelly (it's slightly transparent and it really inflates as you play with it; you're meant to mush the clay watermelon into the slime which turns it all into a new buttery texture). The slime itself is embellished with little black beads that resemble seeds. It is scented like watermelon and comes with a popsicle stick. Covered with other very Katherine-esque charms—an avocado, a banana and lots of watermelon slices—the final product is a feast for the eyes, hands, nose and ears (and it makes #satisfying sounds as you press and squeeze it).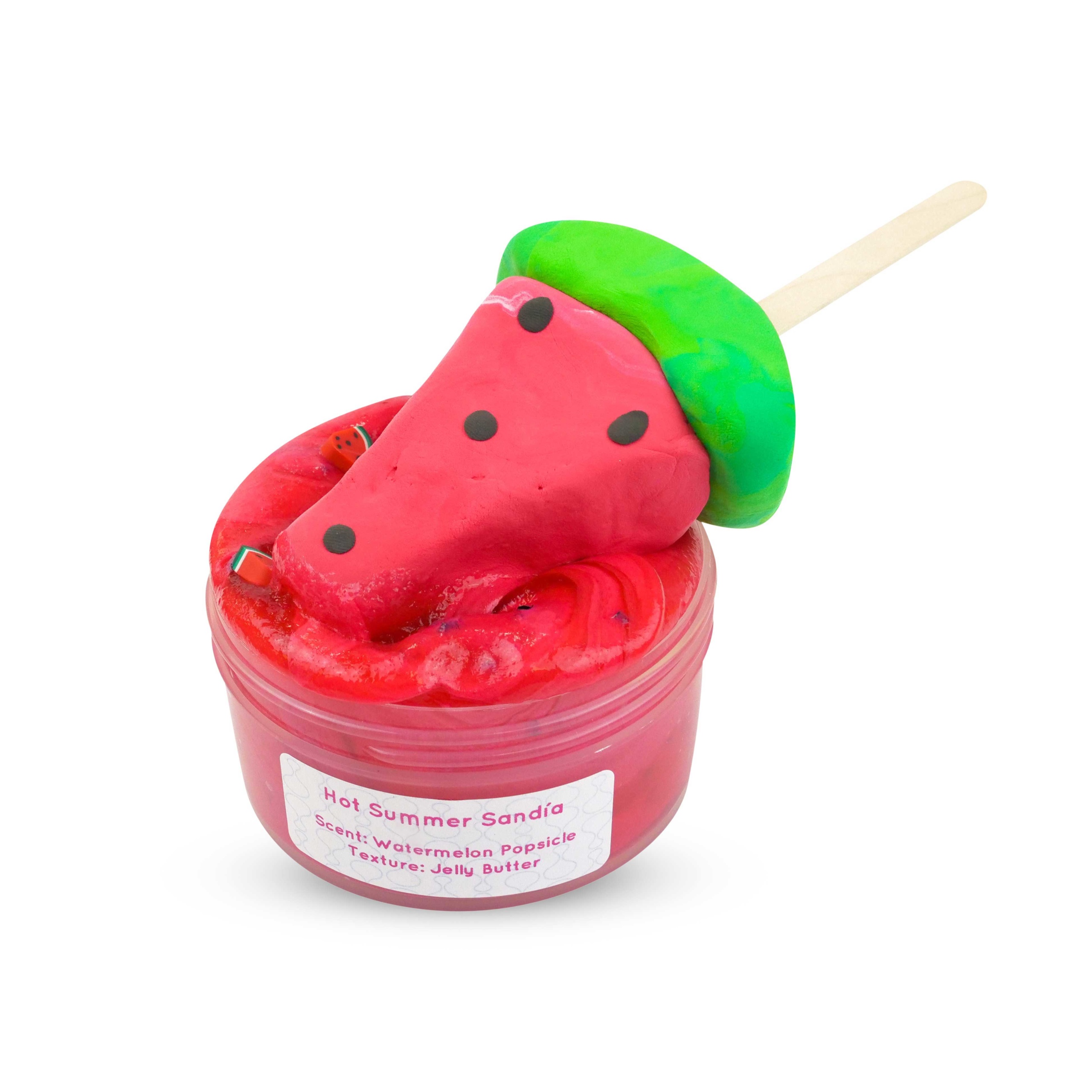 "I found the popsicle at a cute tienda in Antigua. This slime is all about a love of watermelon, a love of the smell of watermelon, a love of the sticky summer feel of eating a watermelon, a love of the joy of eating ice cream in the summer, a love of the summer and a love of playing with gooey slime," says Bernhardt, who quarantined in Guatemala.
Bernhardt painted original works for promotion, which Sloomoo turned into labels and stickers. The set, made as an edition of 1,000 and titled Hot Summer Sandía, retails for $24.50 and is available on www.sloomooinstitute.com and https://store.perrotin.com/en/ starting July 21.