Danish-Icelandic artist Olafur Eliasson is known for large-scale installations that incorporate elements of light, water and air, all of which elaborate on important issues of our human relationship with nature and earth. Being from a region of the world that has an intimate relationship with light and darkness—home to both the shortest and longest days of the year—Eliasson's work is demonstrative of how life imitates art and art imitates life. During this week of the Summer Solstice, when the sun is in its highest position on the spectrum, we look to a permanent installation he designed in his home country, Your Rainbow Panorama, which celebrates the color spectrum, bringing light to the sometimes fogged-over coastal city of Aarhus, Denmark.
Nature, art and architecture meet in Eliasson's transformative rainbow, a 500-foot-long, ten-foot-wide circular walkway that rests, halo-like, on top of Denmark's ARoS Aarhus Art Museum. Its geometric shape complements the interior of the ten-story building, designed by Schmidt Hammer Lassen, and its rainbow-hued glass walls add a remarkable splash of color to the city's skyline. Visible from afar, the work divides Aarhus into various color zones and acts as a beacon for people moving about the city—an effect that is heightened at night when lights running the circumference of the walkway illuminate it from within.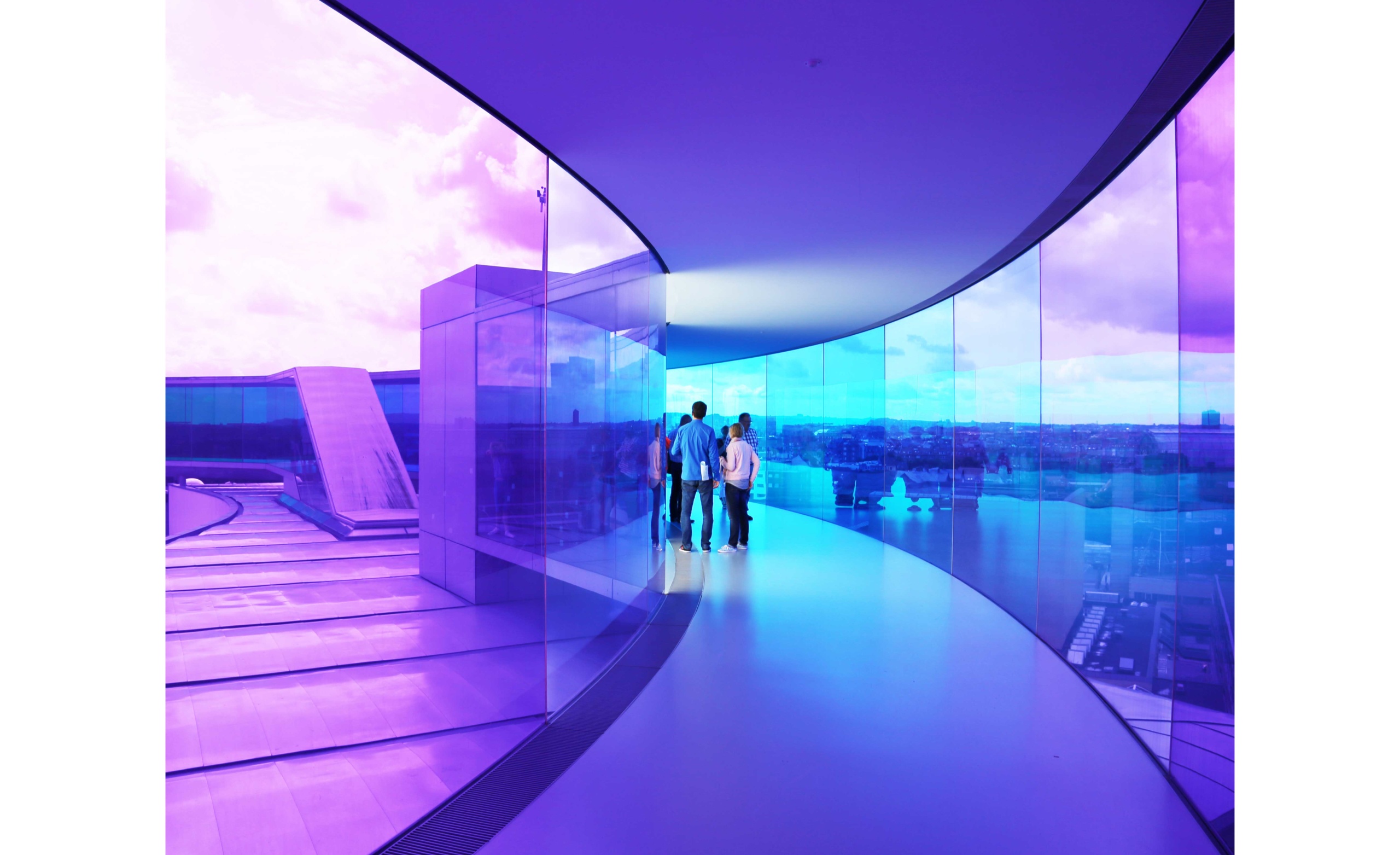 But seeing the artwork from a distance is only half the experience. The skywalk, a permanent installation set on slender columns, offers unobstructed views of the surrounding metropolis and makes innovative use of the Nordic light, shading in rich colors at different points in the circle. And, just as it is a joy to walk Eliasson's loop and look out toward distant buildings, it is a pleasure to turn inward and look across the circle to others enjoying the view. Your Rainbow Panorama is also a welcome third point on the city's remarkable triangle of design, which includes Arne Jacobsen and Erik Møller's Aarhus City Hall and C. F. Møller, Kay Fisker and Povl Stegmann's Aarhus University campus.