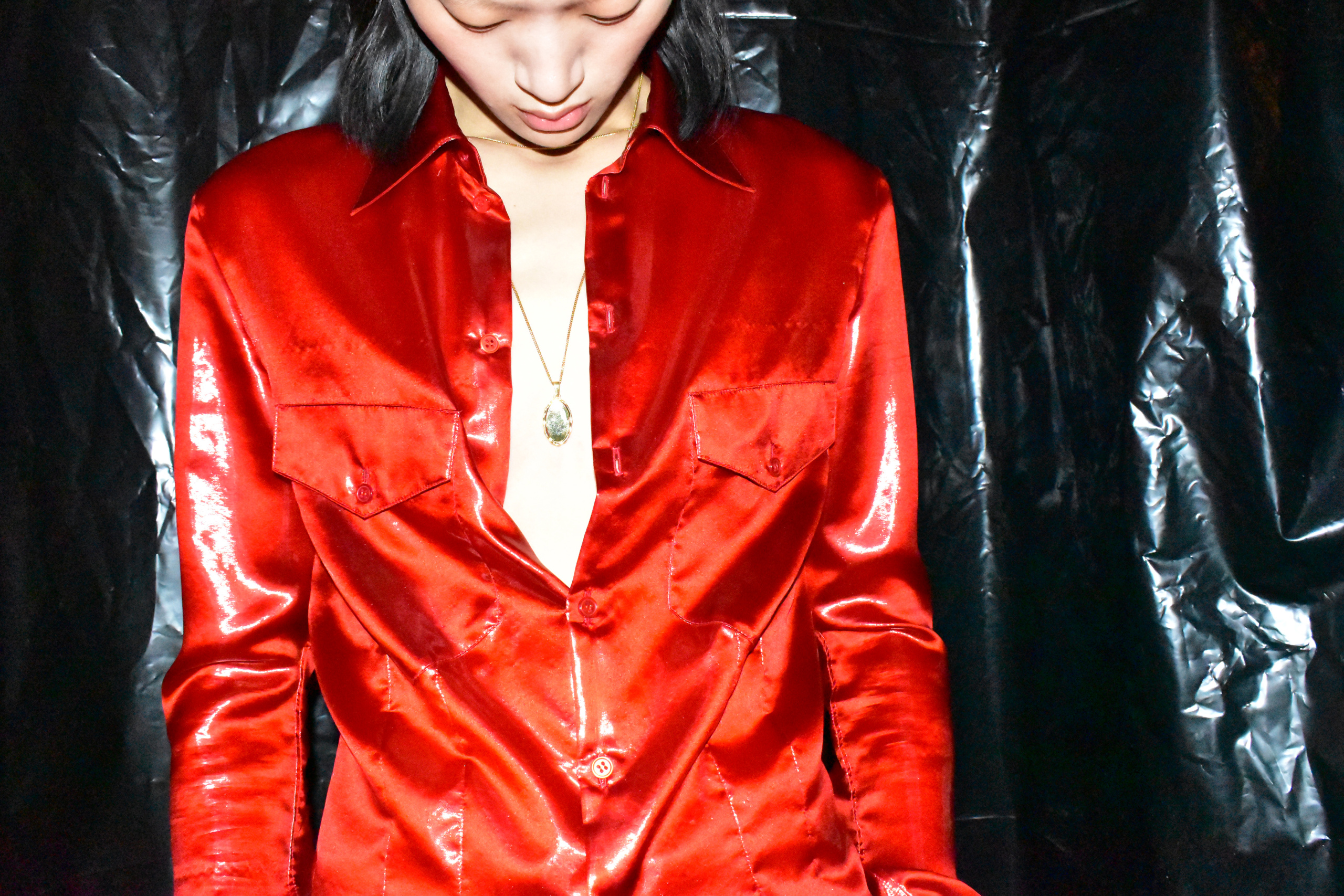 "It was an empty echo," says Hung La, one half of Kwaidan Editions, when describing the sensation that followed the London-based line's late February runway presentation for AW20. "We had less attendance at the show as people were already staying home, and while the showroom felt very positive, there was this kind void when it was over, where normally one's digestion is overshadowed by waves of reaction."
Léa Dickely, La's partner in business and love, concurs. "It wasn't the normal moment of reflection," she says. "The pause made you think about what these collections meant to you." Over the past fifty-some odd days of COVID confinement, the designers have been mulling this question over—along with what the future might hold for their independent house, which has, over the past six seasons, come to garner critical acclaim for its smart and self-disciplined collections. Their conclusion after months of reflection? AW20 was the most quintessentially Kwaidan they've ever been.
"We created our most articulated world yet, I think," says Dickely, who acts as the driver of their designs. While both La and Dickely hail from tailoring backgrounds, having studied fashion together at the Royal Academy of Fine Arts in Antwerp, Dickely's specialty is the fabrics she creates to accompany each season. This time it meant a plethora of satins and shiny textures, which teased out the season's focus on "performative life" and its two faces: center stage and back of house. It was also the first season where Dickely decisively took design lead, with La stepping into a business forward position, which translated into the character the show conjured: in my mind, an empowered female giant, waking up late at night only to realize there is a whole mess of dirty business ahead (perhaps Kill Bill's Beatrix if she'd had been a cut-throat CEO rather than an assassin). Her hand-drawn padded floral dresses seemed more like armor than party attire.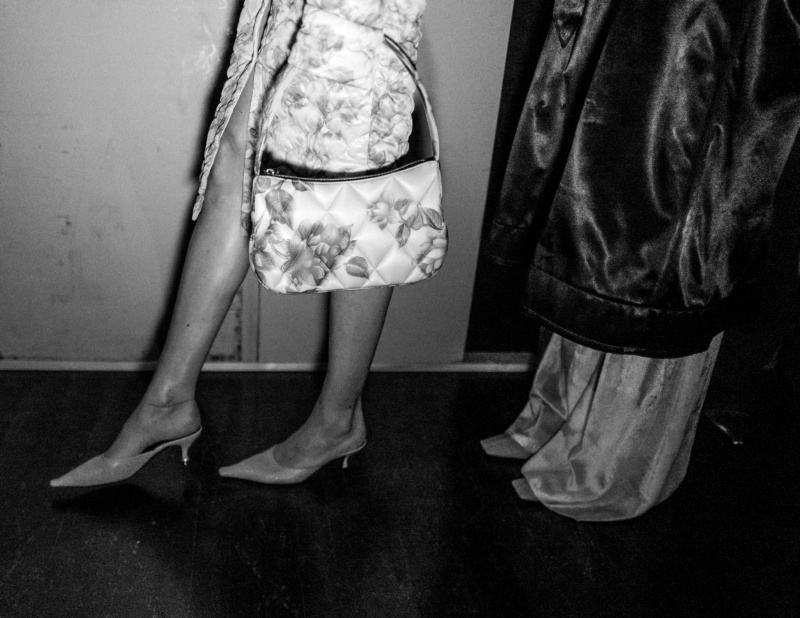 While announced in an official capacity for AW20, I am told the seemingly new arrangement is actually tried and true. La has always been the business end of things, serving as a sound board against which Dickely richocets ideas and ambitions for the worlds she confects through textile and silhouette. "Kwaidan Editions will always be the tension between the two of us, but the world has always been Lea's," La says. "I spend my days with spreadsheets and manufactures—I think part of that decision was natural and part of it was us wanting to direct the brand, more openly, towards a woman's point of view."
La and Dickely are poles that attract and push each other. This dynamic is felt in the clothes. It's what lassos you in or, as Dickely puts it: "there are always opposing forces in our garments—safety and edge, luxury and trash."
Living and working in confinement together in their West London flat, the couple are returning to this powerful core. As with many independent designers, La and Dickely made the difficult choice to furlough their entire team in March and since then have been managing all arms of the business—a humbling but fruitful return to their beginnings. "Some days are peaceful, others are a nightmare," La says.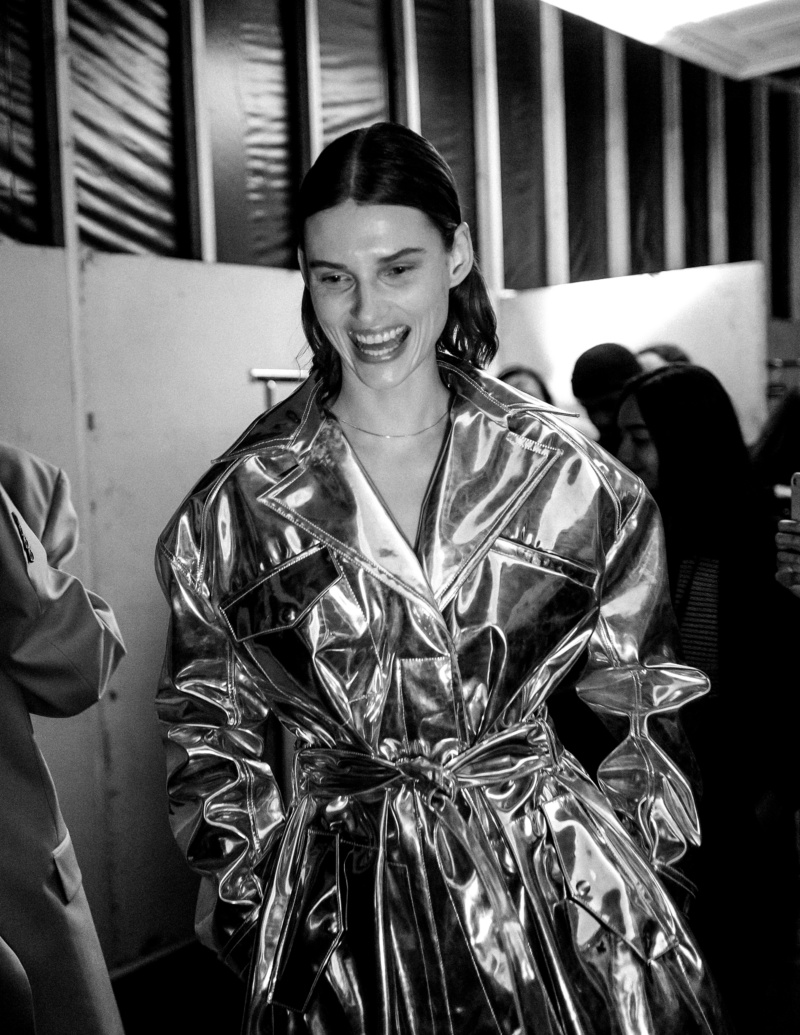 They hope to return to a full team in the future, but for now are looking forward to taking steps together. There are mood boards underway for characters and sets. Like a film, each Kwaidan Editions collection grows out of a storyboard. Named for the 1964 Japanese horror film which seams together four folktales, Kwaidan uses cinema as a framework for assembling their own worlds. "Film connects mood, time, character and set in a way that is analogous to how we design," La says. Piggybacking on the sentiment, Dickely adds: "It's a powerful source of imagination."
In my own musings, I wonder if film also serves the duo so well because of the medium's inherently collaborative structure. In cinema, there is someone always in front of the lens and someone behind it; these two angles merge to create something whole. Maybe the empty echo is just a sleepy audience. They don't have to clap for the film to be beautiful. They'll catch it when it leaves the theater.