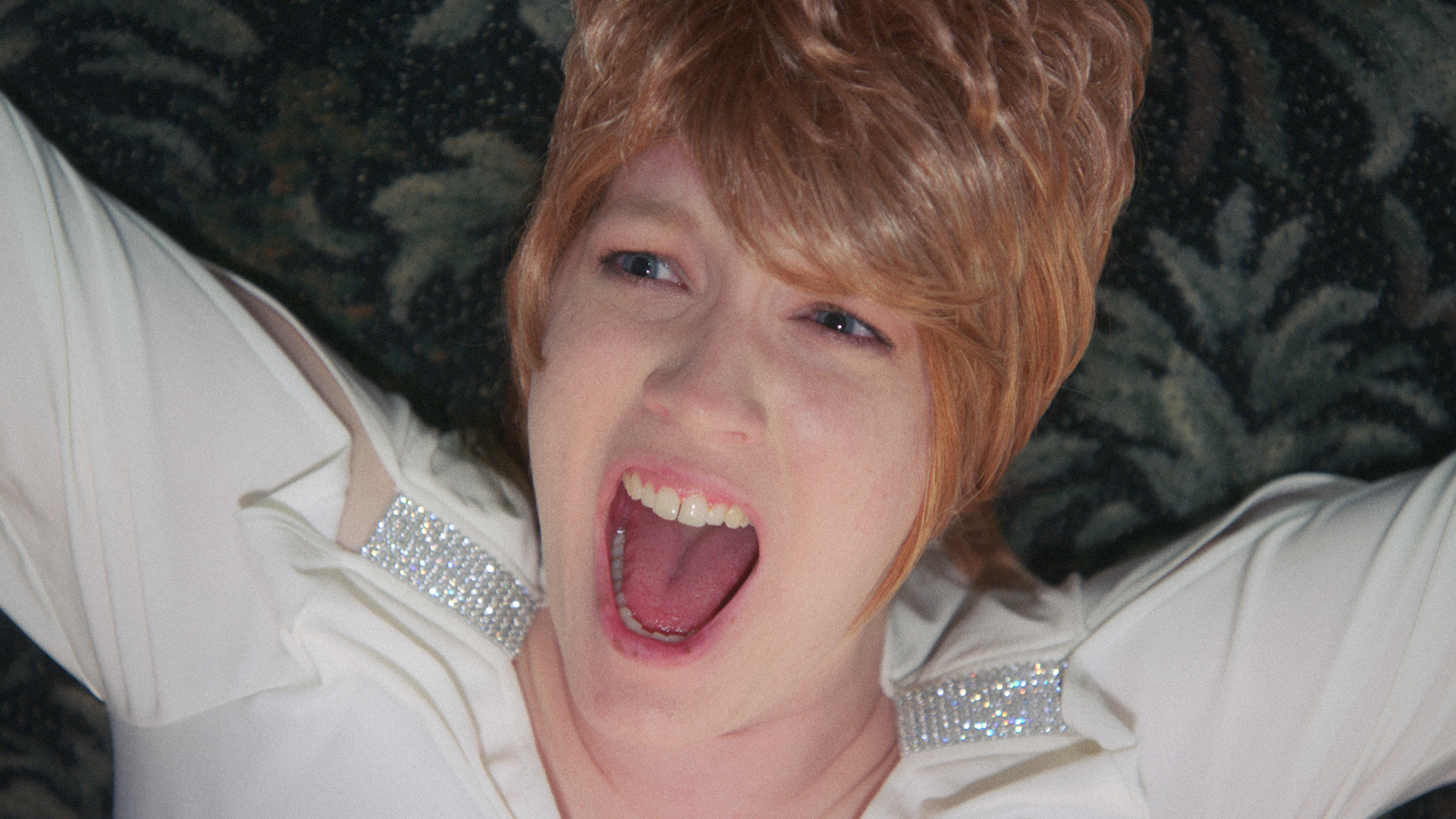 The Miami-based film collective Borscht—whose alumni include such figures as Barry Jenkins, Jacolby Satterwhite, Terence Nance, Celia Rowlson-Hall, and Jillian Mayer—hosts a festival every two or three years to showcase films made through their microgrant program. The first time the collective held the festival, they pledged to not show the work of any filmmaker over 30, but in recent years the core members have aged out of that threshold, and dissolved the rule though they've since started a fellowship program for younger filmmakers, which in turn spawned collectives further like Bisque. (Don't read too deeply into the soup names.)
If I could offer any sort of trend report dissecting the week's film—especially those authored by this new cohort of solidly Gen Z filmmakers—I'd say there was an interesting split between works attempting to reframe mundanity and those delving into the fantastical. Sam Fishman's Afternoon run in New York City, which consists of a trip to Wendy's shot on GoPro, falls into the former, while the underwater, pastel-hued claymation universe of Julie Fliegenspan's Millennial Prince belongs strongly in the latter.
The event presented commissioned films made through the grant program alongside other works that were submitted to the festival, some of which were rough cuts and work-in-progress screenings. This was my third time attending, and, as always, I was exposed to exciting work and filmmakers I had been previously unaware of.

COUSIN COUSIN is the name of a collective of Native and Indigenous filmmakers founded by Adam Khalil, Adam Piron, Sky Hopinka, and Alex Lazarowic. At the festival, Piron and Hopinka presented the group's first public programming: a selection of shorts and a two-channel video by Hopinka. Hopinka's video narrates an escape from Florida's Fort Marion, a space used throughout the 19th century to hold indigenous prisoners of war captive. The work highlighted a history of incarceration and resistance through artmaking. Cloudless Blue Egress of Summer—an essayistic film incorporating archival research material and poetic on-screen text—like so many projects aired in the larger program, fell somewhere on the spectrum between documentary and experimental filmmaking. Other highlights included Piron's Gùtk'ódàu (Yellow), a meditation on language, color, and culture, and Lazarowic's Out of Nothing, which juxtaposed a particle accelerator and the big bang theory alongside an Indigenous creation story.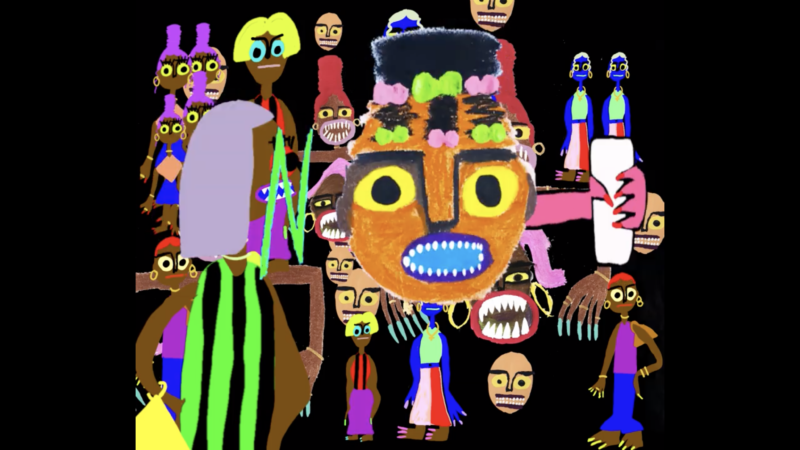 Gabrielle Ledet Gabrielle Ledet's 2065 introduces us to the filmmaker's unique universe. Mixing vibrant, hand-drawn animations with home videos, family photos, and audio recordings of loved ones, the work is at once autobiographical and otherworldly. Prison, okra, tears and school teachers exist alongside a rhythmic morphing and multiplication of faces and figures, all rendered in Ledet's signature style, some with open mouths like large Os that bare rows of teeth. The New Orleans-based artist also paints, and she worked in the animation department on Terrance Nance's Random Acts of Flyness.
Marnie Ellen Hertzler Baltimore-based Marnie Ellen Hertzler's short film Dirt Daughter—the tale of an internet server facility security guard in the midst of a breakup—finds itself somewhere between the deadpan absurdity of Charlie Kaufman and the unsentimental loneliness of Catherine Breillat. The film finds our protagonist, played by Isobel Arnberg (an undeniable talent and frequent collaborator of Herzler's) taking advice from the facility's anthropomorphic motherboard and recording videos of herself in a milkmaid costume for use on a farmer4farmer dating site.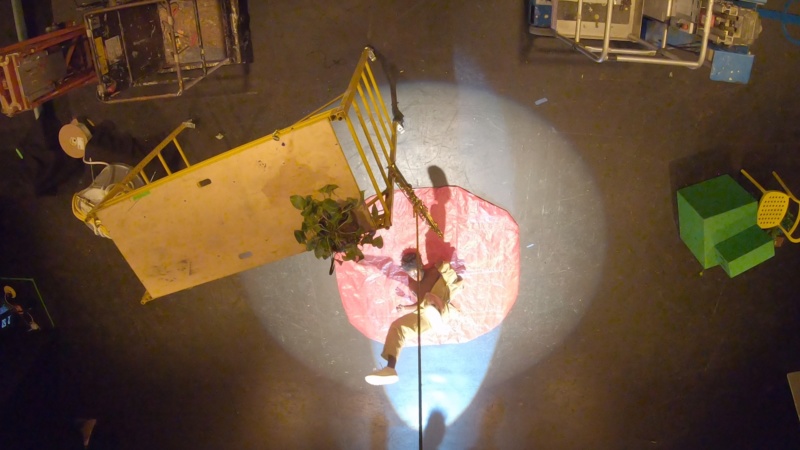 Trevor Bazile / Nile Harris Mingus's The Clown, a collaboration between Miami-based filmmaker Trevor Bazile and Brooklyn-based performer Nile Harris, is a disorienting meditation on the white consumption of black entertainment. The title of the work—as well as archival clips woven throughout—suggest the film's source material: jazz musician Charles Mingus's 1957 song "The Clown" which tells the story of a clown who, as Mingus explained, "tried to please people like most jazz musicians do, but whom nobody liked until he was dead." According to Mingus, his version of the story ended with the clown blowing his brains out as the crowd, who thought it was part of the act, roared with laughter. He notes, however, that the song's narrator, actor Jean Shepherd, left the ending more ambiguous in the final track. Bazile and Harris's film version similarly demands a fair bit of interpretive work, and its frantic editing, perspective shifts, and use of wide angle GoPro cameras, never let the viewer feel comfortable. Bazile has emerged as the unofficial leader of the Borscht offspring Bisque.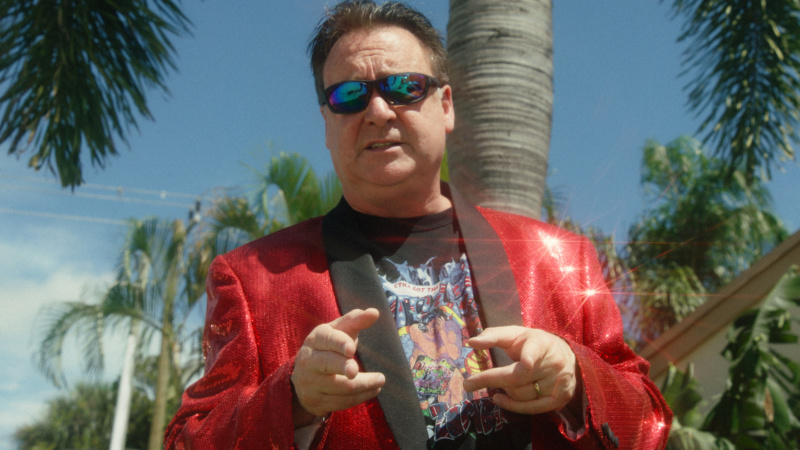 Maya Margolina Maya Margolina's documentary Buddy Boca presents itself as the profile of a Queens-born, Miami-based bar mitzvah and wedding DJ, but the offbeat character study veers into an existential meditation on mortality, purpose, vocation, and legacy. Moments like Buddy casually gesturing to the cardboard box containing his father's ashes and his ensuing off-the-cuff meditations on what we leave behind hit that banal-profound balance. As New York-based Margolina's first proper documentary short—she has a background in commercial and editorial video—it's an understated and stylish piece of verité filmmaking.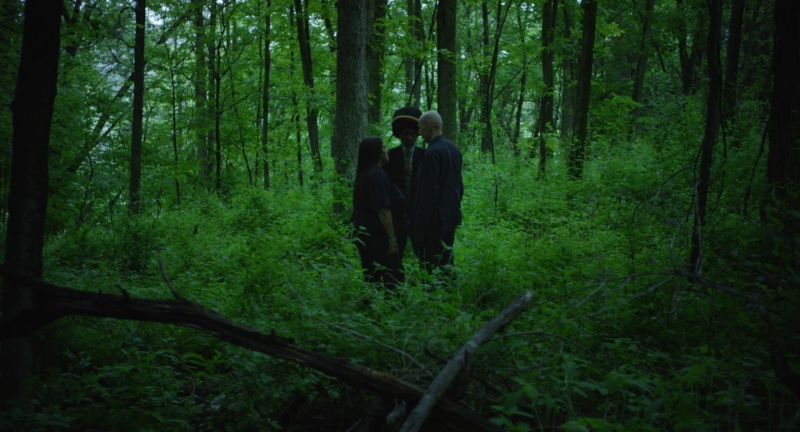 Adam Khalil / Bayley Sweitzer Adam Khalil and Bayley Sweitzer's Empty Metal is a thriller for our times. With profound statements on privacy and the meaning of apocalypse, the micro-budget feature tells the story of a disaffected punk band who become politically-motivated assassins. The group is recruited by a telepathic triad: an indigenous woman, a Rastafarian computer hacker, and a Buddhist hermit. The tightly wound plot incorporates surveillance and sousveillance, police violence and counter actions. Khalil was also a participating artist in the 2019 Whitney Biennial.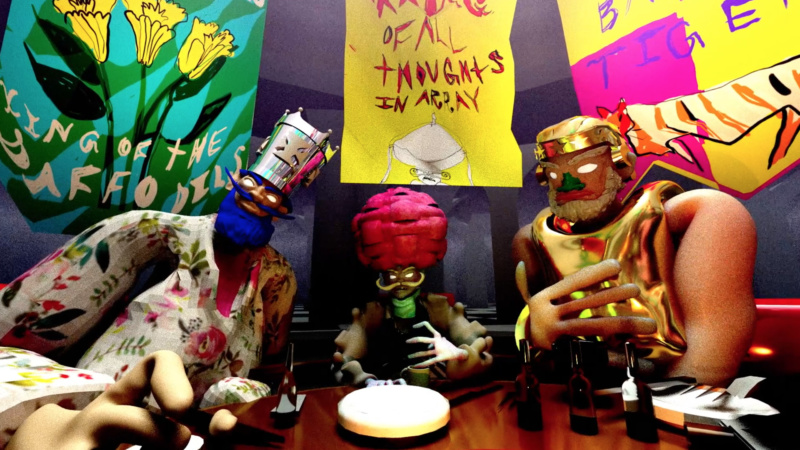 Jack Wedge In Goodbye Mommy, Jack Wedge brings to life a cyberpunk underworld. His 3-D animation style is somewhere between Bauhaus theater and the Gorillaz, and the film's creepy, wondrous atmosphere is soundtracked by Arca's dark pop music. The protagonist is a hardboiled detective, referred to simply as "the detective," who gets a call from "the queen" soliciting his assistance in finding her baby. Rich in visual details, wonky motion, and fantastic world-building—all with a strong sense of narrative and character development—Goodbye Mommy is a warbly, futuristic film noir for k-hole frequenters.