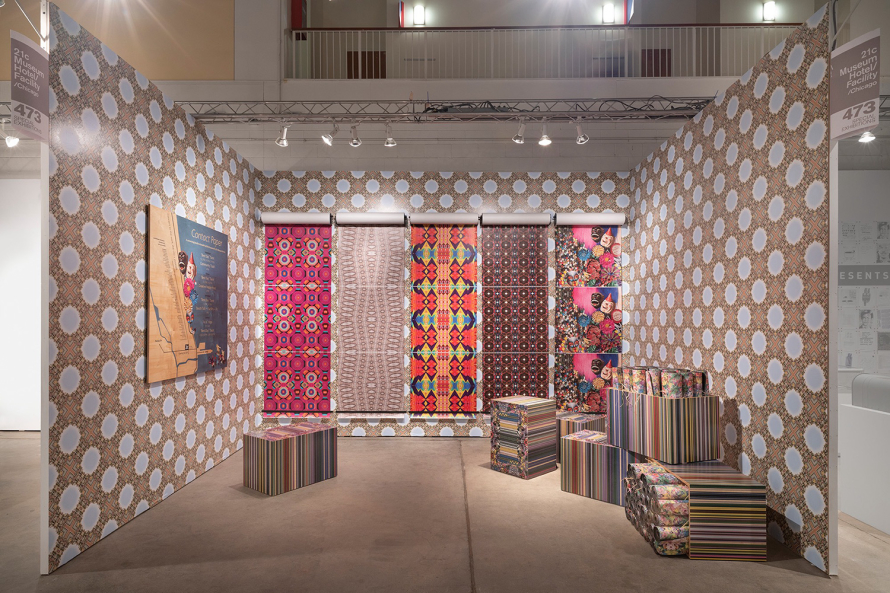 Nick Cave's work is oceanic in that it is both wide and deep. An artist whose work resides in the realms of wearable sculpture, dance and performance art—and who we recently interviewed—his projects vary in scope and scale and always push the boundaries of creativity. With his partner Bob Faust, he's just opened a multidisciplinary creative space, Facility, in Chicago's South Old Irving Park neighborhood, and they've also partnered with 21c Museum Hotels on the special project Contact Paper at EXPO Chicago.
Facility houses Cave Studio, Faust Associates and $oundsuit$hop, and is organized around the philosophy that art and design can be catalysts for cultivating peace, power and change. Cave says, "The space is really about possibility, imagining and dreaming up the future, and providing a platform for artists to do that. It's everything to me. It's an opportunity to see yourself in a different way through the arts." Community-driven at its core, Facility will be a creative hub for other artists, artisans, designers and architects to export their works and ideas to the greater Chicago area and eventually the world, with plans for hosting pop-up projects, exhibitions, performances and retail experiences.
For EXPO Chicago, which takes place September 19 to 22 at the Navy Pier, Cave and Faust have collaborated with 21c Chief Curator and Museum Director Alice Gray Stites to create an interactive experience. Stites says, "When EXPO invited 21c to participate in the Special Exhibitions section of the fair, we immediately thought of working with Nick and Bob because of the alignment of our mission with that of Facility's: to engage and nurture community through art. We also believed that Nick and Bob could create the kind of multisensory, immersive and participatory experience that we strive to offer. Contact Paper has exceeded our expectations; we're thrilled and proud to share Nick and Bob's joyous, generous work with the plethora of visitors to the booth."
The space is decorated with reams of wallpaper printed with Cave and Faust's rich polychromatic patterns. There's also a Facility-designed kaleidoscopic floral yoga mat—the perfect accessory for a chic yogi—and a program of live events that includes tarot card readings, yoga sessions and discourses exploring wellness, healing and spirituality. The wallpaper and yoga mats are available for purchase, and all proceeds benefit the Facility Foundation which provides scholarships, opportunities and programming partnerships for emerging artists.