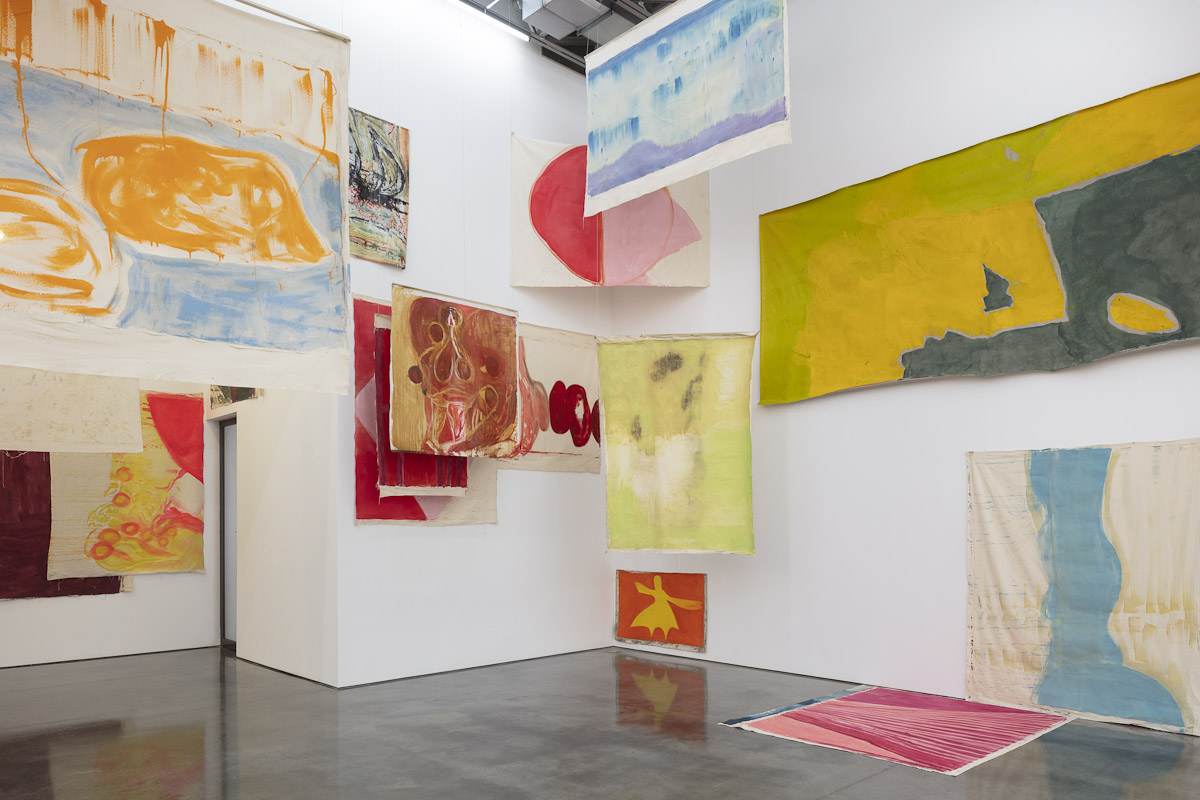 On entering the space I'm quickly enveloped by an almost spiritual energy or heaven on earth resemblance, partially due to Vivan Suter's use of each piece of the architecture—a pleasant bombardment, walls, floor and even some of the ceiling via the ad hock painting rack which I named the brain or nucleus of the exhibition. This installation allows for light to be filtered, welcomed, sliced, held hostage as it cascades through the space in various manners, but this spiritual impression is also due to the projected weightlessness of many of the paintings themselves, even if they are laying with one another in piles atop the concrete floor. There's a total of 103 paintings on display, and on my second viewing I overheard a gallery representative say that some pieces were made 30 years before the most recent ones. All works are untitled and undated with mixed media on canvas and the correlating dimensions as the most discerning information on the checklist alongside a thumbnail of each work matched with a number identifier. The work, with few contextual clues and fewer proper nouns, moves through several schools or modes of painting from Color Field to Supports/Surface to Neo-expressionism and in some cases Minimalism, but once combined with, on top of and beside one another, it quickly transforms into a newer nameless hybrid.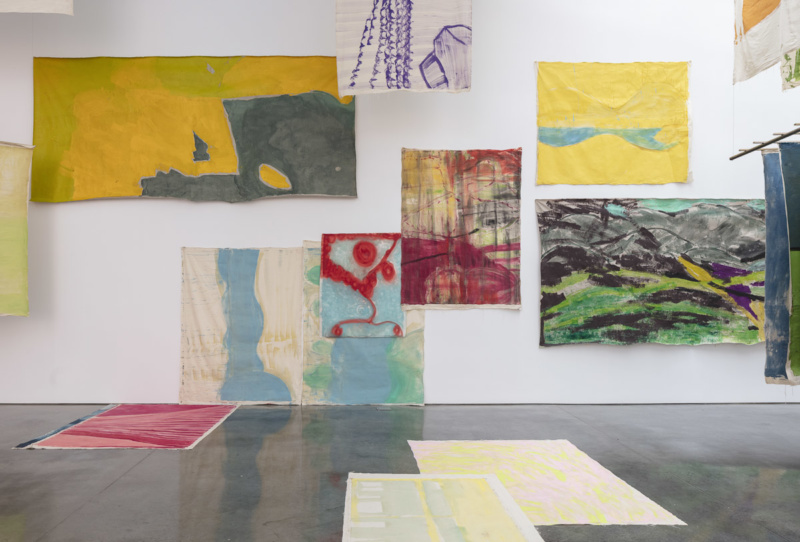 Most immediately the tension between fragility and brutality fills the space as there is the combined sentiment within a single painting itself—a transparent wash verses an abrasive smear or cake of pigment, hard and soft lines competing with opaque sweeps for spatial privilege, real estate. Which paintings choose to lay down and rest versus those that hang, and which hold their original form as opposed to changing with the elements around them, which are taut, which loose? Then there is the literal touch of hand versus that of the earth, since works are often constructed and left outside to marinate, many of them resembling bodily interiors (organs and veins) or the interior of nature (leaves and compost samples). There's an equal appreciation for the contrived controlled nature of making paintings versus the aggressively irregular personality of nature's attitude. There are the elements, rain, wind and sun, versus the cotton duct. Although, Suter seems to welcome this engagement and works with nature as her main collaborator, like previously dampened and dried loose leaf pages some works house actual leaves and soil, and many of the paintings' edges curl in on themselves, resembling giant skins of wood or hide pelts, mirroring movement through air even while they are bound to the wall.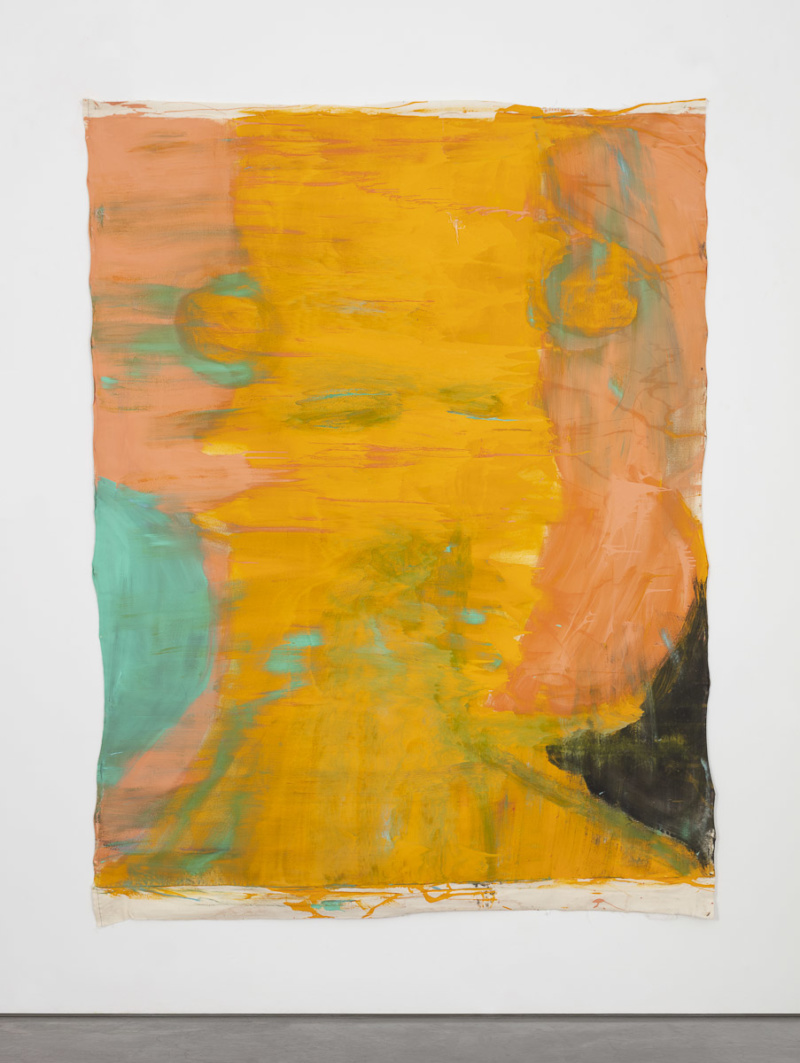 With the lack of titles and dates for these works, there is oscillation between selfishness and selflessness and questions about where along that spectrum the work performs. Is the artist selfish for the lack of information given or selfless in allowing the viewer to bring their own wishes to the arena known as the gallery. The performance could be the production and execution of each work in the time that it lived, since arguably a work is dead once it leaves the work space that it was created in, but in Suter's case the work could be performed once it is seen. In viewing this work we are forced to approach it with very little contextual language, to actually see and not look for a spoon for feeding. With many of the works being covered or out of view, flattened to the same plane via the lack of information placed on each work, an egalitarian approach to exhibition-making is presented. Although this egalitarian idea is undercut by the artists prioritization of optical vision over "information," or other texts as context, versus having both things coincide while leaving the viewer in the decisive seat. Whichever approach the viewer takes, though, the art market is looming and in question and or is questioning.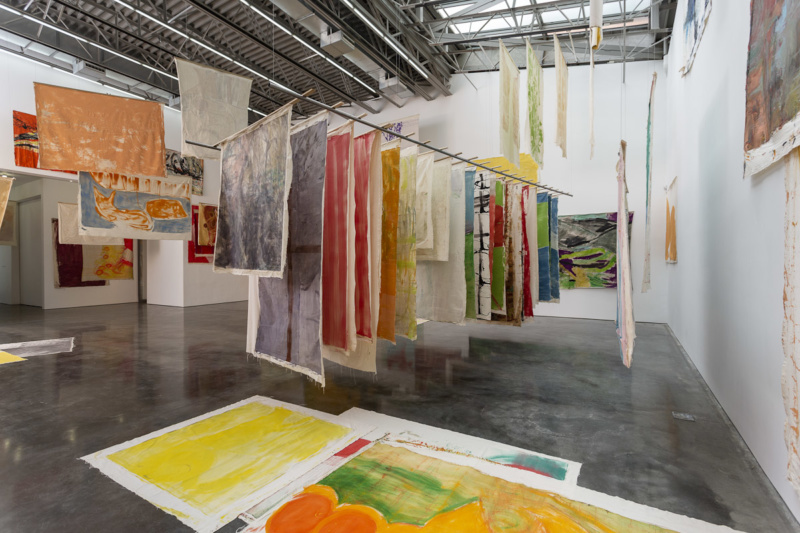 If the history of an artwork is often determined by what time period the work sits in, or when it was made, then how does one historicize Suter's works in the traditional sense? To go another step further, how does the art market value these works that are almost literally timeless, or without dates, and primarily speaking from a secondary-market perspective? Do these works then live in the blissful world of their own, removed from market filth and behind the scenes of trade? Impossible. In a time where the art world is heavily discussing economic fragility, and possibly during one of the most speculative times in history there's an abundance of risk and very few templates to follow when it comes to a mid-career artist continuing to produce work in this partially anonymous manner. This conundrum alone, is in itself, content. Although, in the back of gallery two metal pipes suspended from the ceiling parallel to one another, house 25 isolated works. If this were sport painting then this install could mirror a gymnasium meat rack but instead this rack presents these works almost as garments ready to be thumbed through and sold, an install which highlights the capitalist nature of the gallery. In this case the presentation undermines previous ideas of market rebellion and side stepping off the path most followed. Similarly, safety in numbers is the hypothesis that, by being part of a large physical group or mass, an individual is less likely to be the victim of a mishap, accident, attack, or other bad event. It's enjoyable imagining these works as propositions for flags that have been left behind, water damaged, distorted, similar to that of the meaning or value of any flag today.