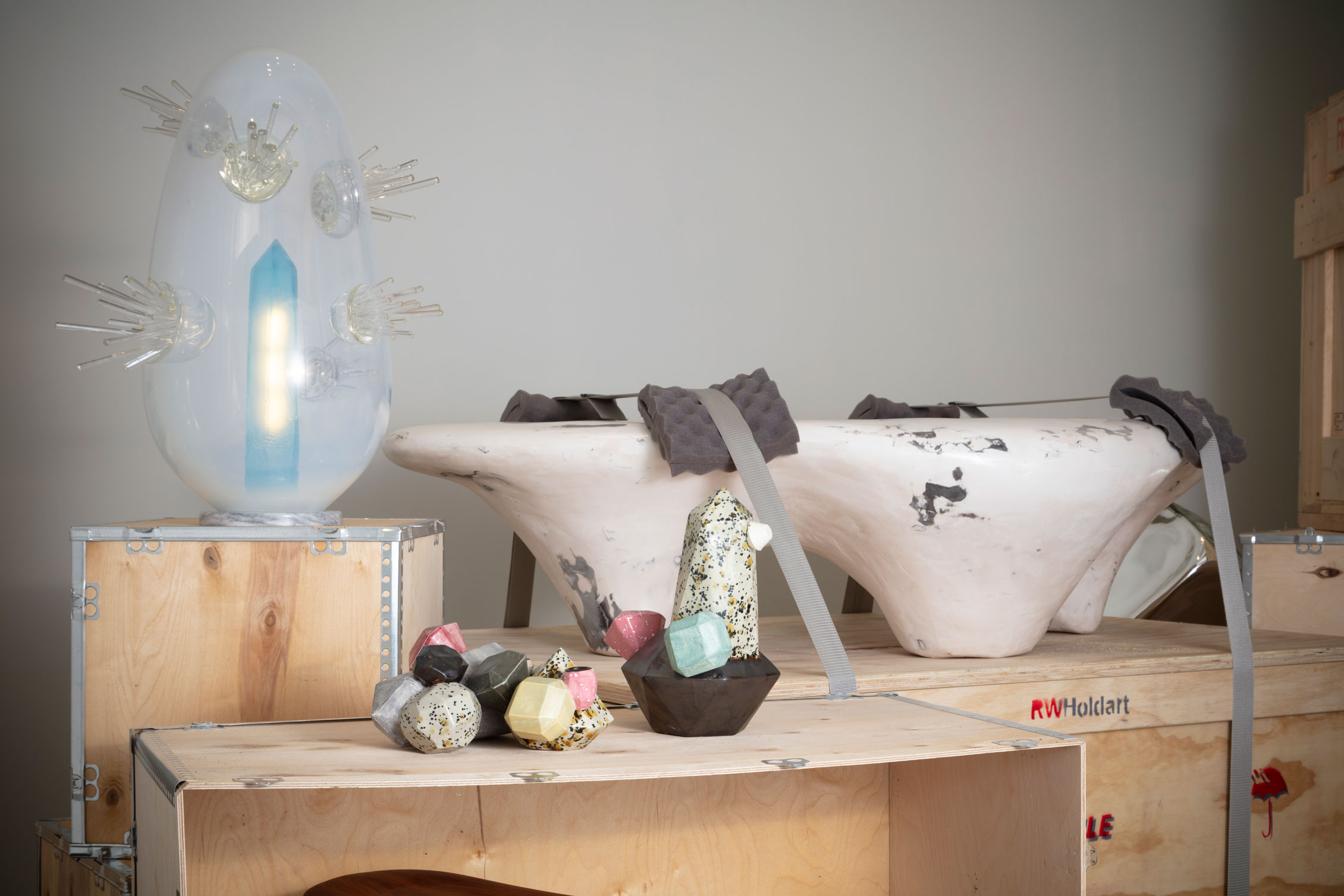 This year, R & Company's coveted invitation to organize its annual guest curated exhibition was extended to the influential international design firm Pembrooke & Ives. The resulting show, "Uncrated," documents the process of designing interiors—from the much-anticipated unpacking of a shipping crate to the excitement of seeing a finished room.
"It was important to us to showcase R & Company's fantastic historical and contemporary collection in a new way," says Alexia Sheinman of Pembrooke & Ives. "We wanted to draw attention to relationships between pieces that may not have been seen next to each before. We started with a list of objects—mirrors, benches, lighting—and then the exhibition grew from there."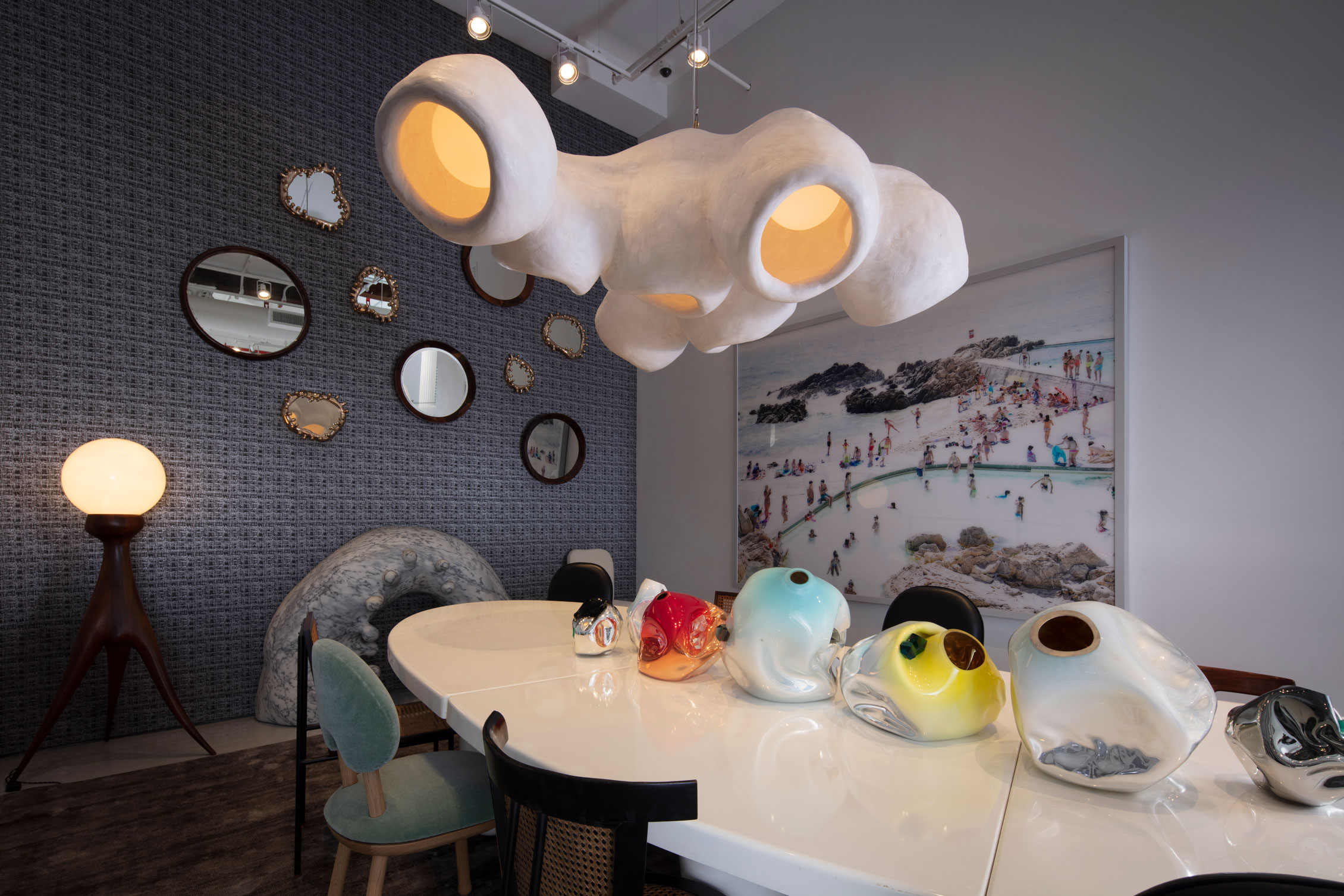 R & Company's Tribeca storefront is filled with semi-open and opened crates with pieces by contemporary designers including sculptor Rogan Gregory's curvy minimalist forms, Katie Stout's whimsical Double Girl Lamps, Babacar Niang's ebony and leather chair, and Dana Barnes's painting-like carpet, among other objects.
The work of lighting designer Jeff Zimmerman graces the entryway with a striking blue light pendant Crystal Cluster, and a wall sculpture aptly titled Splash composed of silver mirrored hand-blown glass. On the opposite wall, English designer Ashley Hicks's hexagon mirror Flintstone is hand painted in garnet tones and hovers over Wendell Castle's fiberglass shelf, White Edition Molar Clouds.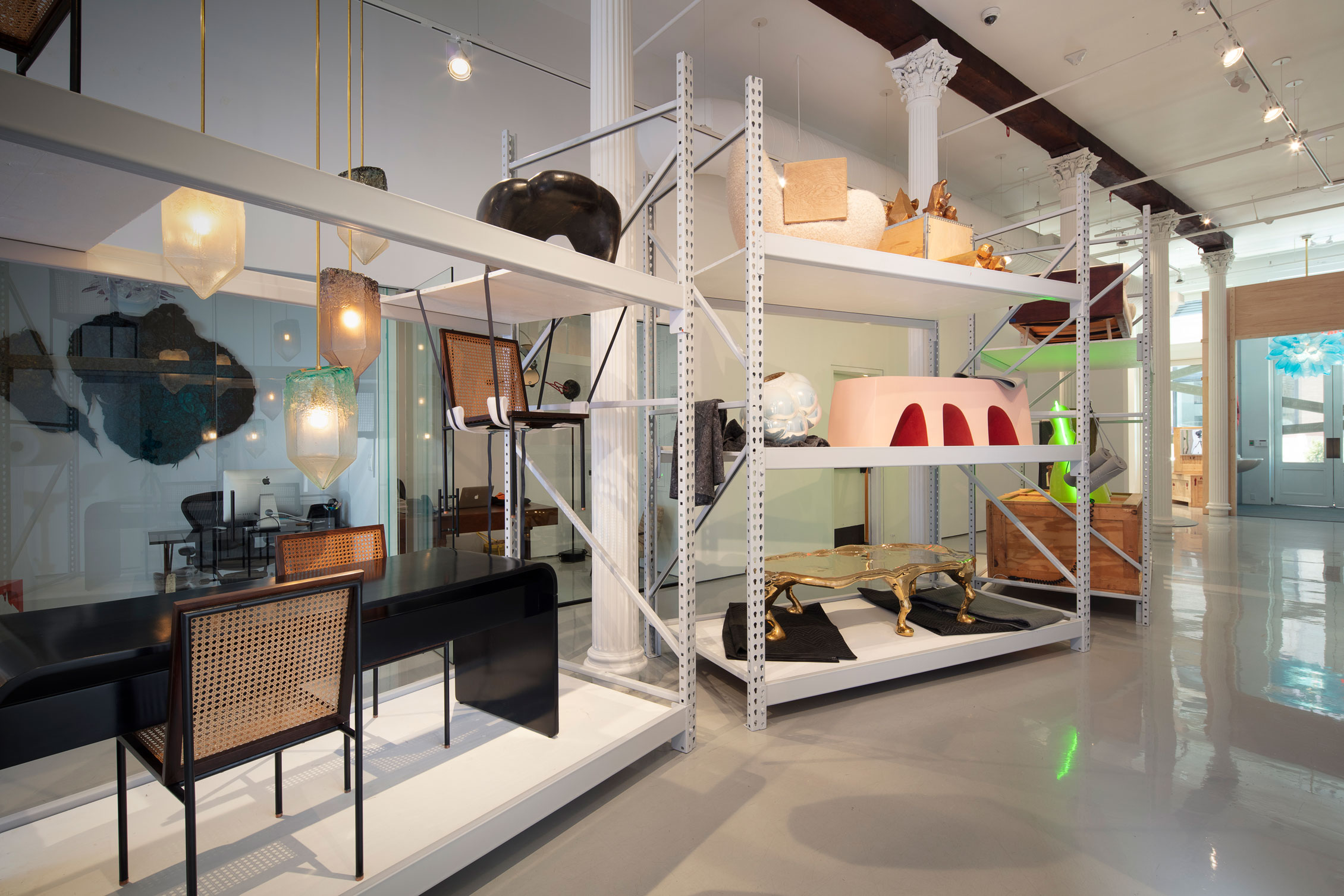 The installation is designed to take viewers on a journey with shipping crates and boxes containing objects that, when opened, create the desired interior. Taking center stage, large metal shelves provide ample space to explore and view objects from different angles showcasing the range of the gallery's collection. It's in this configuration that we can compare the classic simple lines of mid-century Brazilian master Oscar Niemeyer's ebonized black desk and Joquim Tenriero's upholstered daybed—both a sharp contrast from the shiny brass carved coffee table by the Haas Brothers or Kelly Lamb's equally bright ceramics in a gold glaze. The subtlety of Pierre Yovanovitch's pale resin bench gives off an aura of French elegance.
The final section is a fully-realized dining room anchored by Wendell Castle's White Edition Big Table with 24 seats. In a stunning white gel fiberglass, it has removable and reversible center sections, but its inordinate size allows for a lovely display of Jeff Zimmerman's silver mirrored vessels set against a backdrop of Sergio Rodrigues rosewood frames and the Haas Brothers' mirrors in cast and polished brass and silver. The unusual fireplace hand-carved in Pele de Tigre marble is also a Hass Brothers masterpiece.
"Uncrated" is on view at R & Company through August 22, 2019.