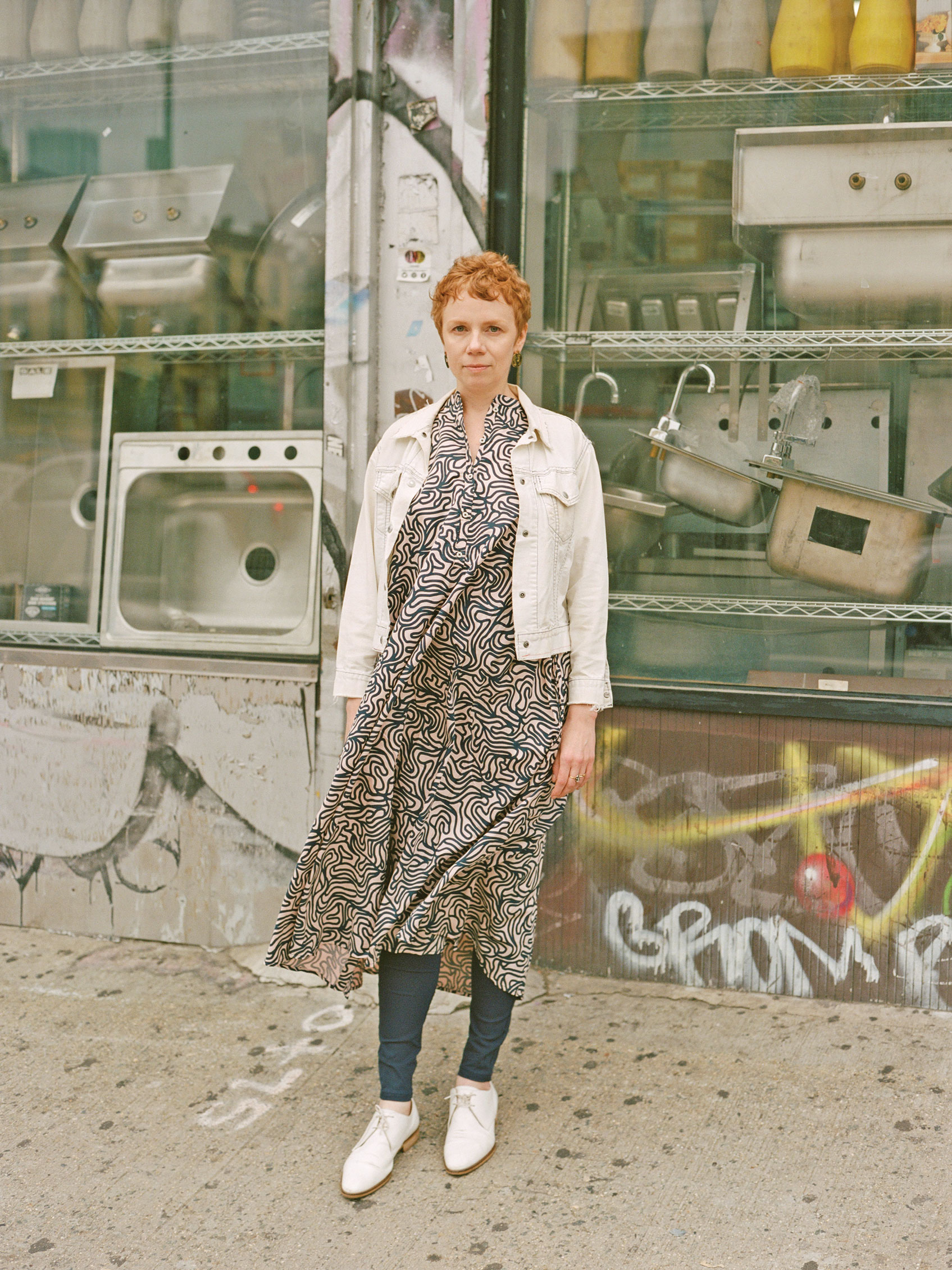 Natalie Bell | Associate Curator, New Museum Natalie Bell has long been fascinated with art's prismatic qualities: the ways it transcends its material to foster dialogue, how one work can offer multiple narratives. Bell's curatorial practice is wide-ranging: she collaborates with colleagues on massive group shows—like "Here and Elsewhere" (2014) and "Trigger: Gender as a Tool and a Weapon" (2017)—but also devotes special attention to solo exhibitions. "I care about work that tells stories not widely known or widely accepted," she says. "A lot of shows I do end up thinking across various disciplines outside of art—engaging social, political, and economic histories, or crossing into science, anthropology or philosophy."
Bell studied philosophy for both her BA and MA, intrigued by the philosophy of art, which, she says, "seeks to resolve the question of 'what is art'—which I eventually realized artists get to decide, not philosophers!" (She used to make art, too, including "weird sound art compositions" from audio recorded in the subway.) It's the New Museum's "history of progressive, risk-taking programming" that made it a perfect fit. Initially an intern in the curatorial department, she was soon working with the museum's artistic director, Massimiliano Gioni, on projects outside of the museum, which evolved into a position as an assistant curator at the 2013 Venice Biennale (Gioni curated the international pavilion).
Becoming part of the New Museum's curatorial staff has provided Bell with a constant opportunity to stretch and challenge her early questions about what art is—and what it can be. This June, she's opening "Lubaina Himid: Work from Underneath," the artist's first US solo museum show, at the New Museum; and "The Warmth of Other Suns" at the Phillips Collection in Washington D.C. Curated by Bell and Gioni, it is a "major group exhibition looking at representations of migration in art."
"It's amazing," says Bell, "to work in a place that fosters pioneering and experimental ideas about art and what art can teach us. I care a lot about scholarship and the quality of ideas, but I appreciate art as a realm that can play freely between disciplines and bend the rules that remain rigid in academia."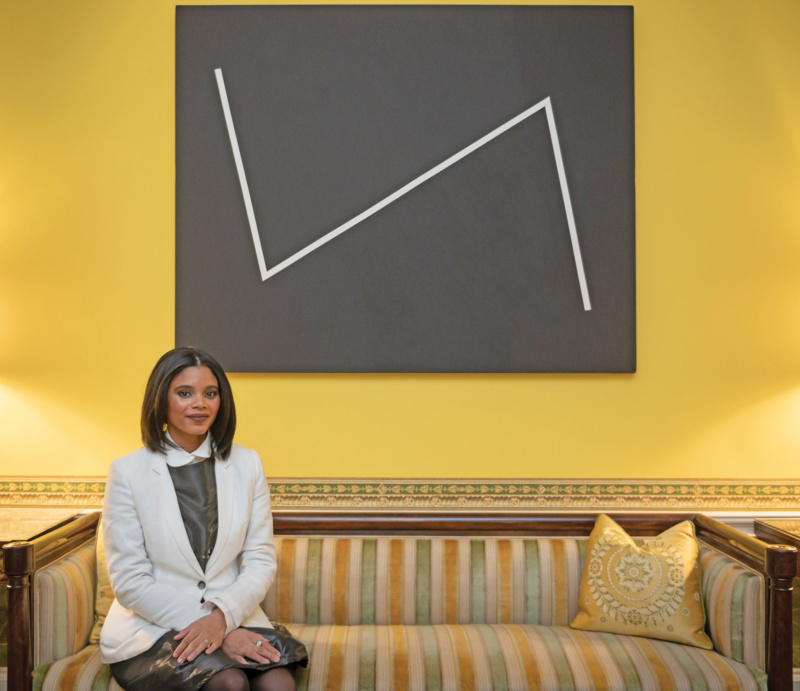 Jessica Bell Brown | Independent Curator "I always knew I wanted to work with artists in some way or form—to engage the myriad of perspectives they bring into the fold," says Jessica Bell Brown. "Museum spaces affirmed that for me. They always felt like a church, a space for reflection and immense possibility." During an undergraduate painting course, she gained "a deeper sense of the complexity and courage required to conceive an idea," recognizing a natural link between making art and presenting and contextualizing it.
The art historian, writer, and independent curator has worked in programming at Creative Time and the Brooklyn Academy of Music; she is also a co-founder of Black Art Incubator. After the Museum of Contemporary African Diasporan Arts "took a chance on a video art show" she co-curated with filmmaker Terence Nance, Brown kept going, in love with the agility of curating outside of institutions. "You're still working with teams of people, but the intellectual and entrepreneurial aspects of organizing shows demands more of a symbiosis." Last February, she curated "She Persists: A Century of Women Artists in New York," a project led by New York Mayoral First Lady Chirlane McCray, at Gracie Mansion.
Currently a doctoral candidate at Princeton, Brown's project is focused on painting in the post-Civil Rights decade, specifically the work of Sam Gilliam and the late Joe Overstreet. She recalls how Overstreet's practice "evolved into radical expressions of black liberation and formal experimentation. I'm attracted to stories that alter our sense of security in the narrative of art history." Brown is now working on "Demoiselles," an exhibition slated for 2020, "featuring painters... presenting the body in tropes of caricature or exaggeration," and another project "on the history of black American participation in the culture of opera," opening this fall. "Curator means caretaker," she adds, "and it's our duty to safeguard the work's integrity. We must also communicate those ideas, never taking for granted all the possibilities in how audiences can connect to them. It's a delicate balance between precision and openness, but artists will always light the path for us to follow."
Shanay Jhaveri | Assistant Curator of South Asian Art, The Metropolitan Museum of Art Although Shanay Jhaveri is the first person to fill this newly created position at The Metropolitan Museum of Art, "I never imagined a career in the arts, let alone working at a major institution like The Met," he says. Growing up in Mumbai, "in a household where the arts were part of its daily rhythms and routines"—Jhaveri's parents are art lovers and collectors—sensitized him, he says, "to various mediums and modes of creative expression, from classical music to painting and sculpture."
When he joined the museum in April 2016, Jhaveri considered how he might introduce relatively new work to the museum's historic collections. One solution, he explains, "is teasing out some of the connections between the modern and contemporary works that we're either acquiring or exhibiting." "We Come in Peace," Huma Bhabha's Roof Garden Commission, which Jhaveri curated last year, drew inspiration "from classical and pre-modern works from across the museum's collection." Now, he's looking forward to "Phenomenal Nature: Mrinalini Mukherjee," the first international retrospective of the late sculptor, which runs through September.
Jhaveri's examination of the relationship between the West and India—as it's manifested in visual art—reveals how "cross-cultural dialogues can be fraught, but also revelatory," he explains. "The way in which a person perceives another culture is extremely suggestive, and becomes a way of confronting one's self, one's own assumptions and at times ignorance." But Jhaveri's professional interests are expansive, "beyond South Asian modern and contemporary art, and being partly in the West facilitates and encourages those pursuits." He loves film ("there was a weekly ritual at home where I was taken to a local video library and could pick a film to watch over the weekend," he says), and continues to write about it—he edited and wrote the introduction for America: Films from Elsewhere, a new book with an upcoming accompanying program at Lincoln Center. He still travels between New York and Mumbai, maintaining his relationship with the South Asian art community. "It has been a great joy to see the field grow—many positions and historical assumptions have been challenged and reconsidered."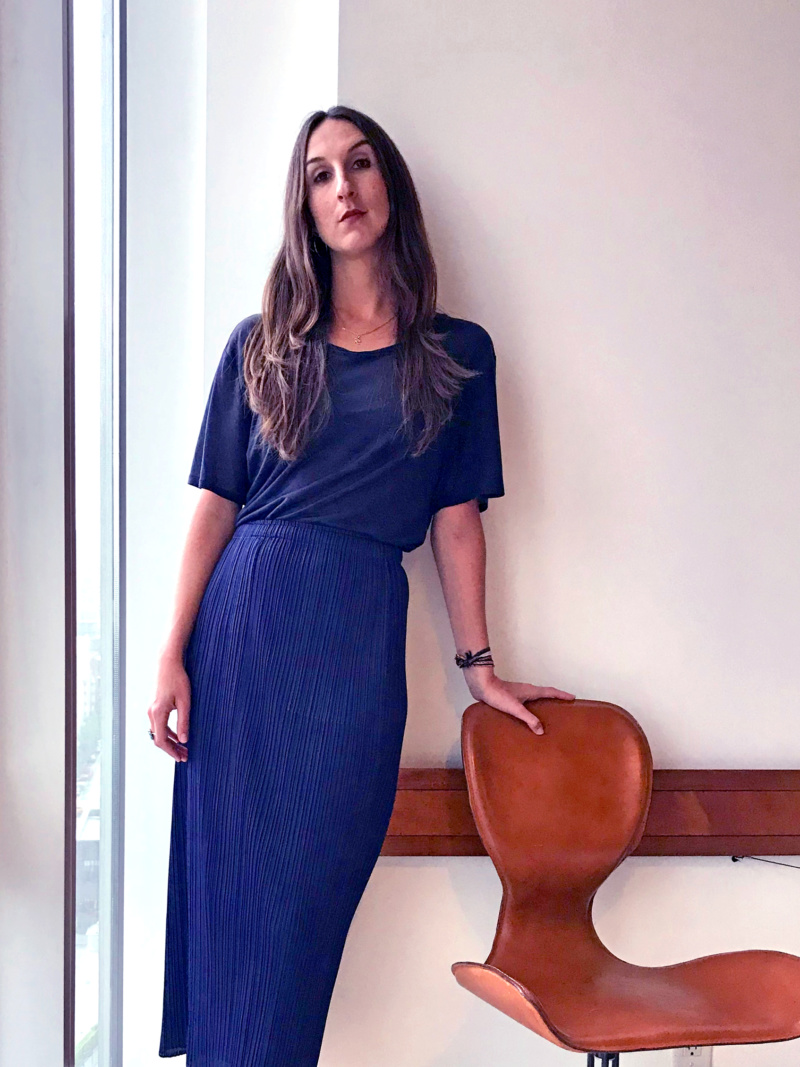 Diana Nawi | Independent Curator/Co-Curator of Prospect.5 New Orleans, with Naima J. Keith Although Diana Nawi is an independent curator these days, she still thinks of her work as part of larger institutional conversations. "I often say I serve two people—the artists and the audience," she says. "That's what orients me, this multiplicity: Who are you putting this up for? And: how do we support artists intellectually, professionally, economically? What I do is a contribution to something bigger than myself."
The California-born Nawi attended UCLA for fine arts, minoring in art history and Chicana/o Studies; with the support of her professor, Monique van Genderen, she curated her classmates' work for her senior show. Nawi went on to stints at LAXART, where she met Naima J. Keith ("we've known each other since we were wee babes"), MASS MoCA, MCA Chicago, the Abu Dhabi Project of the Solomon R. Guggenheim Foundation, and Pérez Art Museum Miami, in addition to various other projects. "I got into curating because I realized I prefer talking about art to making it. That's one of exhibitions' major functions: a space for dialogue."
In addition to Prospect.5, Nawi is excited about her upcoming exhibition at Shanghai's Long Museum, "Mark Bradford: Los Angeles," and her current show with Michael Rakowitz at REDCAT, "Dispute Between the Tamarisk and the Date Palm"—like Nawi, Rakowitz is of Iraqi-Jewish descent, and interested in how a region's story connects to larger narratives. "I am attuned to context more than anything," she says. She's presently co-developing Prospect.5, considering New Orleans's relationship to US and world history. "Our orientation point for this Triennial is the question of history, how this moment feels 'anomalous' yet precedented. How do you think about the specificity of a region within a global context? How do you square those things?" To answer her hypothetical queries herself: "New Orleans, the city itself—we think of it as a mandate. Prospect is city-wide; it's interesting to connect each artist to the place, each exhibition to the city. We have to learn from New Orleans and engage with its perspective. You dig in—you try to learn from where you are."
Larry Ossei-Mensah| Susanne Feld Hilberry Senior Curator, Museum of Contemporary Art Detroit / Co-Founder of ARTNOIR For Larry Ossei-Mensah, his work is part of what he calls "a cycle of giving." Currently curating three shows at the Museum of the African Diaspora in San Francisco, including American Artist's first solo museum exhibition, and "Crossing Night," Ossei-Mensah's second show at MOCAD (co-curated with Josh Ginsburg and Jova Lynne), his practice embodies a spirit of real connectivity. Ossei-Mensah is not simply giving emerging artists a platform for their voices—he's dedicated to imagining spaces in the art world for everyone, even those outside of it. "As you get older, you realize it's all about the tribe you build," he says. "In my community, some people don't know what I'm doing in the art world. How do we bring them into these conversations? That's how I learned. That's how, I think, other people can learn."
Raised in the Bronx—he works between there and Detroit—Ossei-Mensah's multifaceted curiosity was supported early. His parents, who emigrated from Ghana, encouraged his extensive pursuits. He interned for record labels, studied hospitality and marketing, wrote about art and worked full-time at Viacom. After the passing of his father, Ossei-Mensah "wanted to leave a mark while I had the opportunity to," he explains. "I realized there weren't enough platforms for emerging artists of color, so I started putting on shows."
"My introduction to this world is not through an institution, but through community organizations," he continues. Given his mentorships from artists like Kehinde Wiley, Mickalene Thomas and Derrick Adams, Ossei-Mensah is eager to provide the same support for others. "There aren't many male curators of color in my role at an institution. If I were to believe the stereotypes, there are a lot of strikes against me—but I won't embrace that. I'm not going to allow it to stop me from putting things in the world that I think will inspire people who might not have hope. How do I create space for artists, for other curators? How can we be in dialogue with each other? And people who want to be part of this community, too: how do we give them the tools to be successful?"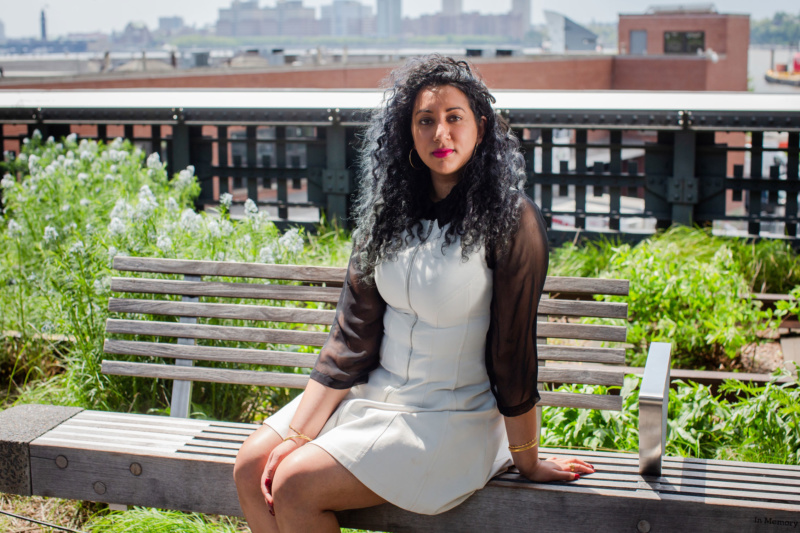 Diya Vij | Associate Curator of Public Programs, High Line Diya Vij has long been aware of a deep connection between art and politics: "Growing up in a very white community in Connecticut, raised by a family from India who had a global perspective—there was a political bent to the way I saw the world. Photography gave me permission to dive deeper." After studying photography and politics at Bard, she became a Curatorial Fellow at the Queens Museum, where, says Vij, "I realized art organizations could be instrumental in positively impacting communities, communities of color particularly."
Her first few months at the High Line have been a listening tour to explore "what community engagement programs look like with long-term neighbors; what it means to present public art in an industrial, reused space in a place of great history and constant transformation." Vij has been considerate of such factors for the entirety of her career, most notably while developing the Public Artists in Residence program at the New York City Department of Cultural Affairs, where she was the head of their Diversity, Inclusion, and Equity initiative. "I believe that my place in the art world is about understanding socially-engaged art and using a historic practice to move the needle towards justice. We put a lot of pressure on artists to solve our problems, but we don't resource them to do it. Fundamentally changing that narrative comes from understanding what equity and justice look like in an organization."
In June, the High Line presents Claudia Rankine's "We Are Here"—a series of text-based sound installations written by Rankine with Helga Davis and LaTasha N. Nevada Diggs, with sound by Jeremy Toussaint-Baptiste—and "HOW MANY OF US WILL BE THRIVING FOR STONEWALL 100? A Public Forum on Queer Wellbeing for Stonewall 50," led by the collective What Would an HIV Doula Do? "There are more people of color, queer people, disabled, trans, and marginalized folks working in this field, and we've been able to elevate the conversation—so I hope the tide is turning toward long-term, sustainable change," Vij says. "To have these conversations with fellow cultural workers and artists is beautiful and healing."
Xiaoyu Weng | The Robert H. N. Ho Family Foundation Associate Curator of Chinese Art, Solomon R. Guggenheim Museum Before joining the Guggenheim, Xiaoyu Weng's curatorial practice was extensive—spanning roles (she was the founding director of the Kadist Art Foundation's Asia Programs in Paris and San Francisco), projects (including 2016's "Soft Crash" at the Galleria d'Arte Moderna e Contemporanea di Bergamo) and institutions (such as the Wattis Institute for Contemporary Arts at CCA). But her earliest exhibitions were in her father's art studio in Shanghai. As a child, Weng would place "cutouts from the newspaper, art clippings or candy wrappers on the wall, creating a bit of a narrative," she says. Her parents and friends of her father's, artists like him, offered commentary. "Spending time with artists, listening to how they look at the world, made a very strong impact on me."
She still loves working directly with artists; for Weng, art is alive. Human. It's a slow, patient process. "I don't see art objects as static," she explains. "You work with artists and understand where they're coming from. Once it's put into the world, that relationship evolves into different meanings. Art has to actively participate in our everyday reality, with social and political issues. But it doesn't just reduce things into black and white or right and wrong—it poetically, introspectively intervenes with reality. It isn't productive, in terms of producing something that achieves a result, or in an economic sense. We might not immediately solve social problems, but the process would shape people's thinking; perhaps they will change their behavior. You can't be impatient about that."
Weng is curating the upcoming 5th Ural Industrial Biennial of Contemporary Art—the theme is immortality—where questions about time and humanity will arise. "Some technological innovators think the singularity, that leads the human to become immortal, would be the ultimate goal," she says. "I wanted to propose a counter position: What about the value of mortality, or the cultural meaning of death? What does that contribute to our understanding of who we are?" Humanity itself ignites Weng's practice: "Humanity is very complex. It comes with anger, chaos, sorrow, regret, guilt—and happiness, excitement, curiosity. The ability to experience and share it with other people is exciting. Art provides this feeling constantly." Art also offers a platform to shift hegemonic power structures—however slowly. "I wanted to encourage women working in the field, especially Asian women, to stand up and voice their opinions," she says. "I consider myself a bit of a fighter, who challenges the system and advocates for the groups of people being silenced and suppressed. I want to give positive energy to whoever is working hard and wants to change the world. We can do this together."