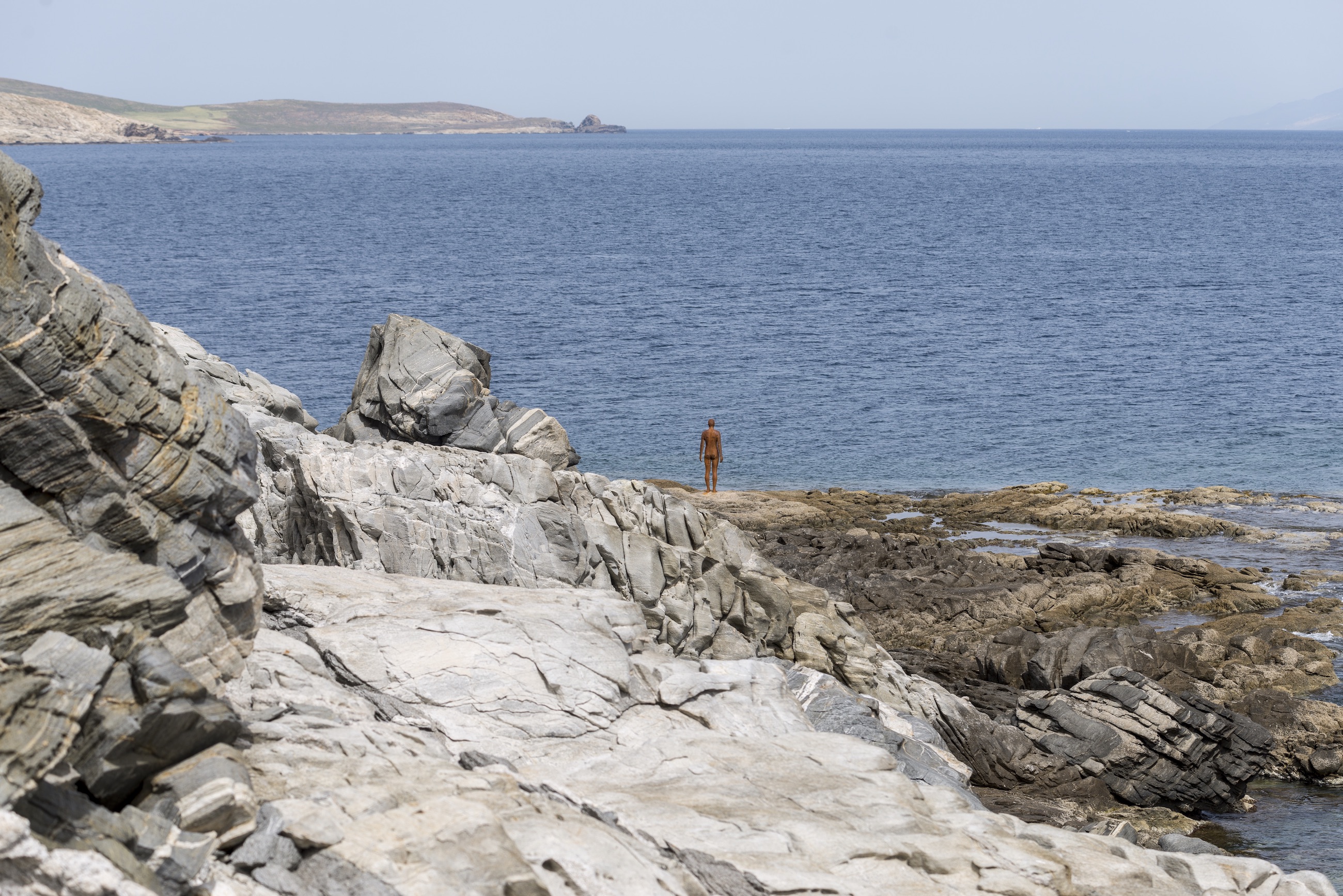 Arriving on the Greek Island of Delos from Mykonos, blinded by the sun as it bounces off the deep, clear blue water, a figure stands at the approaching point of the island. He's looking out towards the horizon, across the sea. The body is, of course, actually a sculpture (Another Time XIV, 2011). It's part of SIGHT, an installation by the sculptor and artist Sir Antony Gormley.
The ancient site of Delos, one of the Cycladic Islands off the coast of Greece, is unique among the many stunning archaeological sites in Greece in that nothing has been built there since some of its earliest civilizations. The remains of the buildings and artifacts date back to 2500 BC, weathered by time, but sit pretty much as they were left.
Commissioned by arts non-profit NEON in collaboration with The Ephorate of Antiquities of Cyclades, Gormley gained special permission to install a series of works on what is one of Greece's most prized ancient sites. Delos, although not a large island, was once a center for trade; by around 167 BC, it was the largest trade centre in the world. Now deserted and accessible only by boat, Delos offers perspective. It's a reminder that all things do pass.
[caption id="attachment_33159" align="alignnone" width="2600"]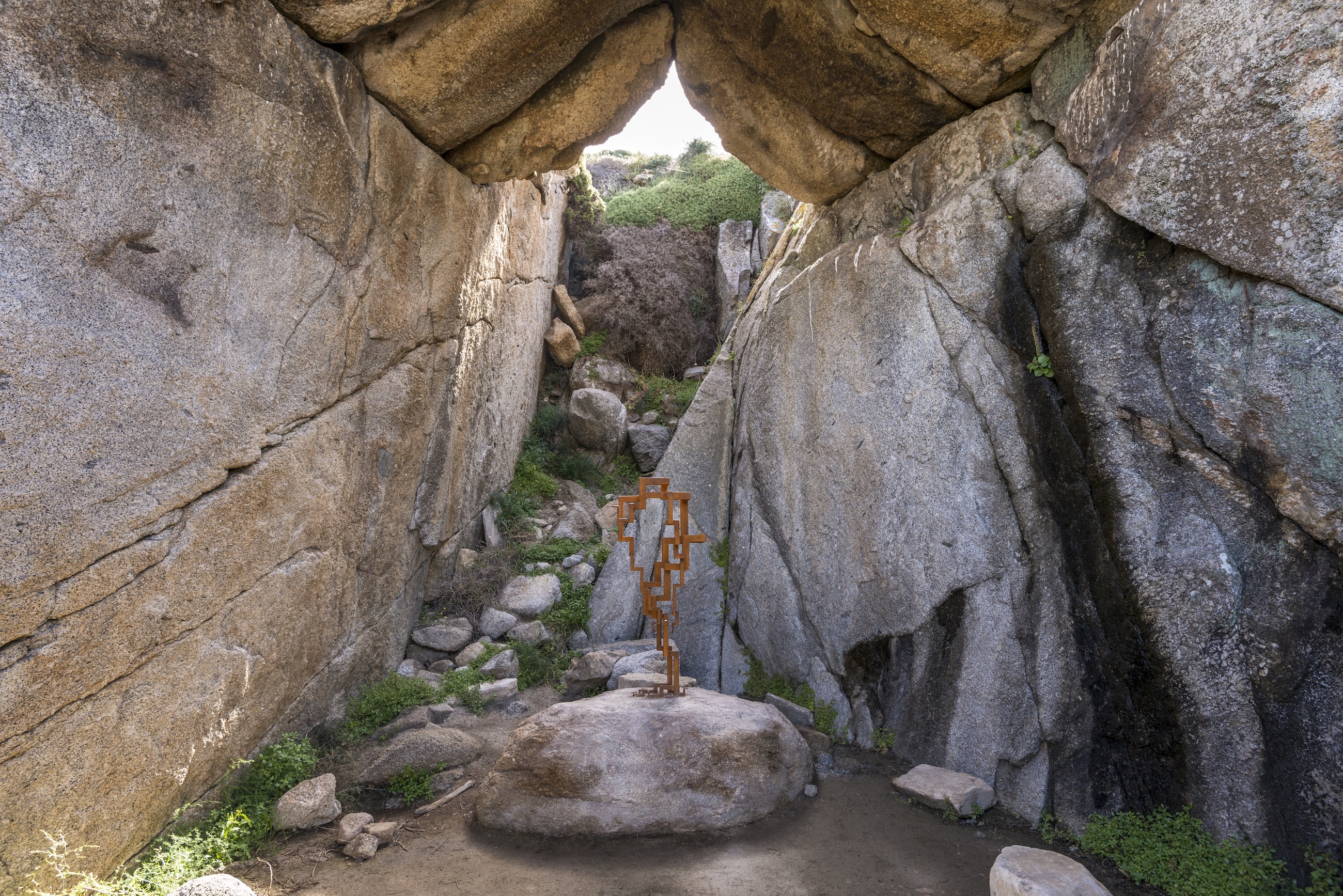 Antony Gormley, Chute II, 2018. Installation view, SIGHT, at the archaeological site of Delos Island, 2019. Photograph © Oak Taylor Smith | Courtesy NEON; Ephorate of Antiquities of Cyclades and the artist.
"I'm just in awe of the place; it's just an amazing gift and an amazing generosity to be allowed to be here," says Gormley, as we sit outside the small museum on Delos. "How could I try to colonize this, when it's a thousand years, thousands and thousands of slaves who toiled? You just have to respect that. The site is the work."
SIGHT sees body forms, three site-specific and 26 earlier works installed around the island. While exploring, you'll pass the ruin of a room or building and see a marble lintel or capital with carvings dating from hundreds of years BC to the 17th Century, alongside one of the body forms—all co-existing in one space.
"You try and get them in the right spot so that they reanimate the whole thing," Gormley says of his process. The rules conserving Greece's rich archaeological history are extremely strict and how and where the body forms could be installed was strictly regulated. Even with these strictures in place, the project was not without controversy.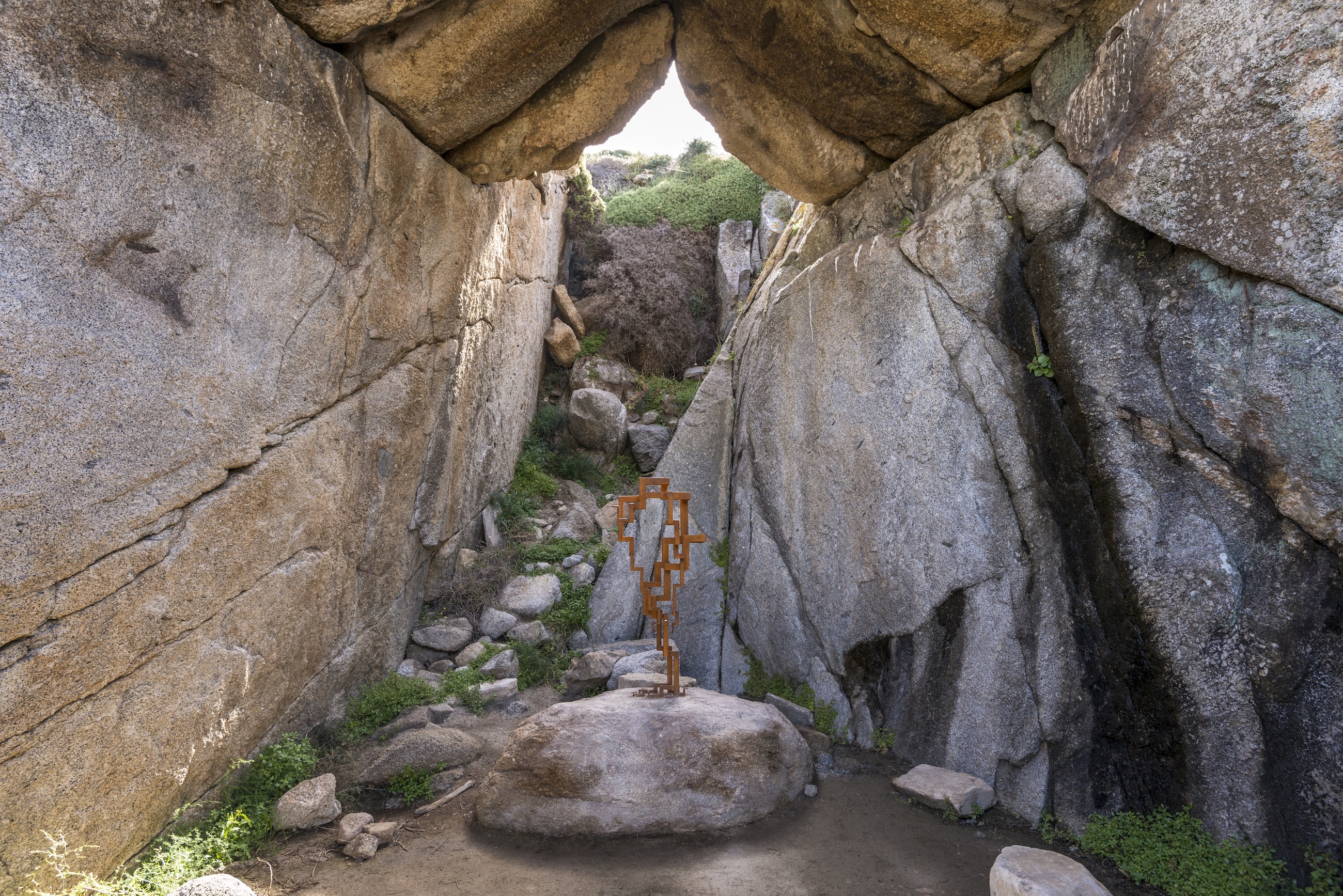 Still, SIGHT is stunningly immersive. The body forms guide you through the site as you discover each work: leaning against the wall of a house, looking out over Delos, crouching in contemplation in the location of the former slave market. The work brings the physical presence of modern man into an ancient place.
Unusually heavy rainfall made the installation a tough process, but the reward is an unusually verdant spring. Pools of water, meters deep, fill the ruins; the island is covered in scented, blooming spring flowers. Water, a site-specific work, looks down into a basement that has become a pool. Poppies spring up around the iron forms, casts of Gormley himself.
"I came with the list of works that I could make available and I haven't got time to make too many, but I made this one specifically for the site," the artist gestures to the body form sitting beside us. Another site-specific work, Chute, sits under a Mycenaean arch on the way to the top of Mount Cynthus, where Signal II encourages you up toward the peak for a stunning panoramic view.
[caption id="attachment_33162" align="alignnone" width="2600"]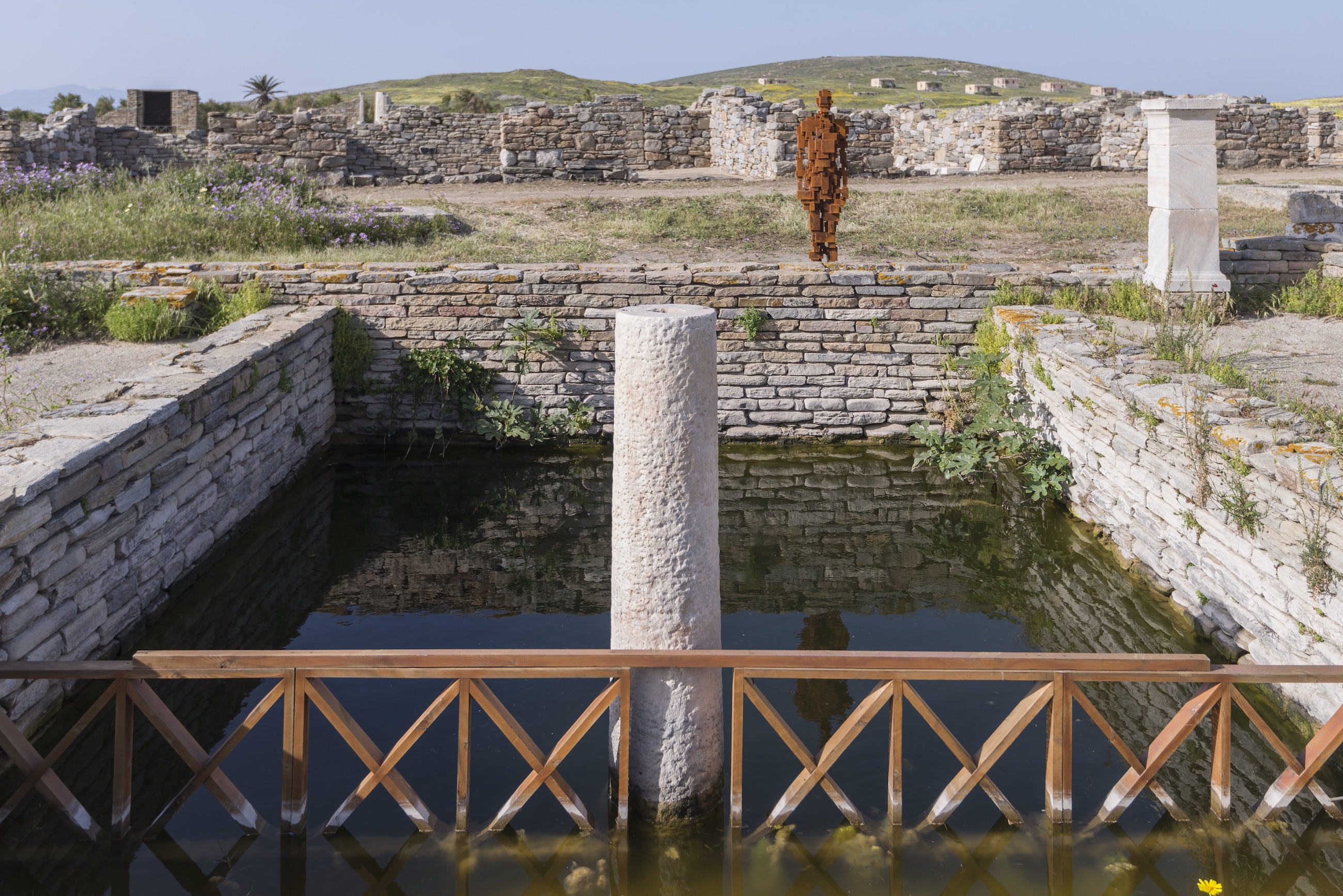 Antony Gormley, Water, 2018. Installation view, SIGHT, at the archaeological site of Delos Island, 2019. Photograph © Oak Taylor Smith | Courtesy NEON; Ephorate of Antiquities of Cyclades and the artist.
These artworks appear in a sequence that implies movement, despite their being static. Gormley, who sees the casts as reflexive and respondent to the viewer—rather than representative, like the sculptures of ancient times—has also worked on six modern dance performances with the choreographer Sidi Larbi Cherkaoui.
"I think dancing is the most direct, most immediate, most transformative art form there is. I have such respect for dance. I guess in a sense my work is still choreography," he says. SIGHT, which Gormley calls an experiment, is intended to move, to be reacted to and simply exist for the people who pass through it. "I'm more guilty than most of over-intellectualizing things, but the joy of sculpture is that it just is what it is. It's a body in space; let's feel that for its own sake. It doesn't have to have a higher value."
This is a busy year for Gormley, with an exhibition at the Uffizi in Florence and an upcoming retrospective at the Royal Academy in London. He is a master of his art, and those shows will undoubtedly be impressive. But this thoughtful and lovingly made show—or experiment—is truly magical and unique.
Antony Gormley | SIGHT, presented by NEON in collaboration with the Ephorate of Antiquities of Cyclades, is on view on the sacred island of Delos, Greece, through October 31.