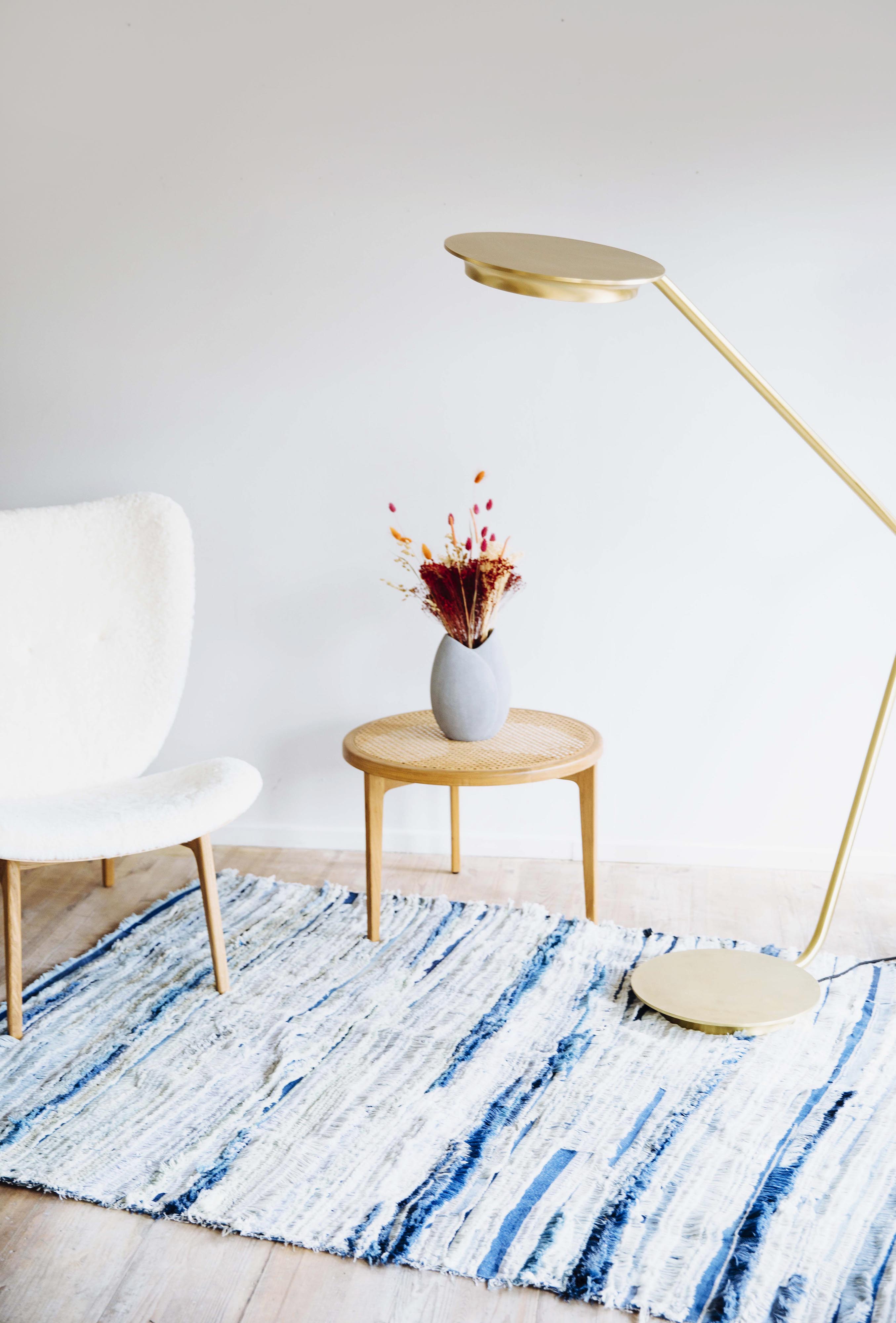 Recently, we attended the eleventh annual DesignMarch (or HönnunarMars) and can report that what one might assume to be a relatively small-scale event for this petit island nation (its population is just 357,050) was actually an impressive four-day ode to Scandinavian experimentalism, aesthetic pleasures and sustainably-minded ingenuity. From progressive fashion to product design to socially-conscious technological innovations, here are the clever creations and big ideas that caught our eye.
Denim On Denim On Denim On Denim Denim On Denim On Denim On Denim from design studio Flétta unveiled a new textile upcycling project with the Red Cross. Founders Birta Rós Brynjólfsdóttir, Hrefna Sigurðardóttir and Steinunn Eyja Halldórsdóttir took over Nordic furniture mecca Norr11's Reykjavik flagship to display their thoughtful tapestry made from strips of vintage denim that would otherwise have been disposed. The resulting rugs had true blue gravitas, not to mention eco decor cred.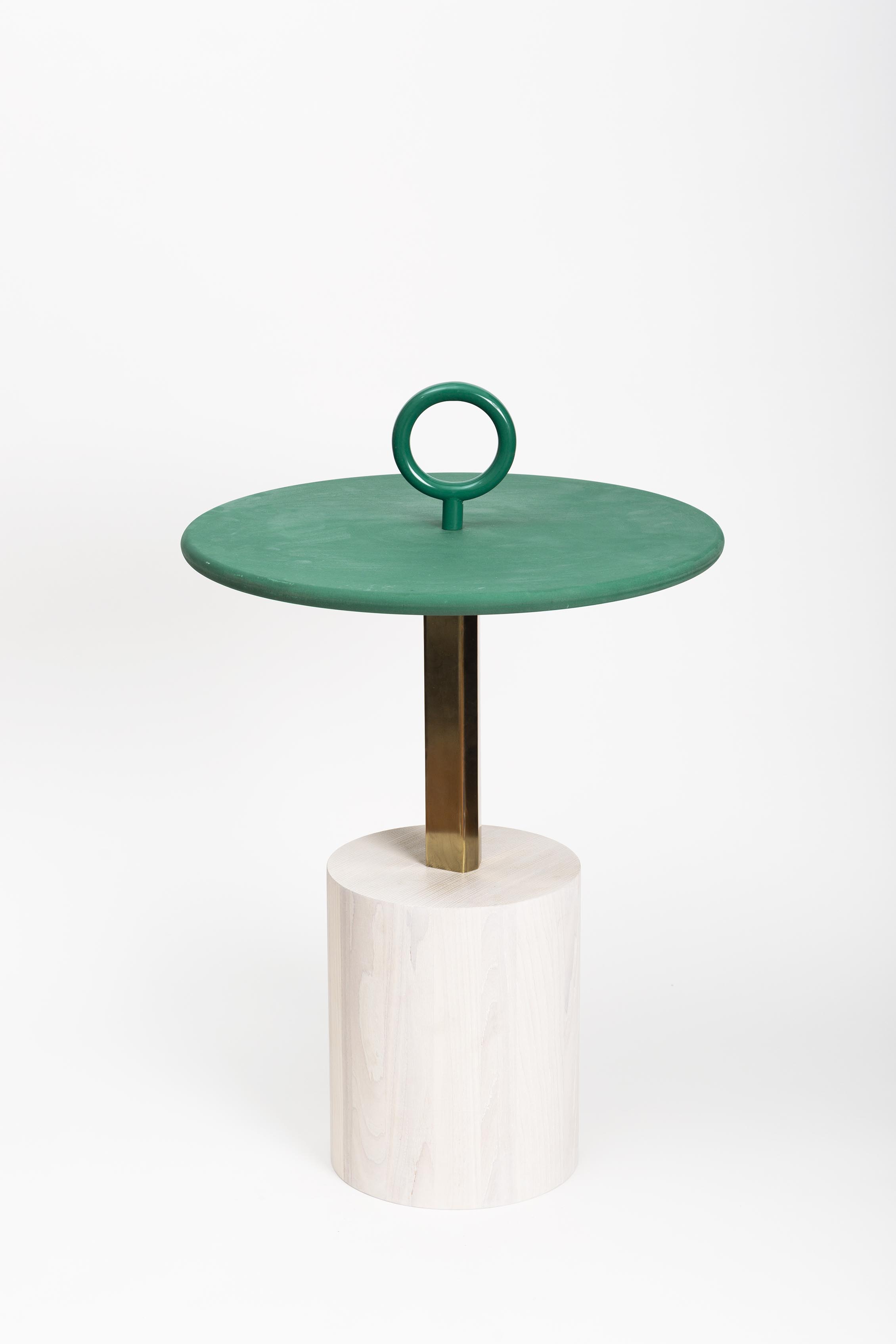 1+1+1 Furniture collective 1+1+1 won us over with their witty collaboration. Bringing together three female-founded design firms, each hailing from a different Nordic region—Hugdetta from Iceland, Petra Lilja from Sweden and Aalto+Aalto from Finland—the project examines and reimagines objects by having each studio design a piece consisting of three distinct parts, then remixing components into unpredictable combinations. First dibs on their neo-Memphis side tables.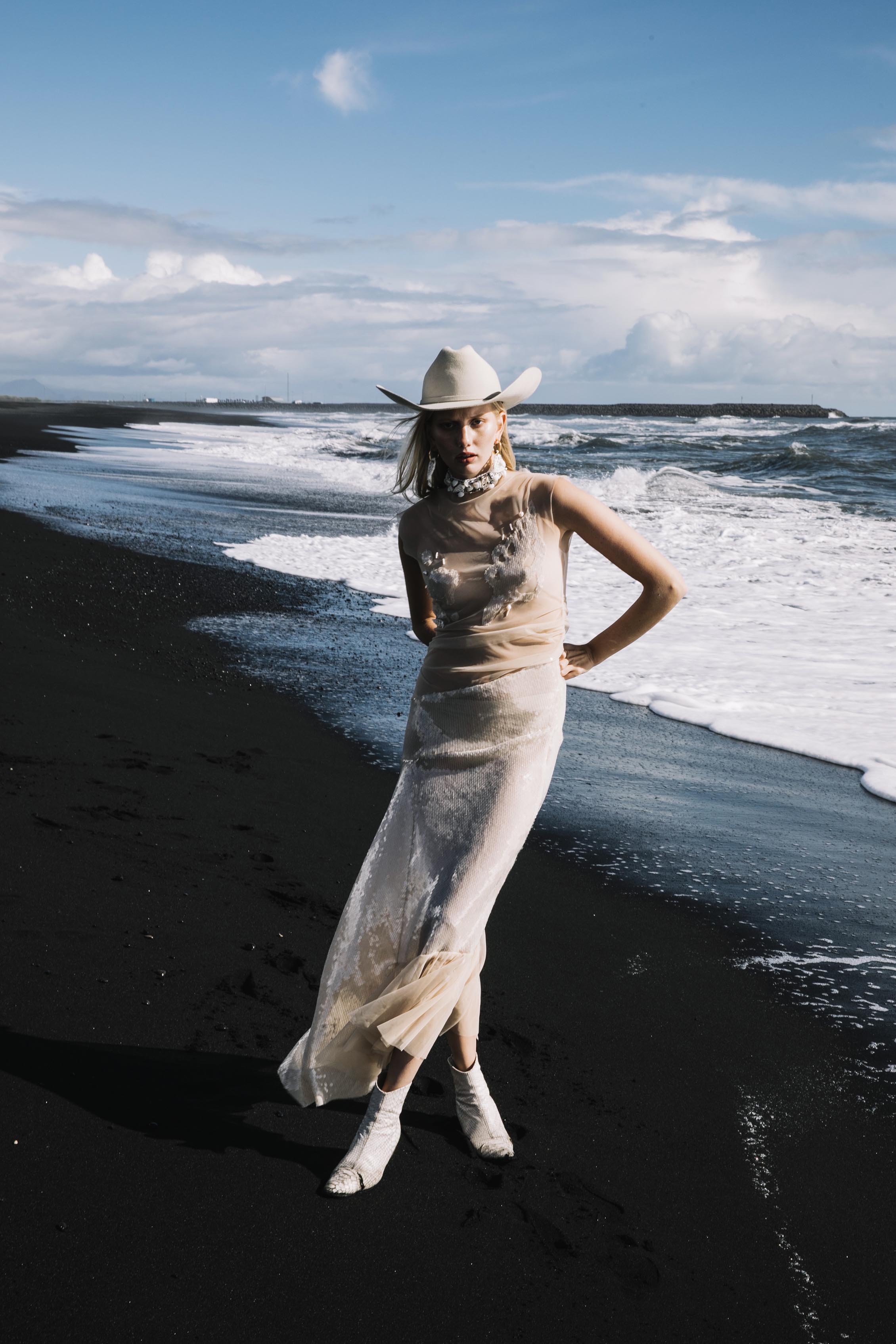 Hildur Yeoman Local fashion star Hildur Yeoman, who has dressed everyone from Björk to Bebe Rexha, showed her latest collection at Iceland's National Gallery. Entitled The Wanderer, her country-western-inflected spring offering showcased her knack for clothes that tell a story and sway the wearer to adopt a character. Stetson-clad models embraced the Reykjavik Rodeo romp, dancing down the runway in photo-printed Texas Tuxedos, sequin sets and drapey frontwoman dresses.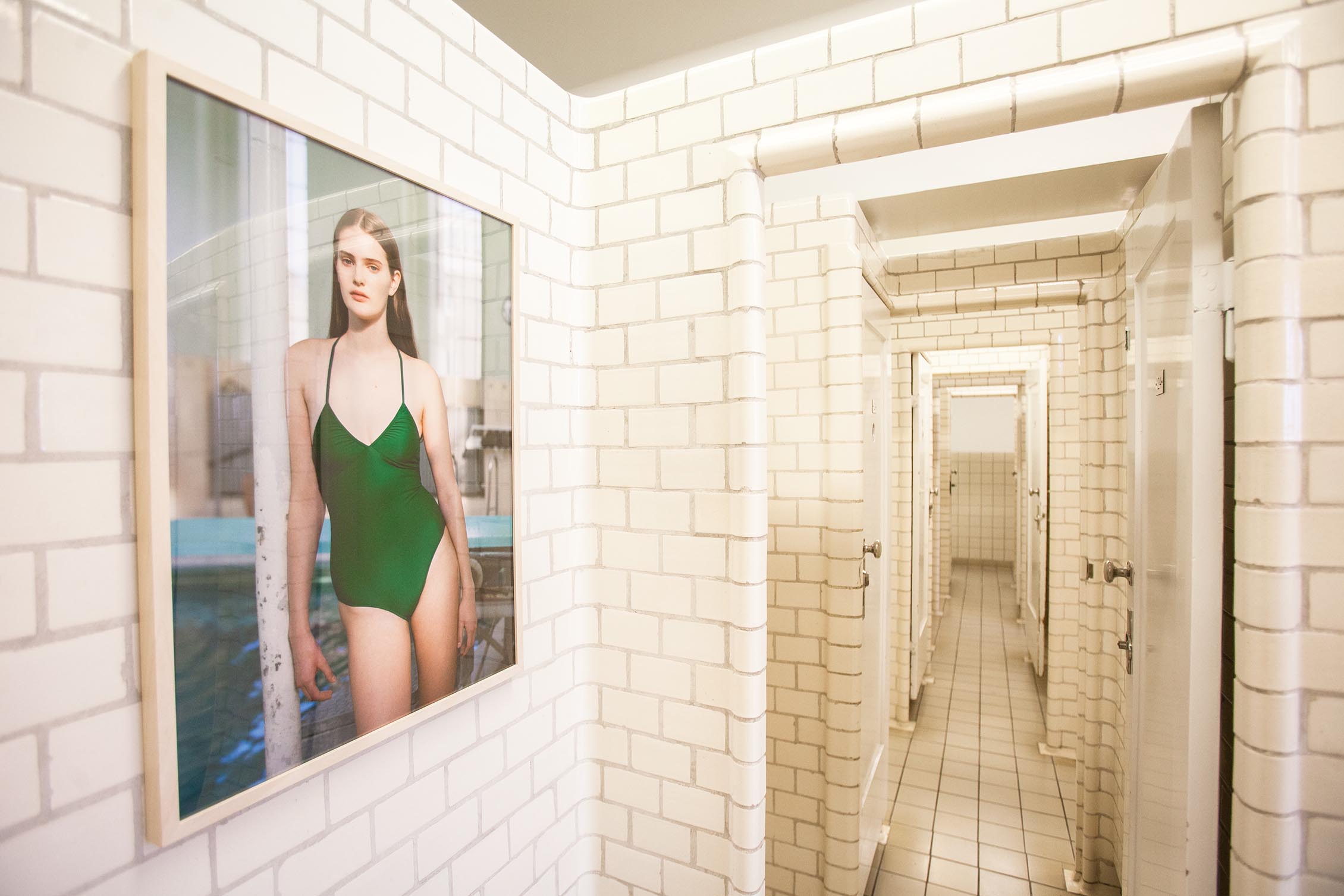 Swimslow Stylist Erna Bergmann's bathing suit brand Swimslow is akin to the Eres of Iceland: luxurious swimwear in classically flattering silhouettes. She furthered the throwback vibe with her presentation, appropriately held at Sundhollin, Reykjavik's oldest and most storied public pool. The original women's change room acted as a gallery for dreamy photographs by Marsy Hild of the newest sleek suits, made from sustainable materials.
Anite Hirlekar Fashion designer Anita Hirlekar's splashy prints, outsize shapes and saturated palette make her one of Iceland's most assured talents. This Central Saint Martins grad held her presentation at the landmark Culture House, which proved a grand backdrop for her standout coats and languid dresses in patterns that evoked a modern spin on Marimekko.
Björn Steinar Blumenstein and Johanna Seelemann turned the discovery of a dumpster in Iceland filled with bananas into a fascinating study of how this tropical fruit travelled from faraway Ecuador only to be trashed. The resulting Banana Story photographic narrative explores how cargo shipping and human relations are intertwined and proposes a new form of produce labelling.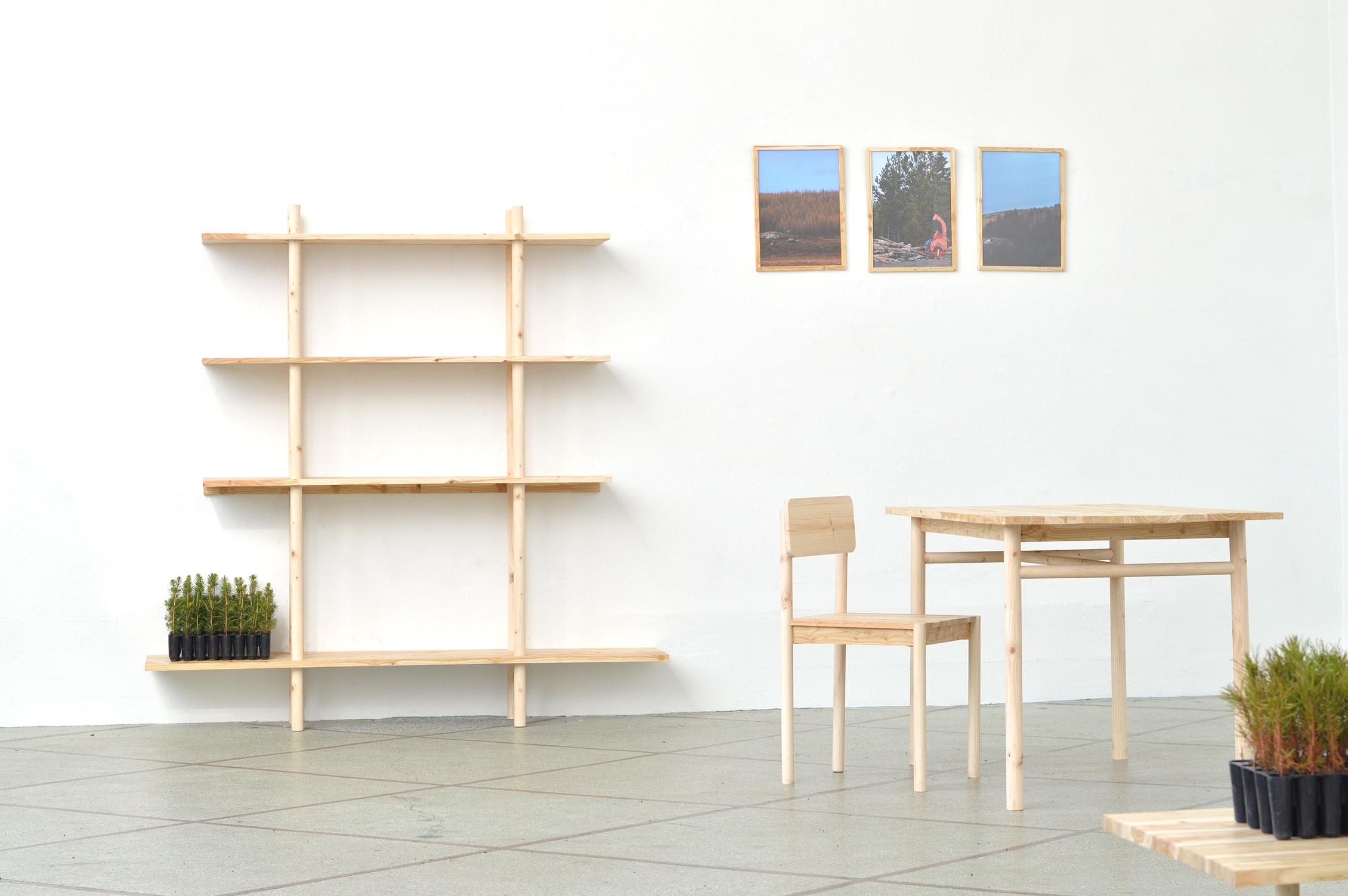 Skógarnytjar Steinar Blumensteinm also debuted Skógarnytjar, a new furniture line and book in collaboration with the Icelandic forestry sector that showcases how local timber can be used beyond firewood. In a country known more for lava fields than lush forests, the stark Nordic bookshelves, benches and tables laid a foundation for a new culture around Icelandic wood as a sustainable resource.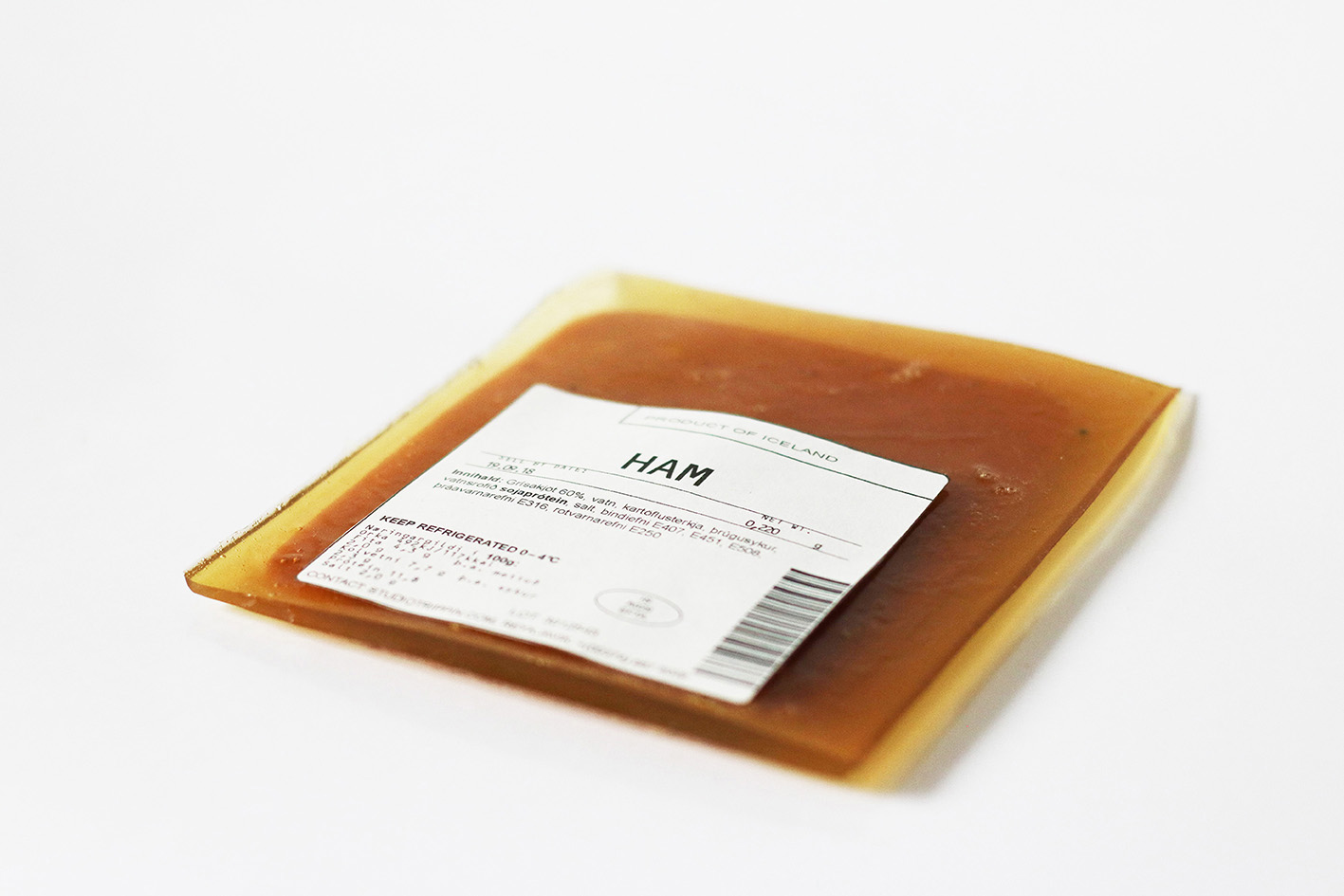 Bioplastic Skin Bioplastic Skin boldly addressed the environmental elephant in the room of wasteful food-wrapping. Valdís Steinarsdóttir's solution: biodegradable packaging for meat made out of the skin of the animal itself. With animal hides often considered to be a byproduct in the meat industry, her argument to utilize the whole animal and do it with as little pollution to our planet as possible was compelling. Indeed, Bioplastic Skin just received the first prize in the category of prototype at Forum Design de Paris.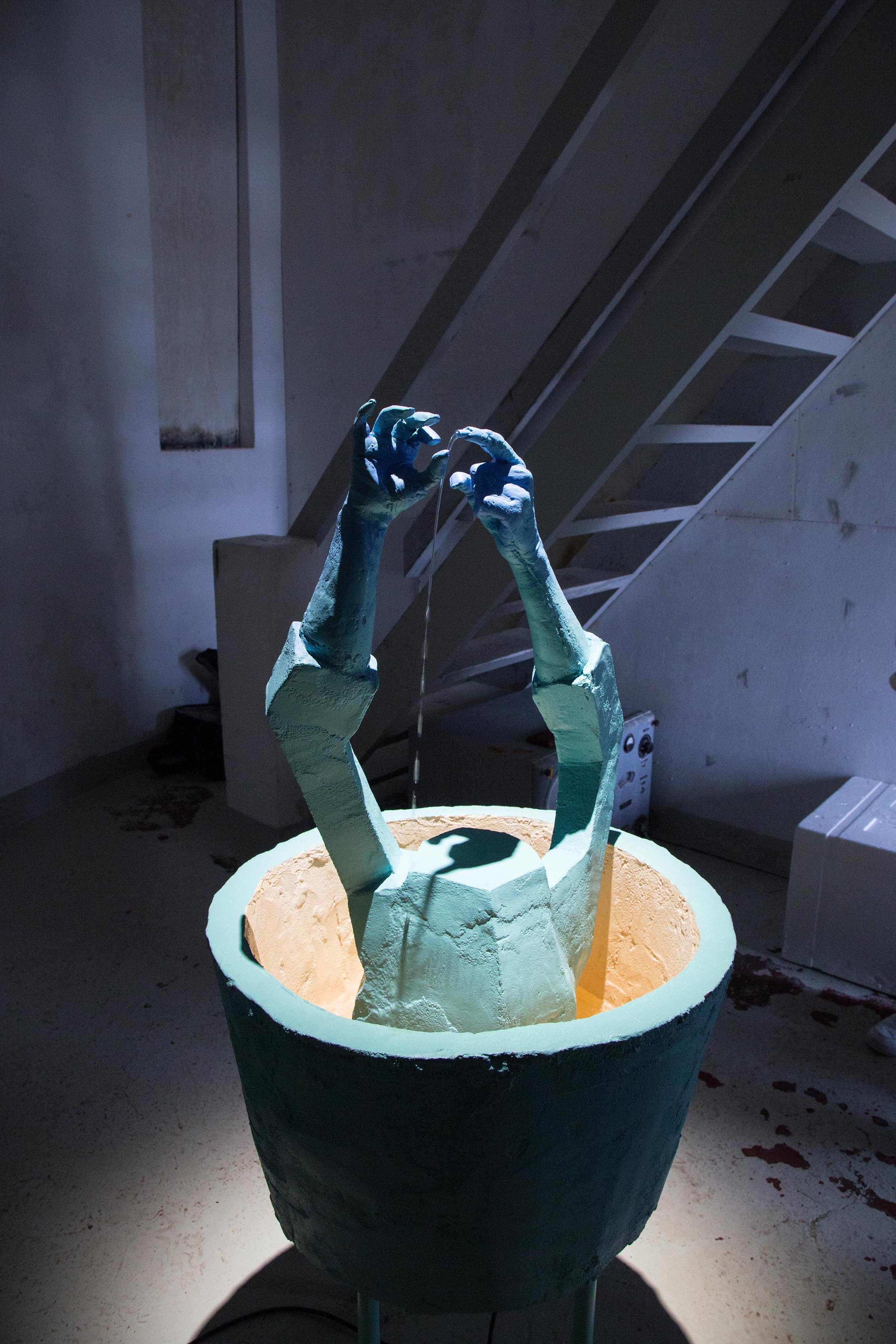 And Anti Matter And Anti Matter duo Þórey Björk Halldórsdóttir & Baldur Björnsson's sculpture installation in the haunting Grótta lighthouse was an immersive experience of textures, light, liquids and tastes. They debuted Plus Eternity, a metaphysical "product line" of 3D printed ceramics, pre-colored porcelain, concrete and wearable sculptures.
Fischer x Nordic Angan Buzzy new perfumery-cum-gallery Fischer (owned by lead singer Jónsi of Sigur Rós and his sister, the band's namesake) hosted Icelandic herbalist brand Nordic Angan for an immersive forest bathing experience. Surrounded by scented evergreen, visitors breathed in essential oil-infused air that transported you to the herbaceous wilderness.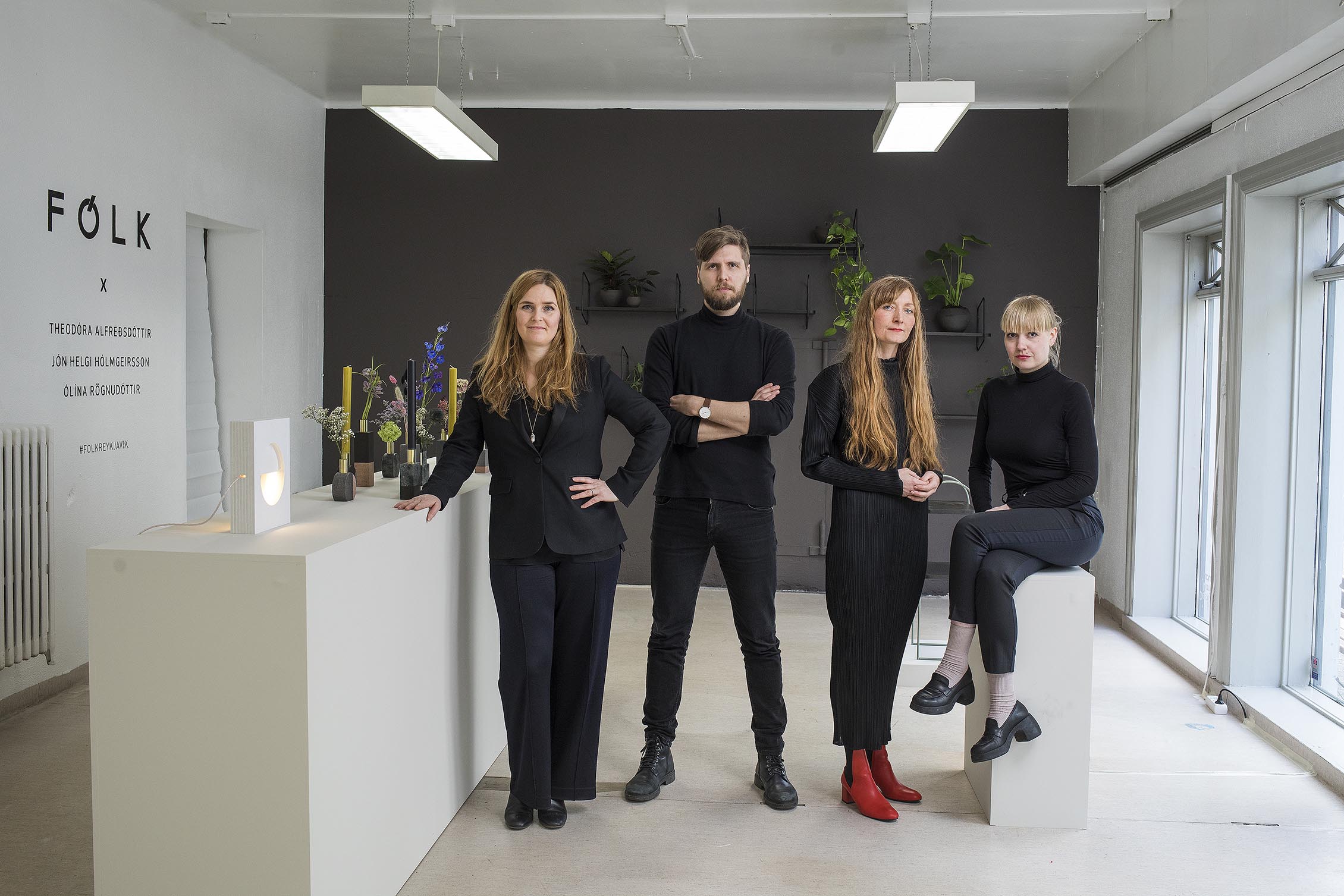 FÓLK Environmentally-minded homegoods brand FÓLK partnered with designer Ólína Rögnudóttir on chic candle holders and vases made of Icelandic-quarried stone. They also commissioned Jón Helgi Hólmgeirsson to craft a spiffy collection of sustainable modular shelving and Theodora Alfredsdottir to dream up moody tabletop light fixtures.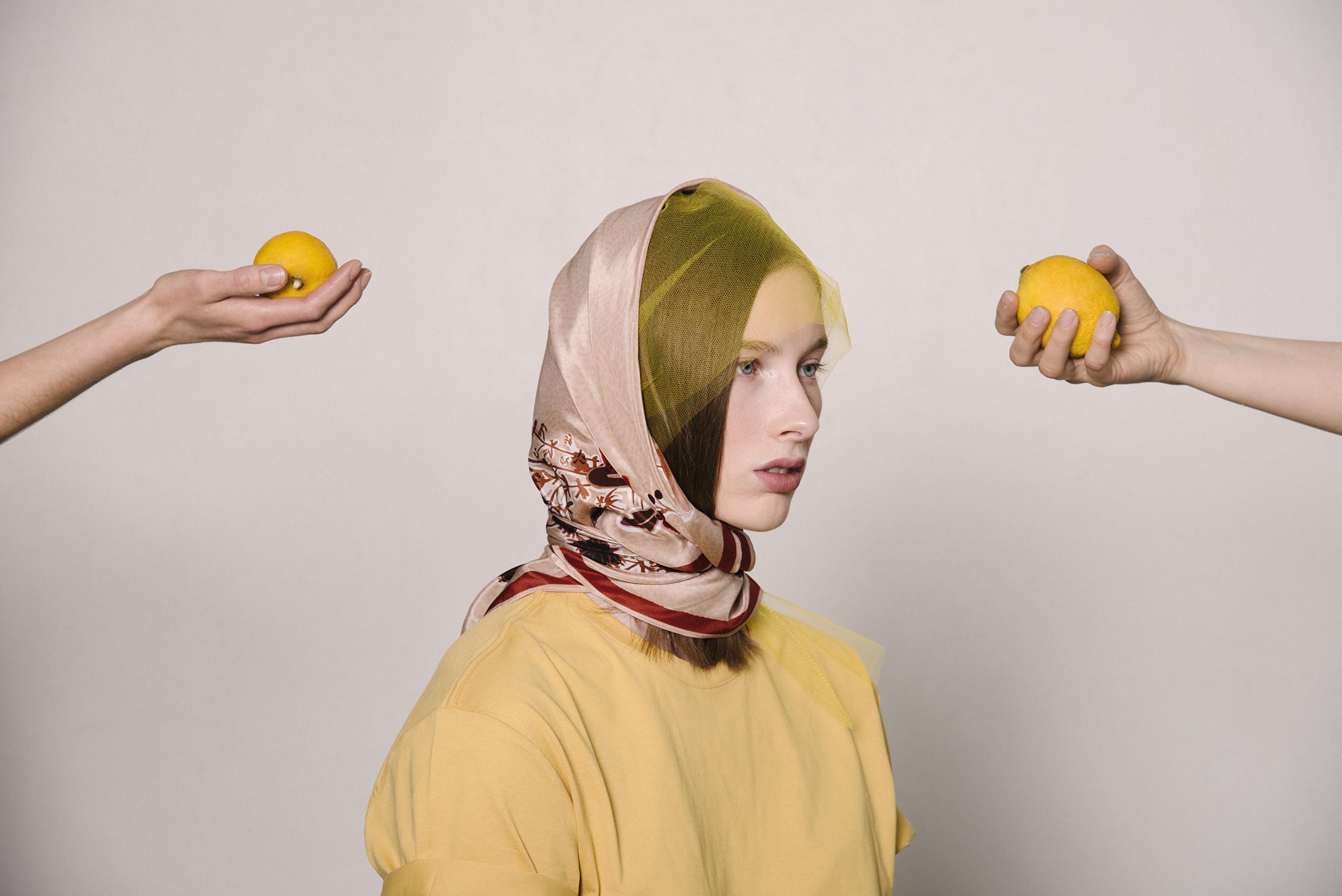 Morra Emerging designer Signýju Þórhallsdóttur applied her illustrations of Icelandic flora and fauna to a new line of accessories and framed prints. Entitled Morra, her vintage-inspired silk scarves were wrapped in elegance.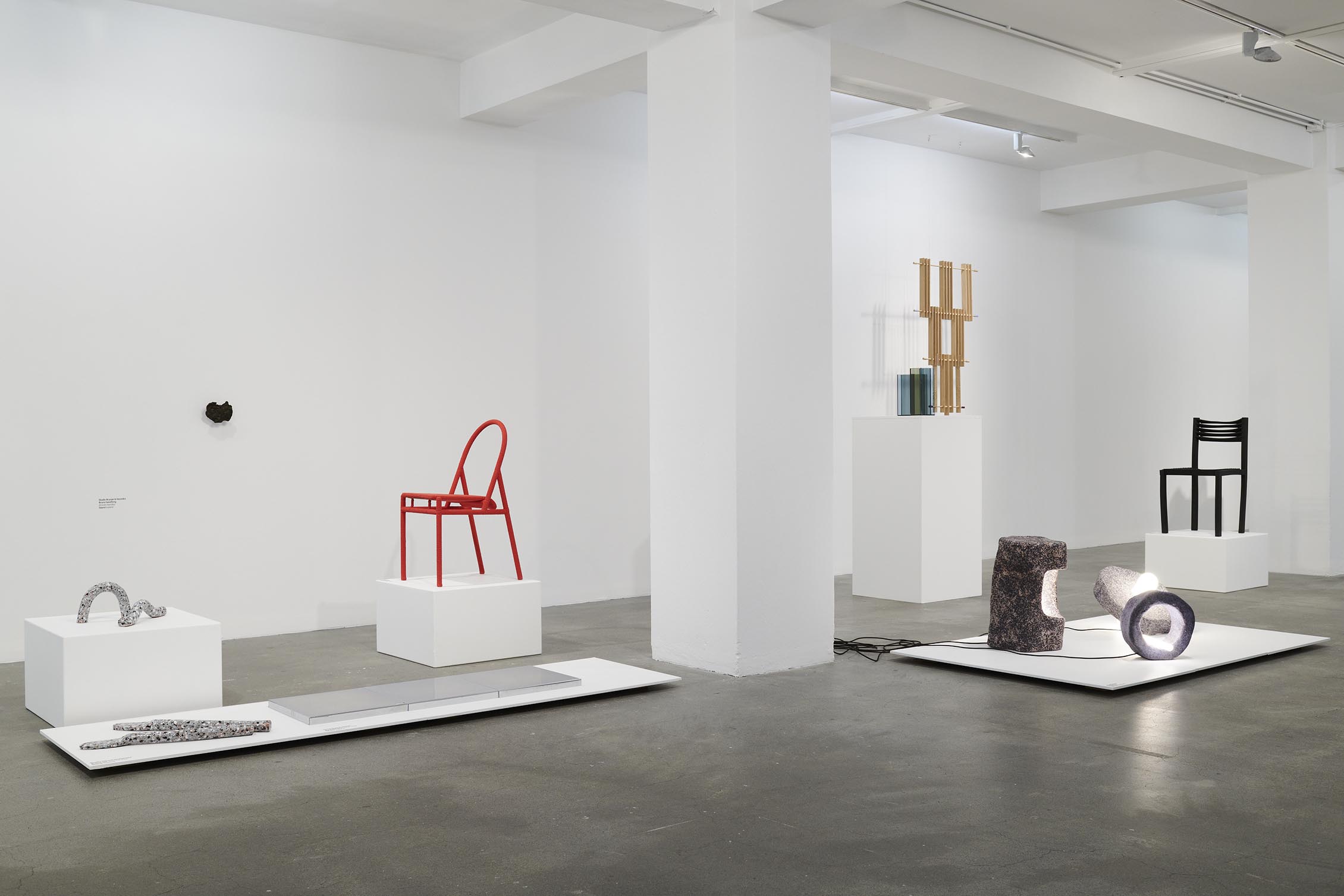 Now Nordic With Scandi-design continuing to influence globally, collaborative exhibition Now Nordic unpacked its appeal. Featuring product designers from Iceland, Norway, Denmark, Sweden and Finland, it was curated by Kristian Snorre Andersen by region, allowing visitors to note the diversity of ideas and make sense of genre-defying new works that upend mid-century modern cliches.
Special thanks to Hertz Iceland for providing transportation around Reykjavik.