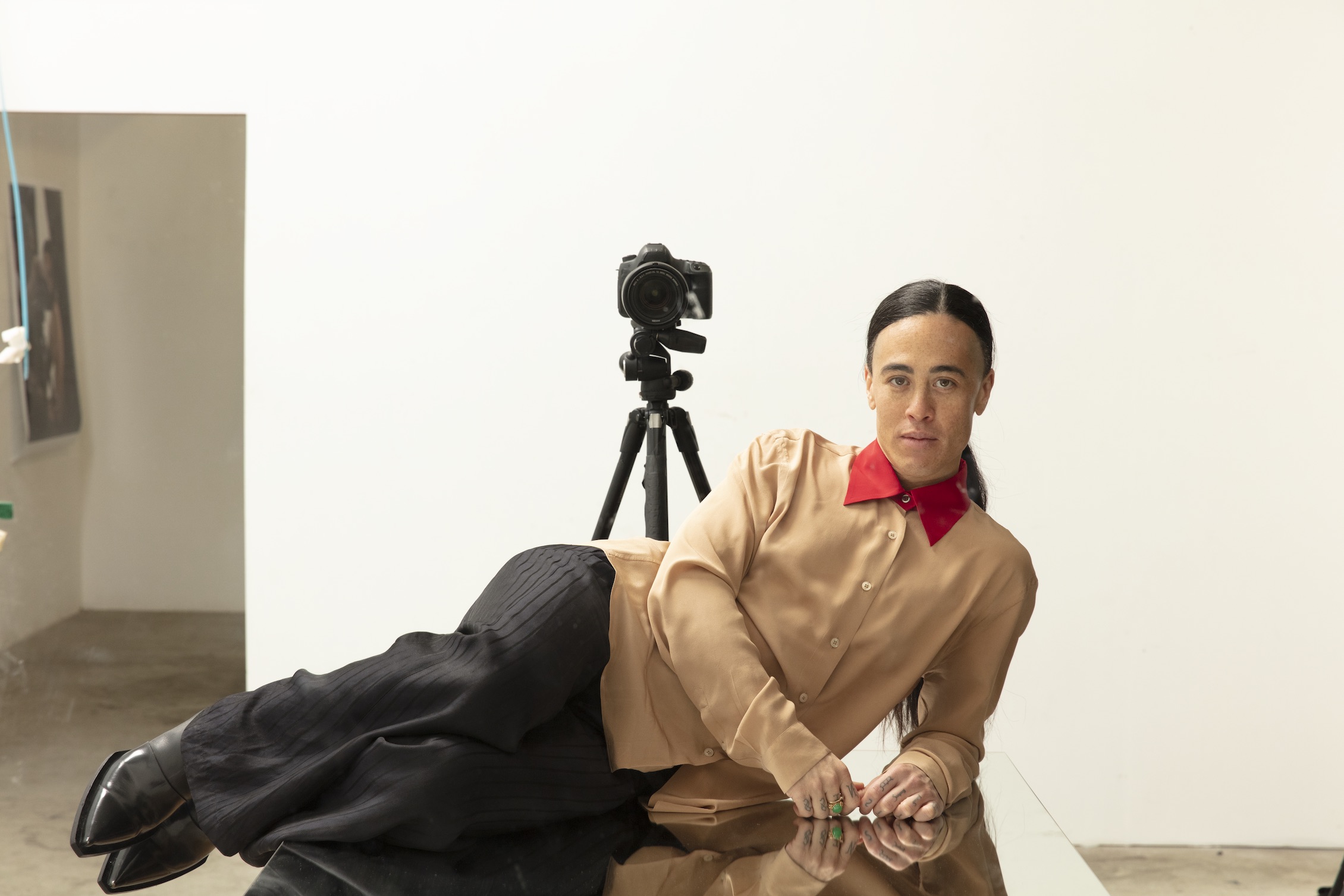 In her 2008 video The Shape of a Right Statement, Wu Tsang stages a one-to-one vocal performance of blogger and autism rights activist Amanda Baggs's 2007 viral video In My Language. Speaking in the staccato tone of the computerized voice that Baggs uses, Tsang intones: "It is only when I type something in your language that you refer to me as having communication. ... there are people being tortured, people dying because they are considered non-persons because their kind of thought is so unusual as to not be considered thought at all. Only when the many shapes of personhood are recognized will justice and human rights be possible."
Tsang's "full-body quotation" of Baggs speaks to several major issues at the heart of her practice. Foremost is her endeavor to communicate the impossibility of communication, the ways we can never fully understand other people. Simultaneously, Tsang makes space for marginalized narratives through playing with modes of language that allow for open- ended understandings of others. Whether communicating through dance, poetry, translation, or other methods of storytelling, Tsang evades using language or images as agents of fixity, creating forms of connection that can accommodate queerness as a continual process of becoming.
In the decade since The Shape of a Right Statement, Tsang has continued to address these themes as her practice has gained wider institutional recognition. In the past year alone, she was awarded a MacArthur "Genius" Grant, nominated for the Hugo Boss Prize, and received a United States Artists fellowship. Tsang's career success has positioned her in such a way that she now speaks about marginality from the institutional center. She is conscious of the ways that her position is all too easily framed as representative of an increased visibility of queer artists of color. Tsang aims to pivot the conversation away from visibility, toward legibility and communicability.
"My practice is very social," Tsang says. "I've always felt that making things is about communicating with people. I like to make films and especially documentary as a genre because it immediately brings up the problem of representation. Representation presupposes a subject, it presupposes individuality in this way that I like to try to challenge. Cinema can allow me to do that because it's sort of magical. You can mess with time, you can mess with what it means to be a character or what it means to have interiority or a story."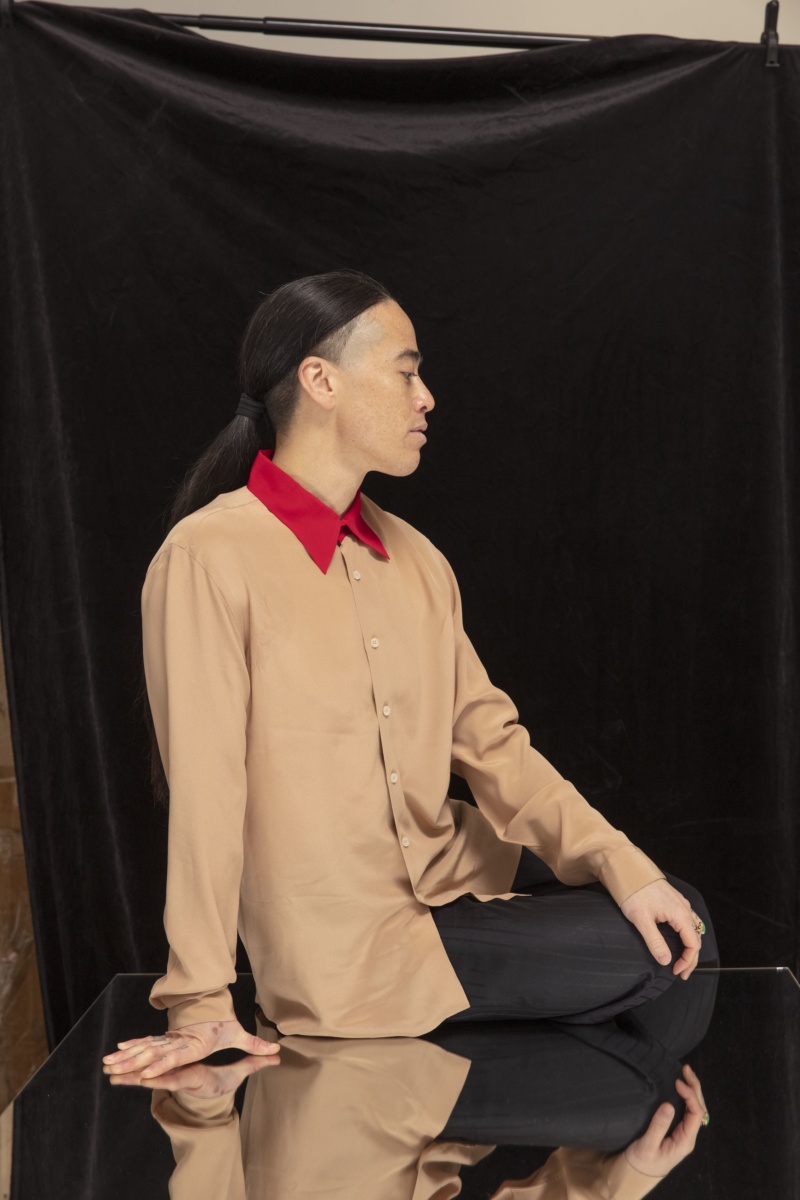 Tsang first gained widespread recognition for her film Wildness, which premiered at MoMA in 2012—the same year she was in the Whitney Biennial and the New Museum Triennial simultaneously. The film came out of Tsang's experience co-hosting a weekly party of the same name at a queer, Latinx and immigrant bar in Los Angeles called the Silver Platter, and mixes fiction and reality, telling the story of the bar through its owner, loyal patrons, and through the imagined voice of the bar itself. The methods Tsang developed in Wildness remain enduring qualities of her work. In subsequent films, she continues to be fascinated by translating real-life experience into fantasy and making work out of a collaborative process. Tsang's community is a major part of her practice and she often creates work in collaboration with poet and scholar Fred Moten and her partner, performance artist boychild, among others.
"I love to collaborate with musicians and performers," Tsang explains. "I'm always looking for ways to translate my experience of someone live into a cinematic language. My practice is very collaborative and really about trying to create the circumstances for things to be possible and then let life unfold." Outside of her collaborators, Tsang's work is best contextualized alongside other multi-hyphenate artists born in the 1980s, including Korakrit Arunanondchai, Zackary Drucker, and Mariah Garnett, whose works also deal with the impossibility of language, recovering queer histories, and the disruption of a teleological understanding of time with cyclical strategies.
"For me, the most important aspect of her work is that she has found a very radical and intriguing way of creating documentary film," says Gropius-Bau director Stephanie Rosenthal, who is curating a large-scale survey exhibition of Tsang's work at the Berlin museum, opening this September. Rosenthal continues, "Her work is so crucial because she draws cinematic parallels between the moving image, performance, and the experience of migration. Via the camera, dance choreography becomes a narrative language. Our show at the Gropius-Bau will follow this development from early works like DAMELO TODO to the most recent work."
When we talked, Tsang was finishing up a new film that debuted as part of the Sharjah Biennial in March. She had just returned from filming in Athens and on the storied island of Lesbos, which currently houses thousands of asylum seekers from the Middle East. Tsang describes the film as a "magical realist documentary" that centers on two women: one a photojournalist documenting the refugee crisis and the other a refugee. "The story is told from two different perspectives of two young women whose lives intertwined on this island," Tsang explains. "This particular film is a two-channel film, there are two projections and two stories and I'm telling them simultaneously. I've become quite interested in what is possible when there's this dual narrative or when using multiple imagery at the same time."
Like her recent video Duilian, which was filmed in China, Tsang's new film contains dialogue in multiple languages. In fact, the new film contains no English at all. By including characters that entirely speak in Greek or Arabic, Tsang continues her career-long commitment to creating sites in which we can think through the imperfection of communication, but the importance of connection. "The feeling of communication is very elusive," she says. "In being seen by another, there's always an incompleteness to that understanding because you can't know what someone else is experiencing and I think that's why I often find myself in situations where I'm working in multiple languages. I like that gap, that potential of what gets missed when you try to communicate with others."