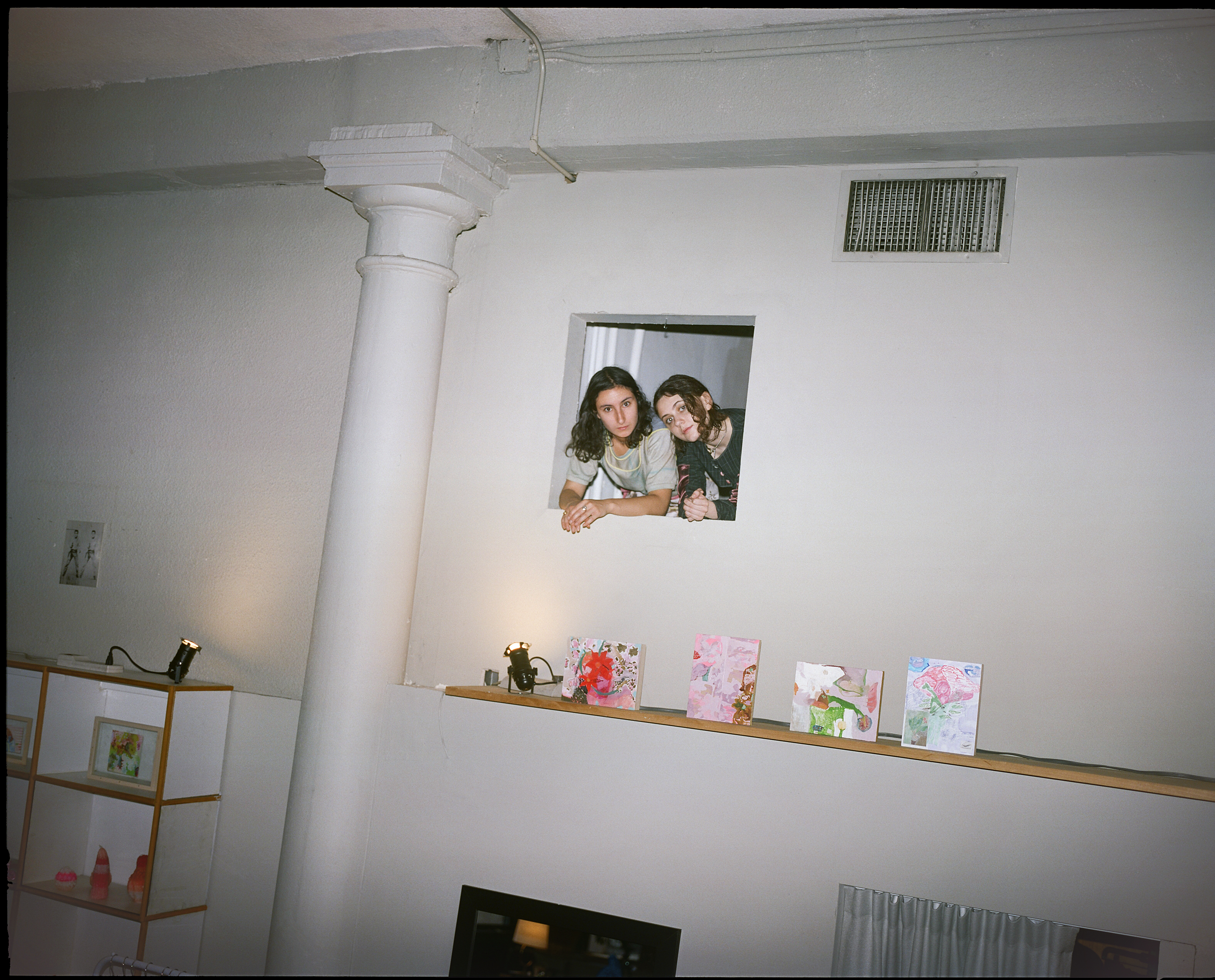 Every day at Café Forgot is a little bit different. But that's what you get when you open a pop-up boutique that deals almost exclusively in the one of a kind. In the end though, this mercurial experience is how friends and founders Vita Haas and Lucy Weisner first imagined their retail concept when it was still just a high school fashion club dream.
For years the duo staged pop-ups on nights and weekends peddling mostly handmade garments by underground labels like Gauntlett Cheng, Lou Dallas and Poche, but this August, Haas and Weisner took Café Forgot to another level with their longest lease yet, a sunny atrium on Duane Street in Tribeca that they are inhabiting through September. Here, designers, their fans and curious passersby stop in for dress-up as Haas and Weisner always envisioned they would. "This is a place to come and hang out with your friends, try on clothes and play," Weisner clarifies, "You don't have to buy anything. Although, it's great if you do but what we've loved is the amount of people coming in just for a conversation or to try things on."
Retail shop as community space is not something we are used to, except perhaps in the ambiguously commercial space occupied by the white cube. Café Forgot certainly embraces their audience at a more accessible price point with most garments falling beneath $1,000. "One thing that surprised me was that how many of our friends and people our age are willing to spend a little more to support a young designer," Haas says. "Especially the unknowns, the designers we carry that don't have the Instagram or fashion exposure of other brands."
On the sunny Friday morning we meet, Haas and Weisner walk around the store pointing out the new additions. In my own scan, I was drawn to a rack of Lou Dallas' BDSM-like bow belts, an ensemble completely made of Key Foods bags and a linen colored tulle dress dangling in the window by a discovery, Onea Clare. Haas and Weisner point me towards the accessories table which occupies the center of the room. Haas lifts a picture frame that transforms into an ashtray—they carry housewares, mostly dysfunctional ones like cat figurines. "You can put a picture of you and your partner here," Haas suggests, "So when you break up you can ash on it." Sold.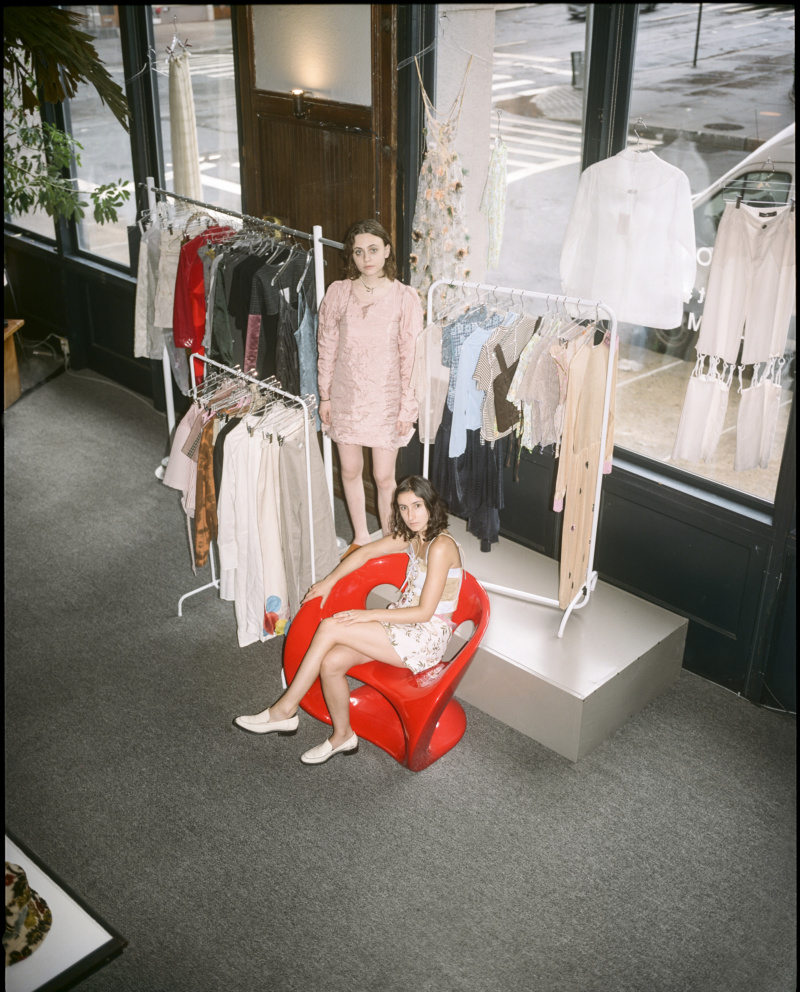 Weisner holds up a wooden box bag, her favorite recent arrival, its strap is leather and decorated with flowers. The designer reached out to Café Forgot via Instagram. This is how they find or rather start many of their designers. "It usually begins with a referral," Wiesner says, "It's part of the fun. Buying becomes instinctual rather than about restocking or strategy."
That is not to undermine the insight their long-running shop has afforded Café Forgot and their designers, who often stop by. "It's been interesting to see what people are drawn to and especially for those people who are reluctant to produce, I think the sales encourage them to keep going," Haas says. "They have an audience."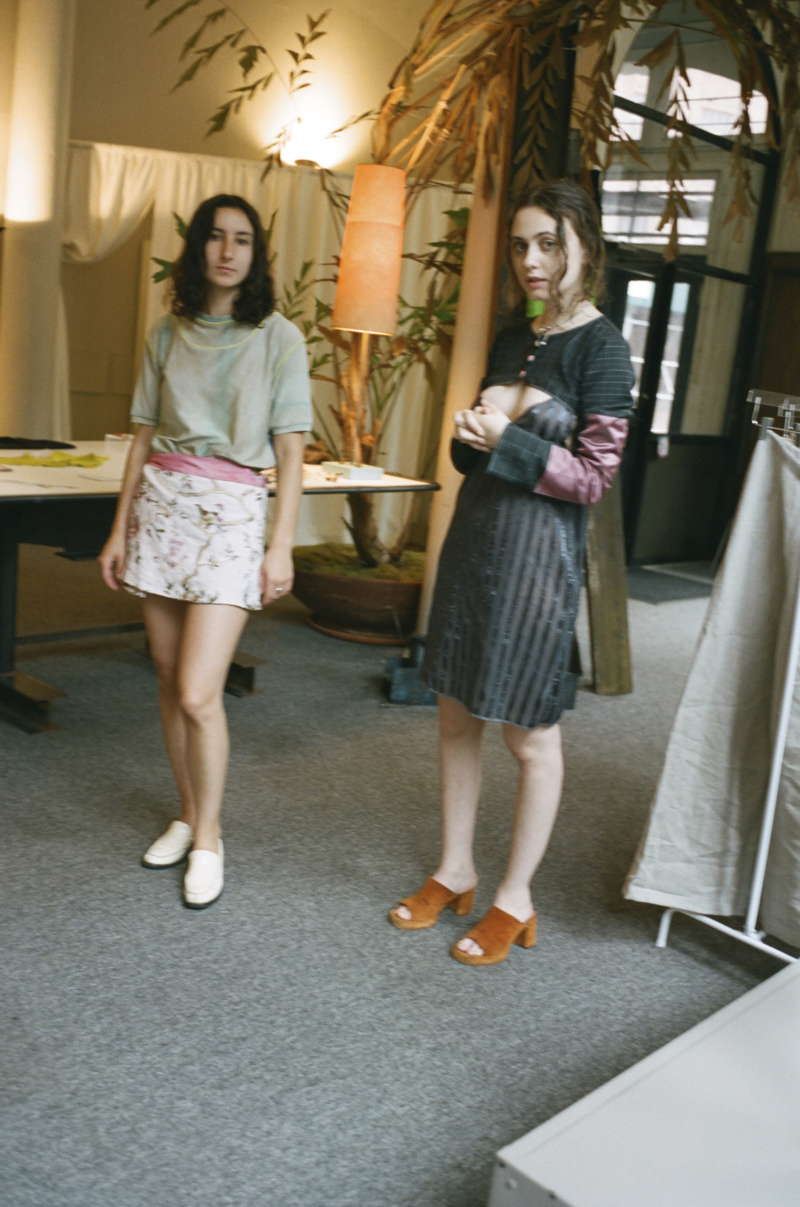 Café Forgot's own following continues to grow on and offline thanks to impromptu photoshoots with friends like Maggie Lee and Aria McManus as well as their friendly IRL outpost. To mark this new milestone, Café Forgot will launch its first monograph this fall and promises another long-term space is around the corner. Of course, Haas and Weisner both daydream of a permanent home for their ongoing project. Unlike other boutiques, Café Forgot doesn't see its future on e-commerce. Rather it seeks to find a cure for the homogenized fashion experience, opening up a dialogue between maker and wearer by fostering a kind of sisterhood and fandom.
"We got the name for Café Forgot from an Essie nail polish," Weisner tells me. "I don't remember how we started looking at them, but it seemed to fit the ambiguity of the project and maybe even hint at what we were championing. It's a place for gathering and maybe losing yourself for a moment."
Café Forgot is open 12-8 everyday at 165 Duane Street, New York through September 30th.