Ethan Beard and Wayee Chu, who have been married since 2005, are angels in several senses. They invest in early-stage startups before venture capitalists wave their bigger checks. They do what they can to safeguard a healthy democracy and quality education. And they are active patrons of the arts, supporting SFMOMA and artists who aren't afraid of politics. Beard has clean-shaven cherubic features with a pugnacious, post-punk Mohawk. Chu is sweetly spoken and miraculously graceful at six feet tall. She was recently one of 13 women featured on the cover of Forbes for a story titled "The Road Forward," about the feminists "secretly re-wiring" Silicon Valley.
"Anybody can be an angel," says Chu, as she tours me around the art in their freshly architected country house, which sits on a hill overlooking vineyards in Sonoma County. "All you need is disposable income and an appetite for the magic of risk. It's very qualitative. You have to buy into an entrepreneur and the problem they're solving." Angels used to be scarce, but now they're swarming the Bay Area, due to the financial success of top tech employees and widespread confidence in the fecundity of tech startups. Investing in entrepreneurs is the new and improved, neural-networked, social, mobile version of the American dream.
"I like to back awesome people," says Beard, with a glance at a large-scale photographic self-portrait by Arthur Jafa, titled Monster (1988). "Great people with a bad idea are better than bad people with a great idea. The former will always figure out ways to skate to the puck." Beard started out at MTV, worked at Google "pre-IPO," and then held several roles over five years at Facebook. He has invested in some 40 startups and attributes his positive "deal flow" to the fact that he "watched the birth of the internet" and understands tech on a core level. While he maintains his role as an angel, Beard recently joined Ripple, a blockchain startup positioned as the bank-friendly antithesis of Bitcoin.
Chu is a general partner at Reach Capital, an investment fund focused on education startups that work with everything from new cognitive research to machine learning and virtual reality. "In the past, philanthropy was seen as very separate from business. You were either maximizing profit or giving it away. Nowadays, social entrepreneurs are blurring the distinction," says Chu. Indeed, backing businesses focused on human welfare or "impact investing," as it's called, is taking over the West Coast. The Chan Zuckerberg Initiative, the Omidyar Network and the Bill & Melinda Gates Foundation are among those involved. "'Impact investing'—the phrase still scares some people," says Chu. "But I've always felt that entrepreneurship was an agent of change, whether for the social good or sound investment."
In addition to her education activism, Chu is an energetic feminist keen to disrupt Silicon Valley's boys' club. She belongs to Broadway Angels, an all-women investment group that meets monthly. She's also part of All Raise, a non-profit with a mission to bring more women into venture capital through recruitment and mentorship. Aileen Lee, the instigator of All Raise and the VC who happens to have popularized the term "unicorn" (a startup worth a billion dollars), says, "Wayee is mellow and unassuming on the outside, but she's a samurai-ninja-warrior on the inside."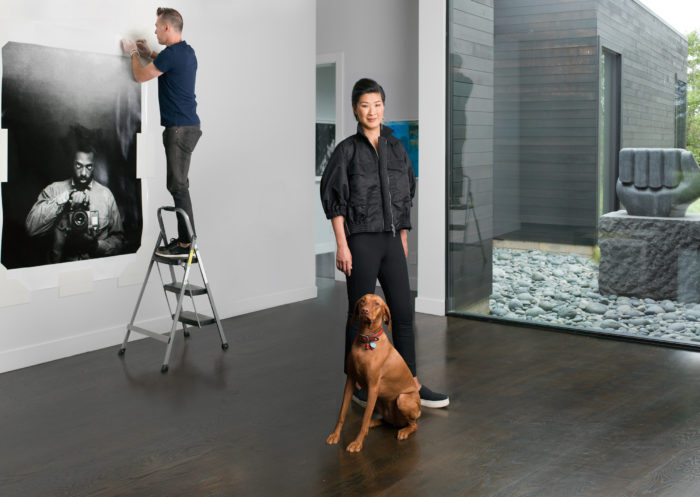 Like Chu, Beard puts his time and money where his politics are. He is part of The Well, a group that supports the operating costs of charity: water, so that 100 percent of their fundraising can go to providing clean and safe water in developing nations. He is on the board of Beyond 12, an education charity dedicated to improving the success of college students of color who are the first in their family to embark on higher education. And along with actress Jennifer Lawrence, Beard is a board member of Represent.Us, which fights electoral corruption and advocates for voter rights. According to the organization's co-founder Josh Silver, "Ethan didn't just write a check and introduce us to his social network—he helped us figure out how to create an innovative product that excites people."
Chu and Beard see contemporary art as integral to their interest in changing the world. The son of a math professor, Beard grew up in Maine surrounded by seascape paintings. He took art history and sculpture courses while studying at the Wharton School, and his sister founded a street art collective that held regular events. "We loved the countercultural narrative around street art, and would buy things so the artists—some of whom were nearly homeless— could afford rent," says Chu. Her mother was born in China and went to art school in America, where she developed a passion for abstract painting and then introduced her daughter to modernists like Alexander Calder, Joan Miró and Henri Matisse. "Ink runs in her blood," says Chu of her mother, whose house is full of scrolls made by Chu's grandfather, known in his day for his poetry and calligraphy.
The couple didn't start collecting in a self-conscious way until about five years ago. "Our recent acquisitions remind us of what we care about and want to think about," says Chu. General Strike, a large-scale sculpture of a fist made from volcanic rock by Pedro Reyes, sits just outside a picture window. A colorful painting by David Huffman, I Can't Breathe (the last words of Eric Garner, who was killed by the NYPD), leans against a wall, awaiting installation. "We like the conversations that art initiates with friends and family," says Beard. "Art, like travel, can help your kids understand what goes on outside our rarified bubble." Chu is deeply interested in "extreme learners" who have cognitive differences. "Old rooms with rows of desks where students sit for eight hours a day and learn by rote. Who can thrive in that environment?" asks Chu. "Art accommodates different learning styles. It is experiential, emotional and potentially transformative."