Most people's storage units contain dusty furniture or outdated clothing with outgrown waistlines. But when artist Stephen Posen rummaged through his storage space, he uncovered a trove of his radical early canvases buried deep within. The works are now on view at Vito Schnabel Projects in New York and will be on view at his St. Moritz gallery beginning July 28.
"I've known Vito since he was a little boy," says Posen, whose son, fashion designer Zac Posen, was a childhood friend of the young dealer. "After seeing some work in my son's apartment, he asked to see more. It was a wonderful surprise to uncover these major pieces."
"When I first saw Stephen's early paintings, I was taken by surprise," says Schnabel. "The combination of shaped canvas with almost photographic realism is very provocative. These works are definitely as relevant today as they were 50 years ago. Stephen's ability to manipulate oil paint, control color and suspend the viewer between the surface and the depth of a painting was—and still is—radical."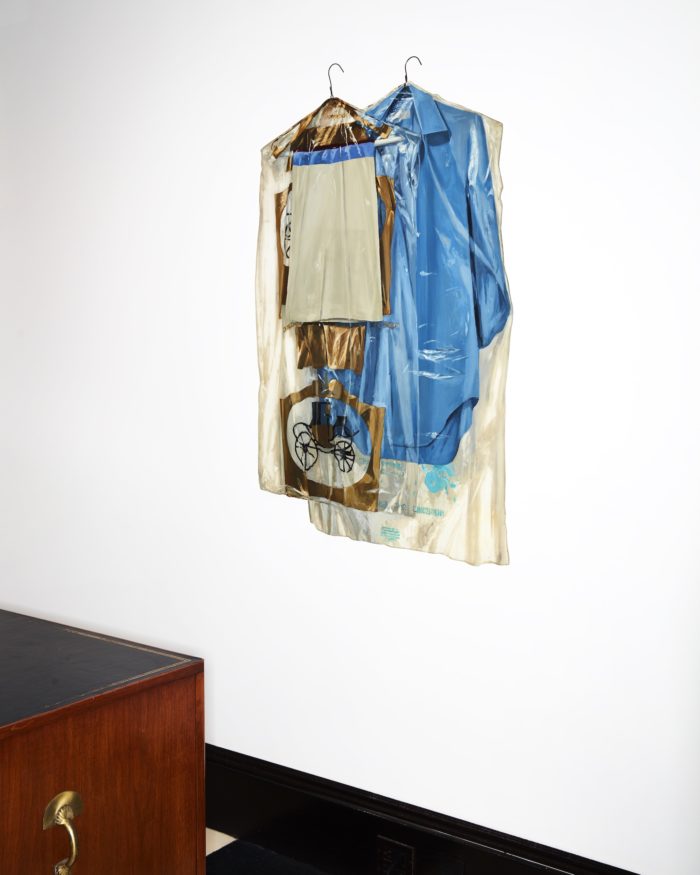 Posen was part of New York's Soho scene in the 1970s, having graduated with an MFA from Yale as part of a generation of artists including Brice Marden and Richard Serra. He spent two years in Italy on a Fulbright grant—the time abroad had a profound impact on this particular body of work, most notably for their themes of gravity, perspective and representation—before returning to New York. Stateside, he became known as a proponent of a new kind of American realism, especially after his work was included in Documenta 5 in 1972, selected by the legendary curator Harald Szeemann.
Many works in the show, "Threads: Paintings from the 1960s and '70s," are from this period. "They were conceived in response to the art that was around me in New York at the time: Jasper Johns's Flags, Robert Morris's Scattered pieces, Claes Oldenburg's sculpture. They were all things which had a chance element about them—seemingly whole objects, but which represented a continuum of possibility."
The works range from Clean Clothes (1969)—which gives the illusion of an installation of garments in dry-cleaning bags, but is actually a hyper- realistic depiction in oil on shaped plexiglass, hung from metal hangers—to Cut Out (1968), an oil work on shaped particle board which resembles a canvas covered by garments and bags, like covered statues and icons.
"I think of myself more as a conceptual realist who was able to think about drawing in a very challenging way—which means I was continually working with two layers, one of which was drawing and one of which was illusion," he says. "Certainly in the 1970s I started to make drawing on top of canvas, so there were two things coexisting. A drawing can be flat, but if it wraps around a sculptural presence then it's still a line."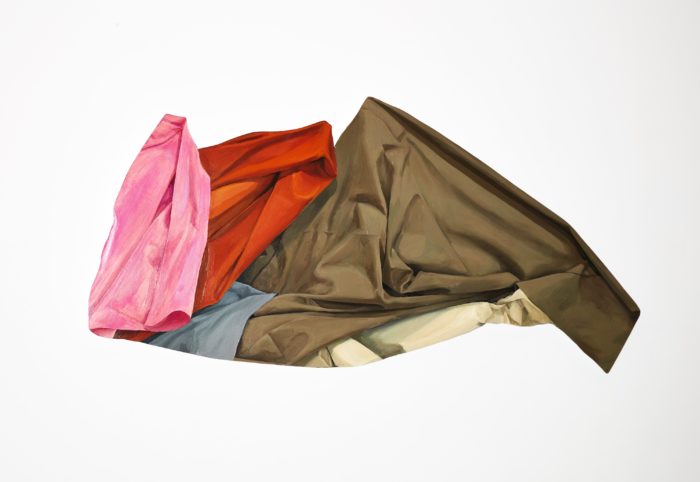 Posen, who seems to be enjoying the surge of renewed attention in his work, is particularly pleased that Schnabel has chosen to revisit his earlier works. "You can't ever know how you will be perceived. But people have said to me that this work, which I did 45 years ago or more, seems very contemporary and very new to them—even radical."
As to how New York has changed since the 1960s and 1970s, Posen laughs. "Well, there are a lot of really wonderful artists but obviously it has become a market-driven world. I often question what is intrinsic to great art and I've found that the money and great art don't always go hand in hand."
Meanwhile, he keeps working away in his studio, focusing on the possibilities of what a line can mean. "I'm an energetic sort; a workaholic, really. It makes me happy to be alone in my studio and make art," he says. "I have at least 10 more shows in inventory alone!"