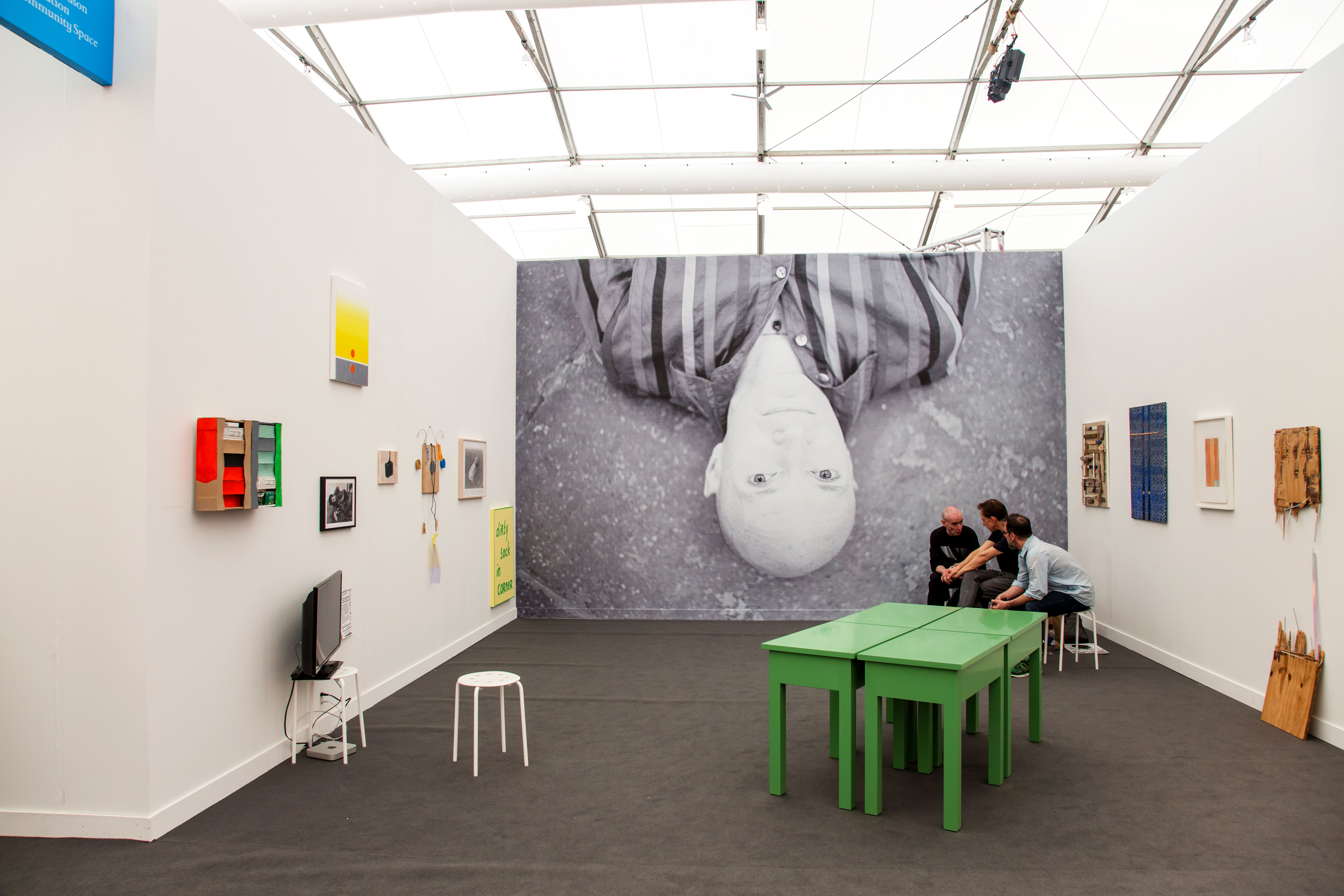 New Yorkers got just what they've been begging for on Wednesday when summer hit full force on the opening day of Frieze New York, now in its seventh edition. The fair, which is open through Sunday, is hosting more than 190 international galleries in a newly designed tent on Randall's Island. Despite a lack of air conditioning which left visitors sweaty and dazed, collectors and dealers were seemingly in good spirits. Herein, we present a selection of booths not to miss.
For Your Infotainment, a special section curated by White Columns director Matthew Higgs, pays tribute to legendary Lower East Side dealer Hudson, who ran Feature Inc. from 1984 until his unexpected death in 2014. The gallery was founded in Chicago, but moved to New York in 1988. For Your Infotainment includes eight galleries, all of which are presenting works by artists who once showed with Hudson. Last year, the non-profit Feature Hudson Foundation was established on Rivington Street, and the organization's booth is a standout at the fair—both for the history that unravels from within it as well as the fact that sales go to support the organization's programming. On offer are works by B. Wurtz, Sam Gordon, Lucky DeBellevue, David Shaw and Nancy Shaver, among others.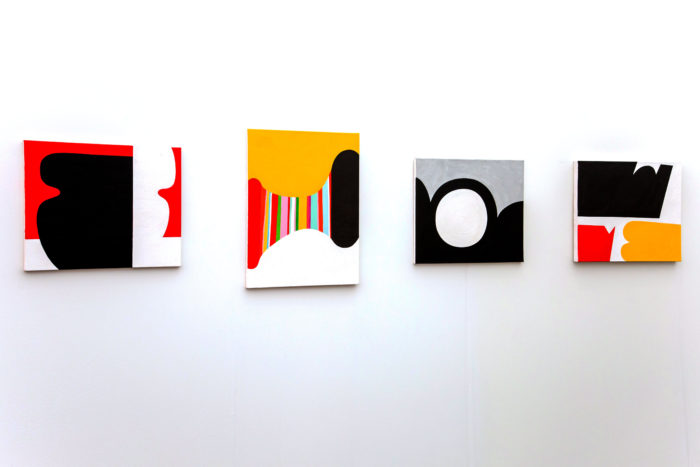 Also within For Your Infotainment and right next door to the Feature Hudson Foundation is Nicelle Beauchene gallery with a solo presentation of modestly-scaled, but brightly hued paintings by Andrew Masullo. The playfulness of the forms and vibrancy of the palette teeter beautifully on the edge of restraint.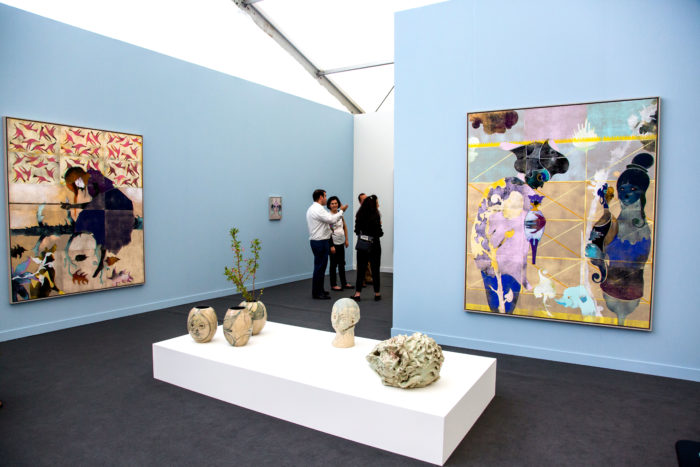 Brussels-based Rodolphe Janssen gallery presents a booth dedicated to paintings and sculptures by Romanian-born twin brother collaborators Gert and Uwe Tobias. The Cologne-based artists always work together, using a wood-block printing technique for their folklore-inspired canvases, which, fittingly, are always made in editions of two.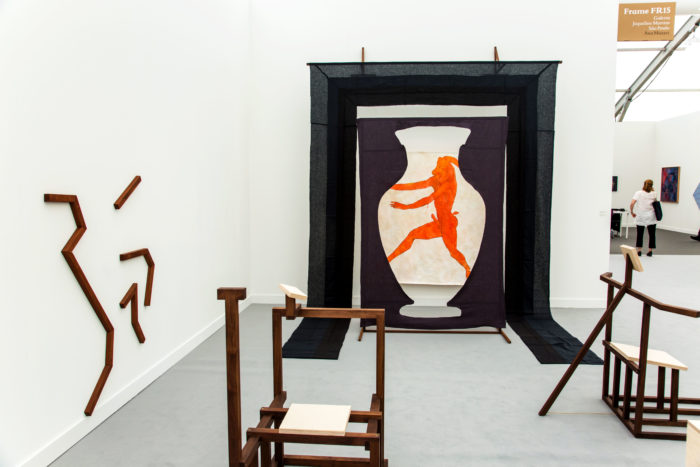 In the fair's Frame section, which includes galleries in existence for eight years or less, São Paulo's Jaqueline Martins gallery presents a selection of recent floor and wall installations by Brazilian artist Ana Mazzei. Rooted in classical painting, the sculptures invite people to replicate the physical positions of canonical subject matter such as the crucifixion and depositions. We love the thoughtful theatricality of Mazzei's work.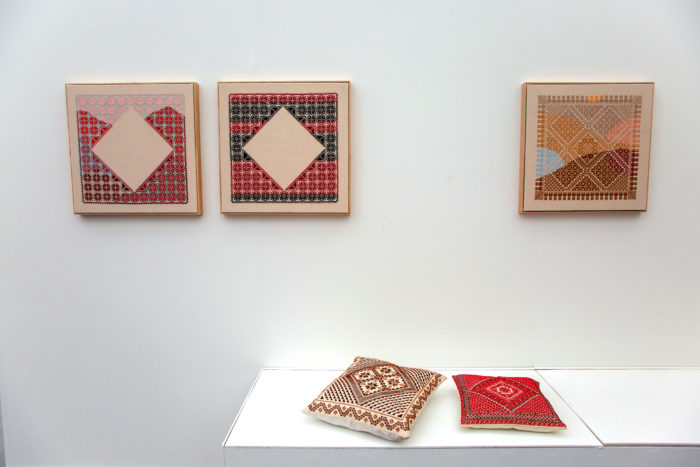 Just across from Jaqueline Martins is Anat Ebgi, from Los Angeles, offering a selection of embroidered wall hangings and pillows by Jordan Nassar. The works combine elements of traditional Palestinian design and stitching with Etel Adnan-inspired minimalist landscapes resulting in works that are both deeply historical and undoubtedly contemporary.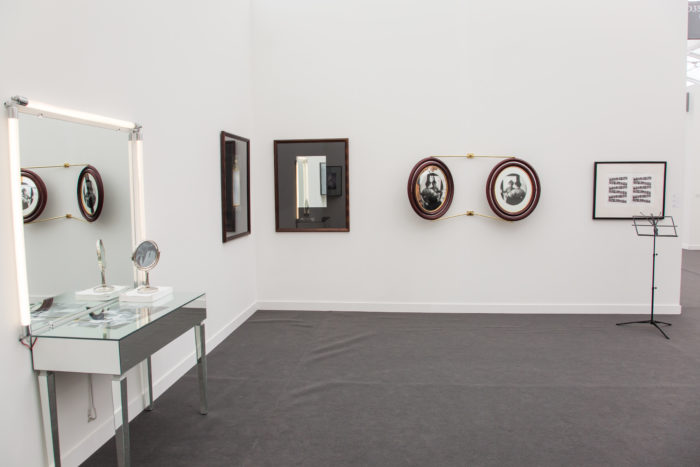 Within the Focus section (for galleries 12 years and younger), is Lower East Side dealer David Lewis's solo presentation of works by conceptual artist Barbara Bloom. The overview of her image-based sculptural practice includes works from 1989 to the present, including Vanity Mirror III (Edwardian) from 1989, pictured here. Perhaps lesser-known than her Pictures Generation peers, Bloom's work is a slow, seductive burn and a quietly bold statement for a Frieze presentation.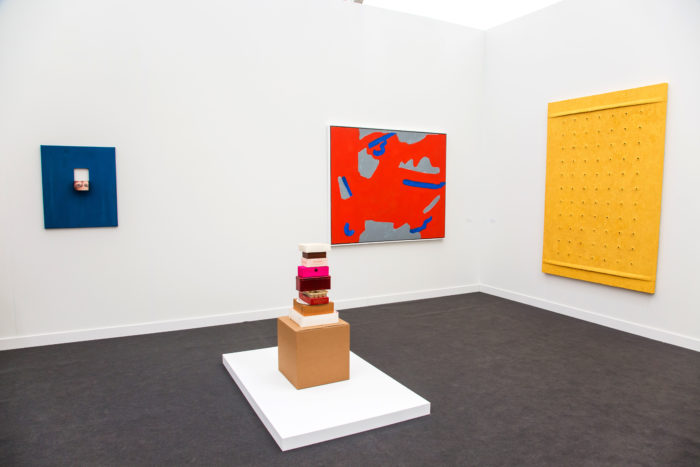 Alexander Gray Associates, whose program skews to overlooked historical women artists, has a lovely presentation of pieces by figures including Joan Semmel, Polly Apfelbaum, Harmony Hammond, Valeska Soares and luminary gallerist/underappreciated artist Betty Parsons. There's a discerning intimacy to Parsons's abstract canvases that manages to slow time and her presence at the fair was a reminder to take a breath and look.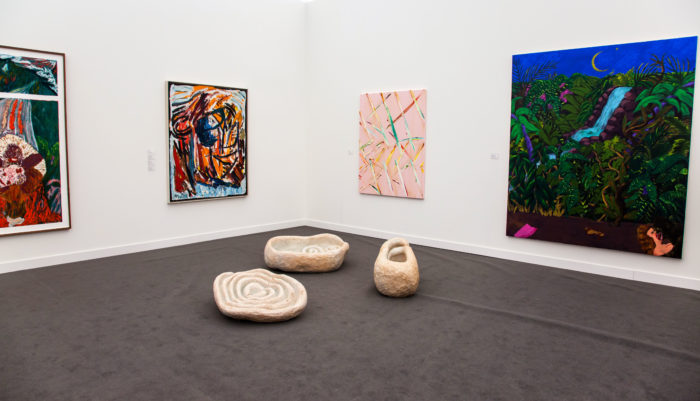 Last but far from least among our highlights is Blum & Poe, which somehow manages to pack their booth with an array of works by gallery artists without falling into the cleaning-out-inventory art fair aesthetic. Small ceramics by J.B. Blunk, paintings by Robert Colescott and Kazumi Nakamura and soapstone sculptures by Solange Pessoa are, all together, globalism at its best.