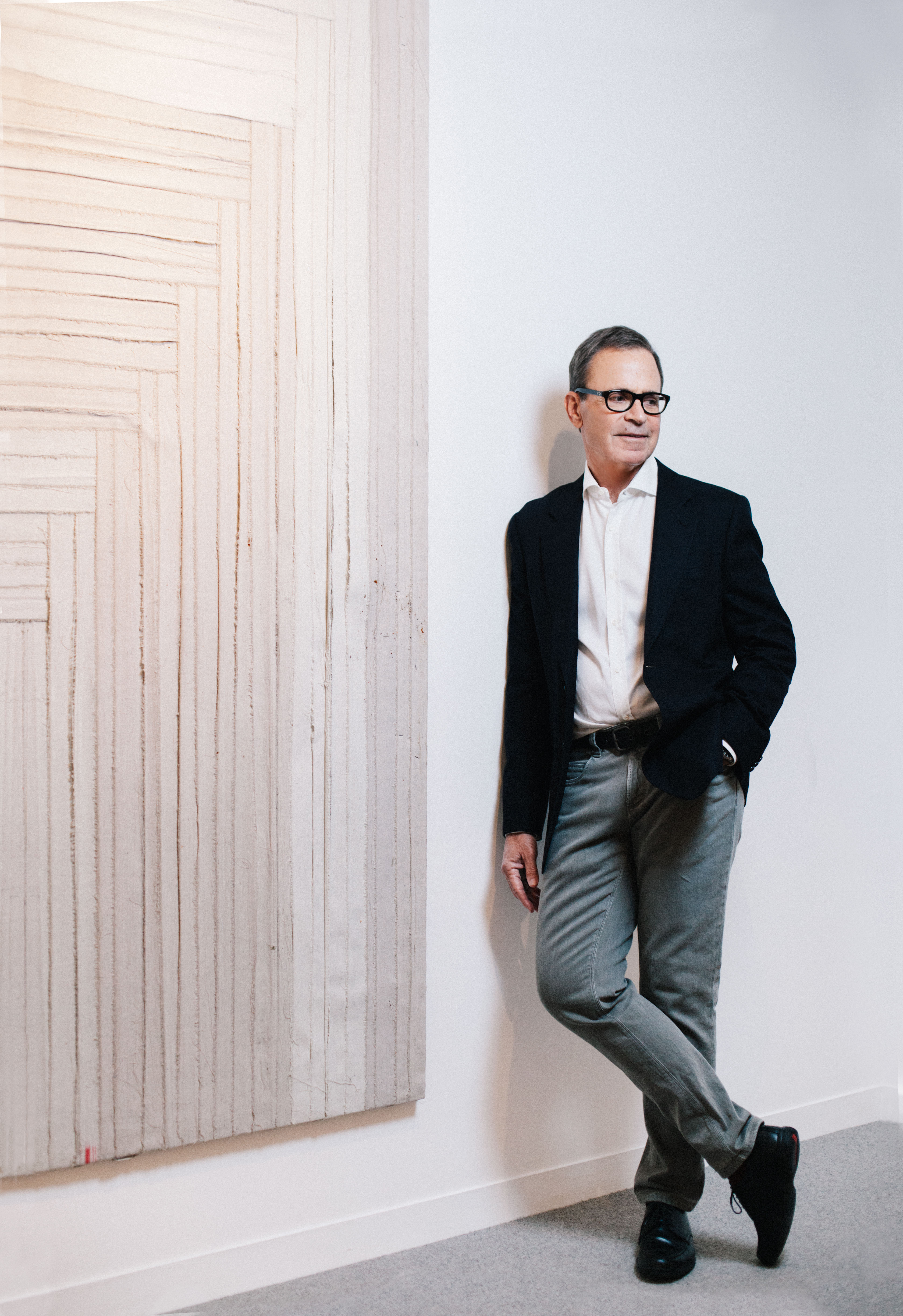 Steven Guttman is the best kind of collector. Founder and chairman of collections storage company UOVO and chairman of the Centre Pompidou Foundation, Guttman prioritizes personal affinity over projected value. His artwork and furniture represents phenomena ranging from the Washington Color School to Arte Povera—there is no insistence upon definitiveness and the attendant ring kissing. And rather than rely on art advisors like private bankers, Guttman engages in a never-ending crawl of galleries and artist's studios with his wife Kathy.
As R & Company founder Zesty Meyers describes it, Guttman collects like no one is watching: "Steve has a great eye and he always seems to be ahead of the curve. His questions are thought-provoking, he keeps developing his ideas and tastes and he is completely involved." Guttman is proud of his collecting, but echoes Meyers's praise with a bit of a chortle, wondering, "Perhaps I'm too excitable."
If Guttman counts a Pittsburgh dinosaur exhibit as his only childhood exposure to the cultural realm, then a move to Washington, DC for law school ignited his famously unflagging curiosity. This origin story typically involves dog walking along the storefronts of Georgetown's English and American antiques dealers and inching toward their wares. The reality is that Guttman threw himself into the capital's art scene, befriending Max Protetch, counting Gene Davis and Sam Gilliam paintings among his first purchases and admiring legendary photography dealer Harry Lunn, all while establishing a professional career at Federal Realty Investment Trust that would span three decades.
His enthusiasm for collecting proceeded to snowball, if with increasing sophistication and self-confidence. Guttman credits Gilliam's longtime partner Annie Gawlak for exposing him to the New York art scene when he was about 30 years old. Around 1990, when it came time for Federal Realty to move its headquarters to Rockville, Maryland, Guttman filled the new space with art—long before it became common practice for successful real estate companies to treat their offices as private galleries.
In more recent decades, new homes have inspired the Guttmans to go down rabbit holes. A Paris apartment prompted acquisitions of Charlotte Perriand, Daniel Buren, Jean Royere, Francois Morellet, Martin Szekely and Pierre Paulin, while an interest in all things Arts and Crafts followed the purchase of a quintessential Connecticut home of that era by architect Ehrick Rossiter. In the interim they've "gone deep" on Andreas Eriksson, Edith Dekyndt and Michel François, among others. "I look at supporting new and undiscovered artists as my contribution to the arts," Guttman says, also noting a fondness for muted, textural compositions. And while he occasionally feels validated by auction prices or museum acquisitions, "We've been wrong consistently. But that doesn't mean I love the work any less." Guttman's heart-first approach suits his stewardship duties at Uovo.
Perhaps more important, it may just restore your faith in the art market.