Stepping inside of performance collective FlucT's new show, "Is it God or am I Dog?," is an exercise in displacement. The large room is completely dark, save for the various screens on view and the light that momentarily sneaks in as other viewers enter. Once your eyes adjust to the dimness, an assemblage of industrial structures take form and welcome you to FlucT's latest take on capital obedience in American culture.
FlucT is the attention garnering collaboration of creative partners Sigrid Lauren and Monica Mirabile. Their work, which transcends any traditional definition of performance art, has entered such revered art institutions as the Guggenheim and MoMA PS1. As a pair, the two create physically aggressive and jarring acts that hover on the edge of absurdbut which always contain a nod to cultural phenomena.
"Is it God or am I Dog?" explores the explicit and implicit social control, performance of identity, and widespread psychosis in American culture. "The original conception [of this exhibition] was looking at the perception of a blip in the words god and dog. Dog becomes subordinate as "Man's best friend," while god is an "authoritative structure you have to succumb to," the pair offers.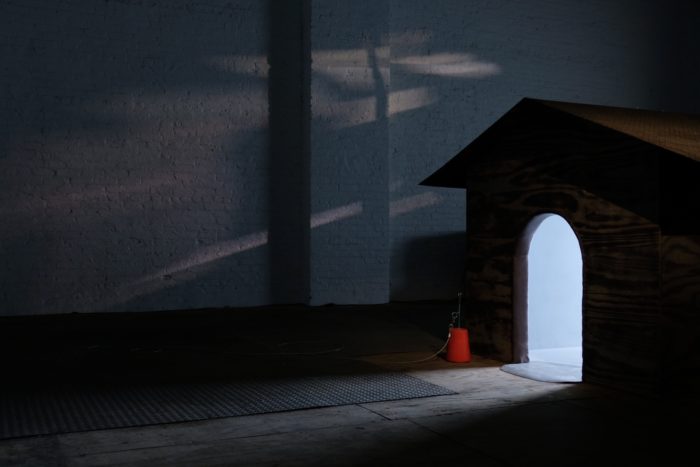 The multimedia installation features narrative soundscapes and original choreography displayed across multiple video sculptures alongside altered forms typically found in a domestic space – an oversized dog house, a caged bed, a door frame leading to nowhere. The juxtaposition of this eerie domestic scene with FlucT's physically charged performances projecting around the room serve to question the assigned social roles in and beyond the home.
The accompanying stream of audio playing throughout the room is made of clips from recent news, television shows, movie trailers, documentaries, pop music and other contemporary sources, creating a collage of information ingested in present-day. Though much of the audio is recognizable, when played out of context, the soundtrack becomes strange and unfamiliar.
At times difficult to look at, Lauren and Mirabile's choreography is animalistic and harsh, their bodies moving at once separately and then together. They wear barely there spandex clothing, no makeup, and dull hair - evoking nudity without actually being naked.
Both the video pieces and audio have no clear beginning, middle or end and play on a continuous loop. In this way, viewers are fully engulfed into the space as they begin to question what it is they are experiencing.
Though the show feels particularly relevant to our current political and social climate, the artists maintain that the topics they are exploring - rape culture, psychological manipulation and capitalism's control – have been incorporated into FlucT's work since its beginning. "This work is contemporary as it illustrates the current political and social climate but each of our pieces do that. Every piece is made at the time of its creation and the nature of the work is about processing the information we are currently absorbing," says FlucT.
"Is it God or am I Dog?" is on view at Signal until May 6th.