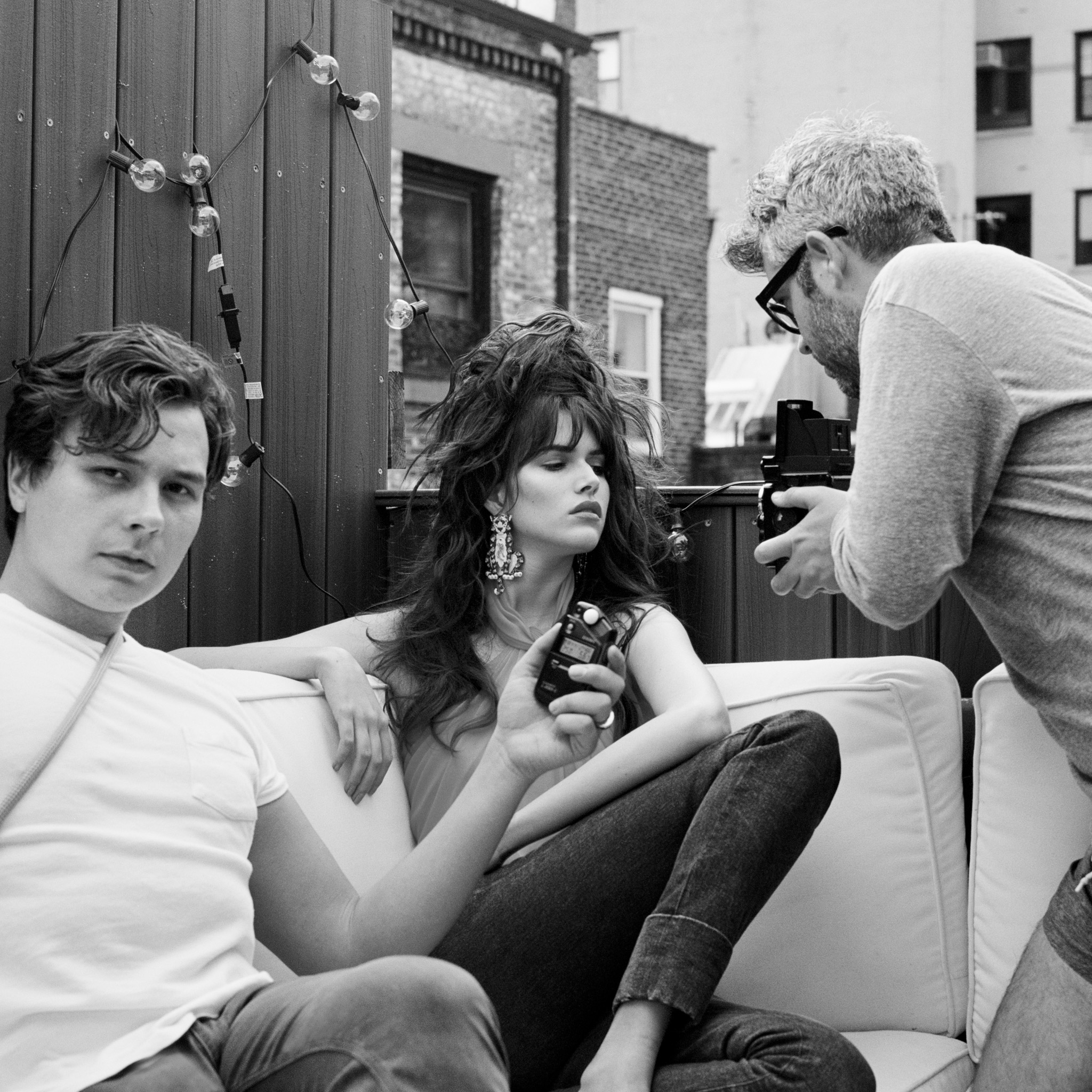 "I think you have to figure out, as a creative person, how to navigate the balance between building a business and staying true to yourself," says designer Brandon Maxwell. "The past six to eight months of my life have been a real journey to finding that peace, solitude and a contentment that was not there. I think that I've arrived at that place and I'm happy that's it's at age 33." We are conversing a couple of days after his birthday and two weeks after his stellar Spring/Summer 2018 collection debuted during New York Fashion Week in early September. Presented at the Doubles Club, a tony private club underneath the Sherry-Netherland on Fifth Avenue, the looks were a fluid parade of luxe daywear, pretty cocktail dresses, and statement-making ball gowns, in sumptuous shades of fuchsia, crimson red, carnation pink and lavender. Denim flares were paired with an emerald green animal-print, peplum-belted top. A royal blue body-con dress with a very deep neckline was given pockets. This collection also kicked off a series of collaborations, a first for the brand. Austin-based artist Jules Buck Jones created a whimsical horse drawing across a jacquard ball skirt, worn by Karlie Kloss, who closed the show. Jewelry designer Zander Elliott for Lunch at the Ritz conceived festive animal earrings, worn in several ensembles. Chic belts and sophisticated doctor bags were rolled out as well, introducing the brand's very first accessories.
The show was walked by today's dominant runway queens—Bella Hadid, Gigi Hadid, Joan Smalls, Jourdan Dunn, Adwoa Aboah and Dilone—who appear in his shows season after season. Aside from professional commitments, they show up because of their loyalty to Maxwell, an emotional connection that runs deep between them. At its core, Maxwell's design ethos celebrates women, whether its models or his customers, or women in his life like his mother, sisters and his best friends.
"She is someone who is strong, fearless and bold," explains Maxwell of the women who inspire his brand. "That's who I've always been surrounded and raised by. The women that are on the runway look very much like the women who are in my everyday life."
A strong thread of compassion, humanity and authenticity runs throughout the brand, from its print campaigns to the video promos. At the Spring/Summer 2018 show, Maxwell auctioned off two tickets, donating the proceeds to the Houston Food Bank for those affected by Hurricane Harvey. What's also significant is his push for inclusivity in fashion, though it happens very organically on his end.
"I did not grow up in an all-white area of the country. It's not just African-American women, it's Hispanic women, it's Asian women. I grew up in a very diverse area and that is the type of beauty that I saw, and I think it's very important to tell that story in the collection," the East Texas native explains. "For a collection handmade in New York, our price point is what it is, and that may not be acceptable to some women. But it's important that when women view the collection online, they see some version of themselves there. It's not for me to be a company that says you can't sit at our table."
Angolan stunner Maria Borges, who has walked in four of Maxwell's shows and appeared in two ad campaigns, calls Maxwell's vision "outstanding." She adds, "the campaigns reflect the society we live in. I think everyone should follow his vision of equality." Borges is one of the six faces of the designer's Fall 2017 campaign, which includes Joan Smalls and Romee Strijd. In one of the video promos, Borges wears a bell sleeve sweater and a pony hair skirt, and talks to the camera about her strengths and goals. She is carefree, vibrant and confident.
Maxwell and his creative partner Jessy Price believe it's important for models to have a voice, not just adorn a designer's ad campaign. That's why they control the brand's narrative, shooting all of its print photography and video campaigns. Their content reflects a socially-engaged lens and perspective. "One of things that we are really focused on, going forward, is using the stories of the women who bring our clothes to life to help other young women," says Maxwell.
For the Spring/Summer 2017 campaign, Maxwell and Price featured Riley Montana, a model close to the brand, as the sole face. The stunning images and five-minute film followed Montana back home to Detroit, strutting down the sidewalk in a satin cropped camisole and trousers, revisiting her childhood bedroom and gathering at the dinner table with food and family members. "It was life-changing. There was nothing to hide anymore; I no longer felt like I was less than. I finally grew an appreciation for where I'm from and realized that it is why I'm where I am today," Montana explains. "Just like everyone who has a story to tell, I come from somewhere; we just have to be ready to use what those places taught us to get to where our hearts desire." Maxwell chimes in, "Maybe on the surface, Riley and I don't look the same, and Riley and Jessy don't look the same, but that experience helped us realize how similar we were, how similar our lives were, how similar our families were, and how we share that common bond."
Maxwell and Price share a strong visual language and a synchronized creative relationship, which started back in college in their native Texas more than a decade ago. After obtaining their BFA degrees, Maxwell went to New York and began working as a stylist's assistant for the likes of Deborah Afshani, Edward Enninful (now editor in chief of British Vogue) and Nicola Formichetti. Price worked as a photo editor and producer at W magazine, and up until recently at Condé Nast's digital agency, 23 Stories. "The very first roll of film that I ever took when I was 19 I showed to Brandon, and we've just been building creatively since then," says Price. Their shared personal history and their overlapping careers in New York led them to a new union: they have recently become engaged.
Founded in 2015, the Brandon Maxwell brand has shot to the top of the fashion stratosphere. Accolades have included the 2016 Fashion Group International Rising Star Award for Womenswear and the 2016 CFDA Swarovski Award for Womenswear. Michelle Obama, Viola Davis, Kate Hudson, Zoë Kravitz, Amy Adams and many other influential ladies have rocked Brandon Maxwell looks on red carpets. Another famous woman who loves his garments—a global pop icon to us, but one of Maxwell's best friends—is Lady Gaga. Maxwell has served as Lady Gaga's fashion director and stylist since 2012, ever since Formichetti left to pursue a design career and handed over the reins. Maxwell spearheaded Lady Gaga's sartorial transformation to the classic leading-lady style she wears today, with those gorgeous body-hugging gowns and strapless jumpsuits. Their decade-long bond is layered both personally and professionally. She rooted for Maxwell to start his own line, and was there to hand him his Daily Front Row Debut Designer award in 2016 in L.A.
Maxwell's remarkable vision for femininity and female representation will contribute to his staying power in fashion. Price adds, "This is a venue that Brandon created for himself. Because Brandon brings such an understanding of the women who are in his world, he knows how they want to see themselves. We need to tell this story."