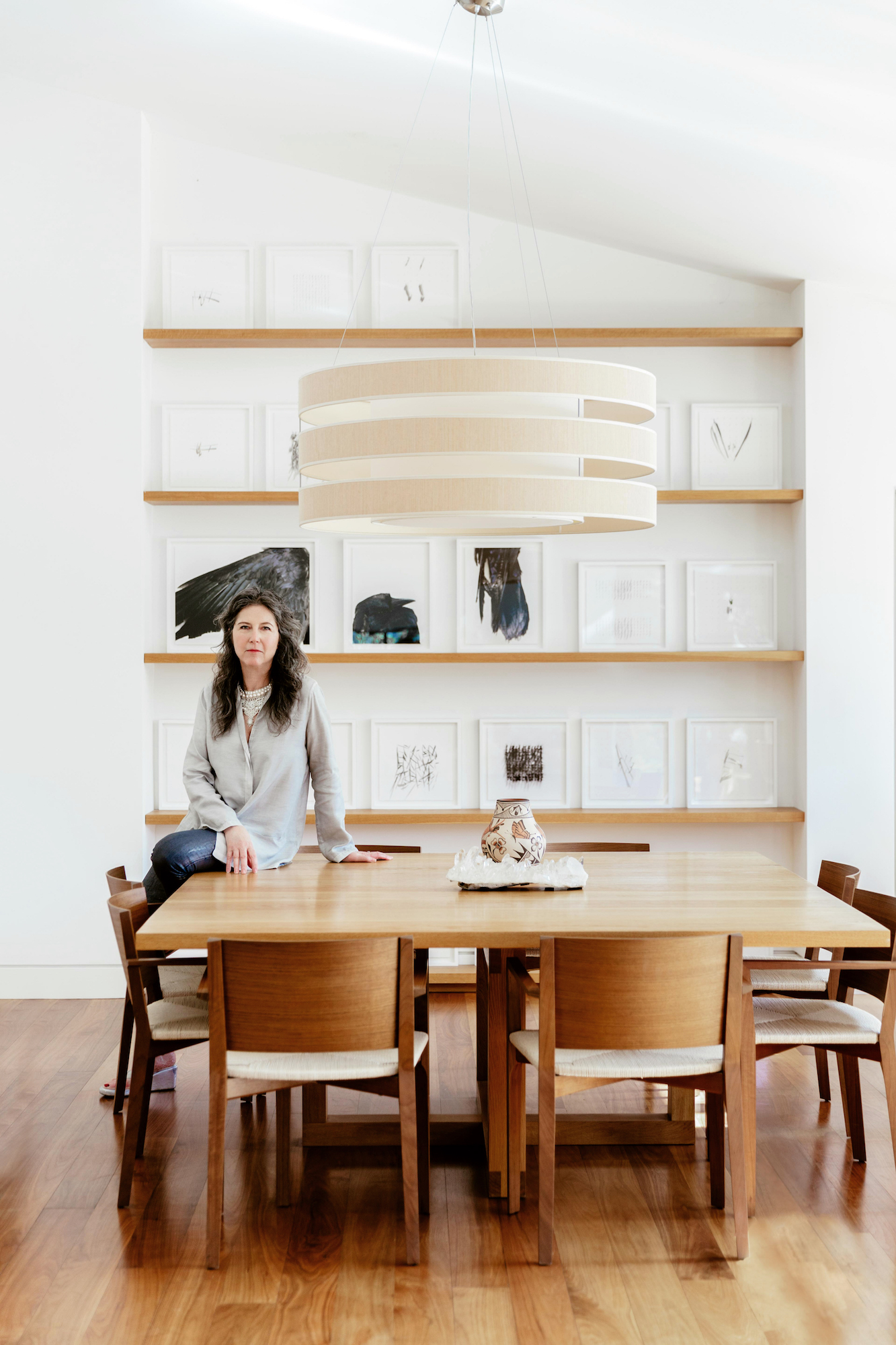 "Good design is not just subjective. Nor is beauty. Some people think it's arbitrary, but it's not," says Ivy Ross, the Head of Design for Google Hardware. It's a Friday afternoon and Ross is working from her home, a modernist house with an almighty view of Mount Tam in Marin County. Lily Lin, a Google communications director, peers at us through a laptop camera positioned on the coffee table while Ross and I sit on an architectural sofa by Antonio Citterio. Lin's video-link presence might feel Big Brotherish if she weren't so good-humored and sisterly.
Ross is a "Greygler" as they call Google employees who are over forty, but she pulls off Current Elliott coated jeans and Converse Allstars customized with black studs as if she were a student at the Fashion Institute of Technology (her alma mater). An enthusiastic interviewee, Ross is quick to draw on all aspects of her unusual curriculum vitae. Initially an award-winning jeweler, she went on to work in fashion companies like Calvin Klein, Coach and Gap as well as toy companies such as Disney and Mattel. From a deep understanding of product design in a range of materials (metal, textiles, plastics), she moved on to senior responsibilities in global brand marketing. She also spearheaded many initiatives to foster the productive use of intuition and imagination among her companies' employees. As her current boss Rick Osterloh, Google's SVP Hardware, explains, "Dorothy Parker once said, 'Creativity is a wild mind and a disciplined eye.' That, in a nutshell, is Ivy."
The mandate of design in the tech sector has changed dramatically. A little over a decade ago, it meant black boxes and gray gadgets. Now industrial design is only part of a puzzle in which "user experience design" takes precedence. Why? Tech is not much use if people can't figure out how to use it. Ross oversees a team of approximately 100 people, who focus on the industrial and user-experience design for phones (their new Pixel), voice-activated assistants (Google Home), tablets, virtual reality products, and all sorts of top-secret special projects. They also deal with research and packaging. "We are excited to develop a complete design language," says Ross. "The simplest things are the hardest to design because you don't have a lot of places to hide." As Head of Design, Ross's gift for obtaining a sense of the big picture and the microscopic details is essential. "Ivy is a magical blend of broad experiences," says Tony Fadell, a highflying entrepreneur who had the pleasure of "creating the future" with Ivy when he ran Google Glass. "She can deftly speak about fabrics, fashion trends, electronics, user interaction, marketing, sales, even ethnography. She's a businessperson's designer and a designer's businessperson."
When I ask about Google Glass, Ross turns to her laptop screen and raises her voice, "Yeah. So. Miss Lily?" Her communications director replies, "The project still exists, but we're not announcing anything new at this point." I press for a comment. "Glass was ahead of its time. To have a computer that small is incredible," says Ross. "It was brave of us to put out a prototype. It was an honest entry—maybe served up innocently in a way that didn't quite serve its purpose. Your average consumer doesn't understand the concept of a prototype." Google Glass is currently part of Google's wearables division, which embraces products focused on virtual, augmented and annotated reality.
Google Hardware is like a mid-sized startup within a giant software company. "It's not about having a container and stuffing software in it," she explains. "Our job is to make sure that the experience isn't seen as separate at all." Ross sees hardware and software as "different disciplines." Hardware is the bigger investment. It takes more time to make, refine and ship so it is harder to tweak along the way. "You can still be innovative, creative and curious, you just have to know the limitations of manufacturing," she says. "And the limitations are actually exciting because they narrow things down."
Ross has design in her blood. Her father designed the Studebaker Hawk while working for Raymond Lowey of the 1950s. He would take her to the big car shows from the age of five. "While he was looking at the cars on spinning pedestals with girls in mini skirts and go-go boots, I would be eye-level with the hubcaps, lost in the flow, studying the spokes." Ross eventually began her adult life as a metalsmith, making jewelry in which she used electrical voltages to change the color of titanium and ionium. "I like to think of myself as a bit of an alchemist," says Ross. "The ability to transform metals, is an analogy for having a flexible state of mind."
Jewelry fascinated Ross; she loved ergonomics and the challenge of the human form, which prepared her for the tech sector's new obsession with wearables. She also liked the fact that jewelry was used for self-expression. "It's like the dot on the 'i,' when you're assembling yourself," she affirms. Finally, she learned to be a maker. "Making things carves neural pathways," she says. "In schools where you only learn how to put things on paper, students are missing that visceral, tactile connection."
Ross's long career outside of high tech means that she has little time for "tech for tech's sake." She wants technology to amplify our humanity. "It should enable you to be more yourself," she explains, "and give you more time to do the things that only humans can do." Concerned with engaging all five senses, Ross cites research that found that heavy phone users swipe their finger across their phone over 5,000 times a day. "We all want to be more hands-free," she says. "People in general feel that speaking is a more natural way to communicate than moving their fingers across touch screens."
Like many in Silicon Valley, Google has confidence in voice activation and last year launched Google Home, their virtual assistant. While Amazon's Echo looks like cliché electronics, Google Home blends into a living room, looking like a 1960s vase. "We are into things that fit into your life," says Ross. "It should be like upholstery that you want to live with."
From the laptop, Lin pipes up. "As Larry [Page] used to say, technology that just gets out of the way." Ross concurs, adding, "Then it's intuitive and not even perceived as technology." She looks at her watch—an iconic IKEPOD chronograph. "Design is about solving problems," she adds, "in the most beautiful way."