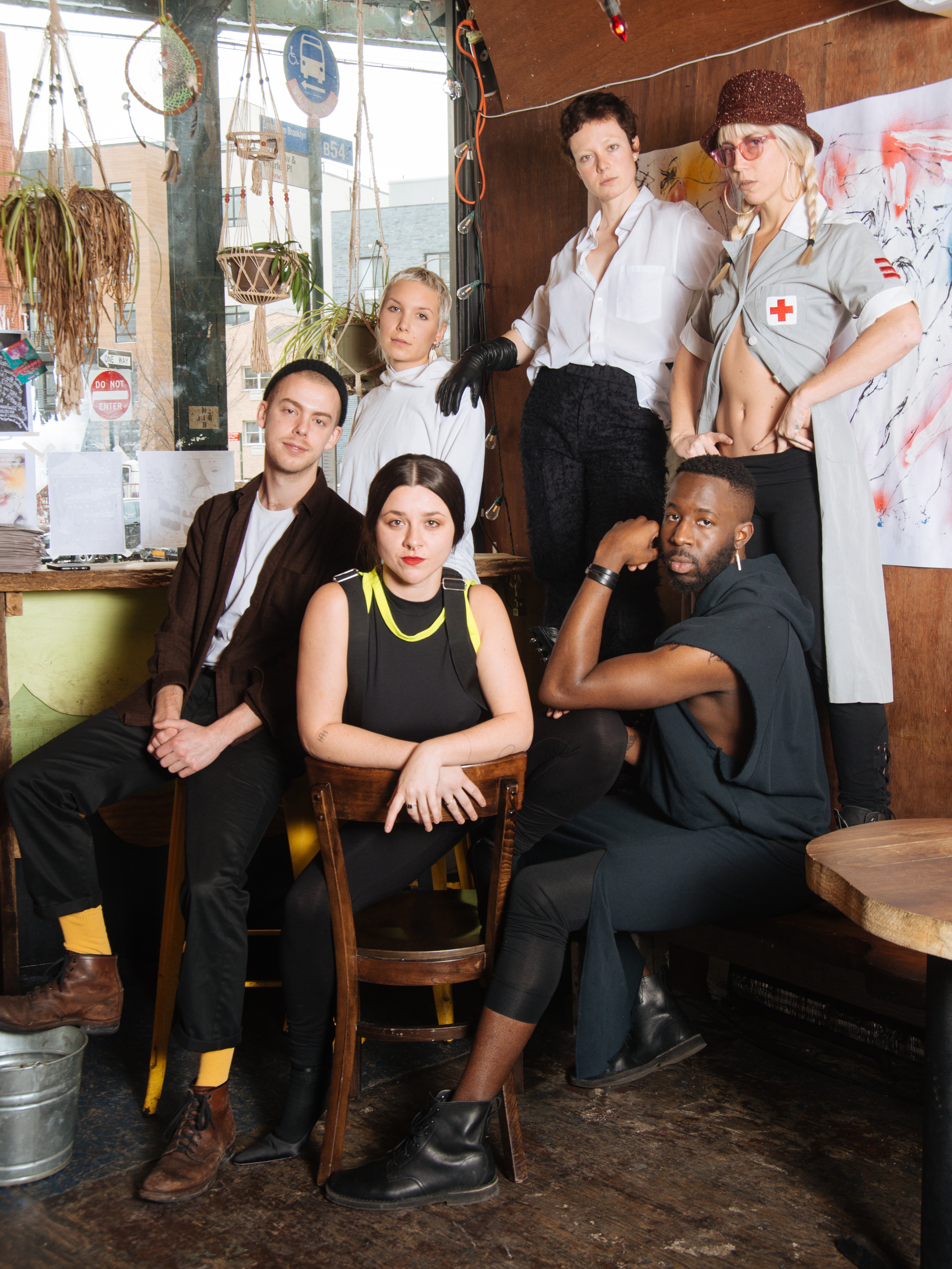 On a Monday morning, Happyfun Hideaway, a Bushwick dive, is just about the last place one expects to be a hive of activity, but on this particular day a steady stream of artists began to arrive nonetheless. They greeted one another with hugs, kisses, coffees. Happyfun Hideaway woke up.
The bar felt like an appropriate place to congregate. Its owners, Erik Zajaceskowski and Rachel Nelson, also run the nonprofit art space Secret Project Robot, which gave rise to the bar. When the gallerists realized that their artist-based audience needed paid work just as much as they needed a performance platform, the gallery's mission expanded. "At SPR, people were always asking to bartend and do the door," Nelson says. "So we thought let's open a bar." Happyfun Hideaway's success prompted the opening of a second outpost, Flowers For All Occasions. These for-profit spaces provide the funding for SPR's art projects and a new home for the nonprofit—a 2,000-square-foot storefront opened this spring. Artist Monica Mirabile credits the duo for providing the financial stability she needed when she moved to New York. "I only work here two days a week, and for years now it has sustained me enough that those other five days I can just work on my own practice and not have to worry about having to pay my rent," Mirabile says. "I think that is really special."
Mirabile has paid the energy forward. The independent artist and choreographer is the founder of Otion Front Studio, a venue she started with fellow creative Sigrid Lauren. "It has been a constant tug-of-war that is based on compassion and understanding," Lauren says of their friendship which includes a collaborative practice, they call FluCt.
Financed in the early days by Mirabile's job at SPR, Otion Front went through several stages—including a brief stint as a yoga studio—to become what it is today. "First we added on Gina [Chiappetta] and Kathleen [Dycaico] and Sarah [Kinlaw]—now it's seven members including Jerome AB and Tara-Jo Tashna," Mirabile says. "It slowly evolved, through a lot of stress, into what it is now which is dance, art, video screenings, a residency every month, workshops. We always try to have experimental performance stuff circulating." While the space now funds itself, it doesn't turn a profit. Otion Front charges artists $10 an hour for rehearsal space in order to keep itself affordable.
Like SPR, Otion Front functions as a community resource for young artists. "I've had three transformative creative experiences thanks to Otion Front and Monica Mirabile," artist Angelina Dreem says. One was the 2014 Burning of the Blondes performance. "This was so intimate I didn't know afterwards why I had even thought of it, but it involved being almost completely naked except for underwear and then having audience participants each take a vial of oil and rub it on my body while I was blindfolded looking like a sculpture." Past residents at Otion Front include self-produced musician Alexandra Drewchin and Hayley Martell.
While providing critical tools for artists, SPR and Otion Front are just the physical expression of a larger community. "Recently I was talking to Monica about how our working relationship is rhizomal," artist Rebecca Fin Simonetti says of their ever-growing circle of friends and colleagues. "I have used images of FlucT as source material in my drawings," says Simonetti. "And then Becca Warzer choreographed a large-scale performance based on that exact drawing. It goes on and on, like a daisy-chain."
Large-scale performances like Authority Figure put this idea of continuous growth and collaboration into action. It was a production that required over 150 artists to gather at New York's Knockdown Center. Caitlin Baucom's Generation Ship performance at Mana Contemporary this February also required the help of other artist friends like Quenton Stuckey, Jerome Bwire and more. Mana Contemporary and Knockdown aren't the only venues to express interest in the work. The Hammer Museum, MoMA PS1, The Kitchen and New Inc have all hosted shows. The galleries can't be far behind, Andrea Rosen hosted FluCT this January.
Of course, the concern du jour is not how to commercialize their work, but how to be agents of change in the current political landscape. "We need each other especially now," says Stuckey as I sidle up next to him at the bar. "The world is so separate now; it's always about do-it-yourself, but we all offer something completely different. There is room for everyone." Samantha Cornwell-Crabtree concurs: "Having a community that really supports your expression is incredibly valuable, especially now, as we're gearing up for a highly repressive political climate. We found each other at the right time."