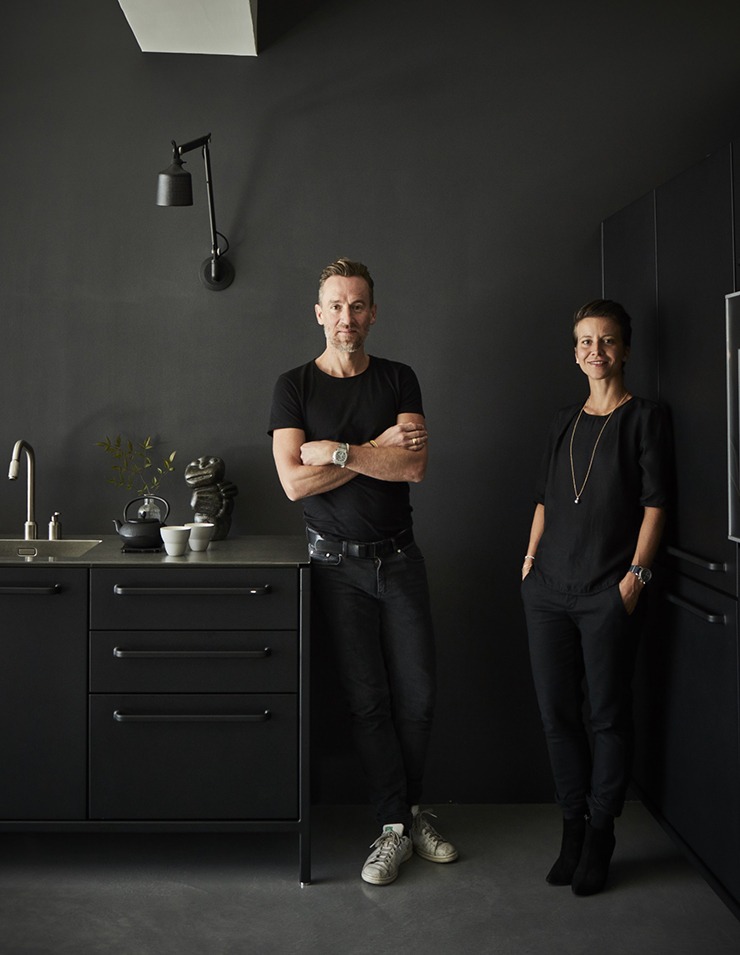 In Tribeca, the Danish kitchen manufacturer Vipp offers the kind of full-service showroom experience that really makes it feel like home. "When you come in, there's water in the taps, there's gas in the stove and food in the fridge," says Vipp's Sofie Christensen Egelund. There's also comfy Danish midcentury furniture, art on the walls, and, incidentally, a family of four on site.
Sofie and her husband and Vipp Vice President Frank Christensen Egelund moved to Tribeca from Copenhagen two years ago with their young children to promote her family business. Her grandfather Holger Nielsen had founded Vipp in 1939 when he invented a sleek, steel pedal-operated trashcan that his wife could use in her hairdressing salon. Lauded by critics, the brand quickly rose to prominence in Europe.
"It's a true humble masterpiece," says Chay Costello, associate director of merchandising for MoMA, which features the bin in its permanent design collection. "The no-frills industrial aesthetic and efficient pedal exemplify good design." (Its curves were allegedly inspired by a silhouette of Nielsen's Nash Rambler, "a really unusual car to have in Denmark at the time," according to Sofie, while the name came from the sound the lid makes rising off of the bin.)
Today, despite having expanded to kitchen systems and other household accessories, Vipp remains a small family company with a relatively low profile in the United States. As such, Sofie and Frank took a modest approach to opening up shop here, combining their business headquarters with their family home inside the site of a former Tribeca sausage factory.
Working with a contractor, Sofie and Frank redesigned the space themselves, retaining its industrial feel—exposed pipes, concrete ceilings and all—while adding warmth with their very personal collection of midcentury furniture, art and family heirlooms: Ingo Maurer-designed lighting fixtures; an authentic Børge Mogensen daybed that Frank inherited from his mother, reupholstered in a bright coral fabric and placed in the kitchen ("It's just more comfortable than a bar stool," according to Sofie); a bathtub originally specified for the Four Seasons; and one of the first Eames lounge chairs imported to Denmark by Herman Miller.
For Sofie, having a story behind each piece is essential. "We don't just go out shopping, we wait," she says. "Frank has a good eye for vintage, and sometimes it's the hunt that's very interesting."
The couple also, of course, has every Vipp product: glasses and ceramics, lighting fixtures, cabinets and countertops, much of which is made from the exact stainless and powder-coated steel and with the same aesthetic purity as the original trashcan. After the kids head off to school in the morning, the space operates as a business well into the evening. "After office hours is the best time to have architects over for a glass of wine," according to Frank.
Unconventional as it is, the home-showroom is a business model that both say they prefer. For Sofie, who grew up in a Vipp household herself, family and business have always been comfortably intertwined.