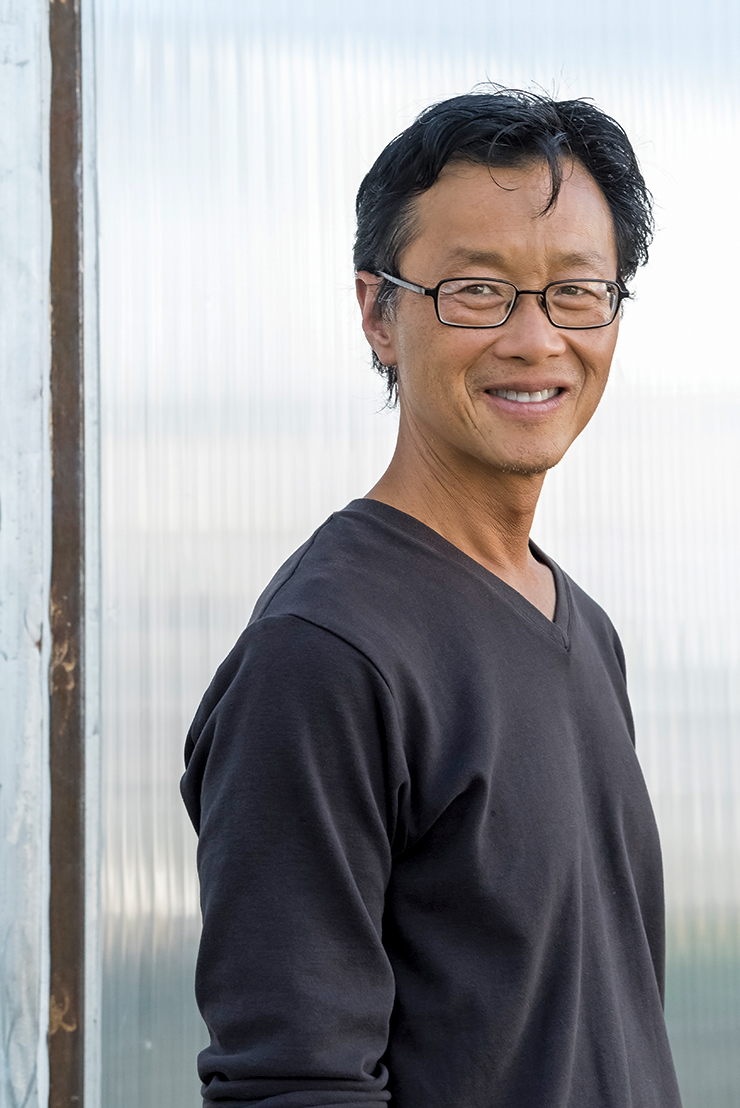 Edwin Chan made his reputation as a lead designer in the office of Frank Gehry, helping to create such iconic buildings as the Bilbao Guggenheim and the Louis Vuitton Pavilion in Paris. "It was an incredible experience but, after 25 years, I had hit a ceiling professionally and needed to move on," he says. So he exchanged the comfort of working with a smoothly functioning team of a hundred-plus architects for the challenge of going it alone on a diversity of small projects. From his home studio in Venice, California—the beachfront community where Gehry was based in his fledgling years—he has reached out to Dallas and Detroit, Miami and Hong Kong, while designing a spectacular aerie in the Hollywood Hills.
Growing up in Hong Kong, where generic office and apartment towers crowd out the few remarkable buildings, Chan wanted to become a movie director. His parents sent him to high school in the U.S. and there, at a careers workshop, he discovered the potential of architecture, and went on to get his master's degree at the Harvard Graduate School of Design. He moved to L.A. to work with Gehry, and learned what no school can teach: the importance of collaborating and solving problems in a creative way. "Also, how to listen and put myself in the client's head," he explains. "Frank is extremely inclusive and my office, which I call EC3, stands for a cross-disciplinary collaboration."
An urban revitalization project in Detroit exemplifies the goal of fostering a creative community. The young, visionary developer Philip Kafka bought five acres of land near the city center, and True North, the first phase in a series of Quonset huts—corrugated steel domiciles that will be used as live-work units for start-up companies—should be ready next spring. Much used by the military, this humble form has the elemental simplicity of a Donald Judd sculpture—and the digestible construction cost of $75 a square foot. Chan has varied the configuration and size (one will contain three floor levels) and may paint them in colors inspired by Alexander Girard, who worked with Eero Saarinen in his Detroit office. Trees, gardens and artworks surround the units, while a community garden with arches and a blue screen brings a touch of Hollywood magic to the gray Michigan winters.
And though L.A. itself is full of Modernist houses that open up to gardens through glass sliders, Chan embraced the landscape more subtly in his 5,500-square-foot retreat for a family from France. The house hunkers down on a level pad just below Mulholland Drive, and splits down the middle. The flared two-story wings open onto terraces while their windows frame sweeping views over the San Fernando Valley. Solid walls at the front and sides accommodate the owners' contemporary art collection, and the drought-resistant succulents that line the terraces remind the wife of her native Mexico. Construction begins next spring and the house seems likely to join the pantheon of Modernist classics.
Art is as great a fascination for Chan as landscape and public spaces, and he created a heroically scaled installation of wood beams at the Nasher Gallery in Dallas earlier this year. Next April, he'll have another installation at The Bass museum in Miami Beach: an innovative presentation of contemporary fashion from the Deste Foundation collection. The design is currently a work in progress, which may include a mirrored runway for the dresses and geometrical enclosures for the accessories. Around the same time, Chan will return to his roots with a two-level stage set for a production of Frankenstein in Hong Kong.
Chan's boyish enthusiasm about these projects is matched only by his boundless confidence. He has the air—and something of the look—of a fresh-minted graduate launching his career, rather than a veteran of the profession building on a solid achievement. Phase two of this architect's life should be as exciting and productive as the first.