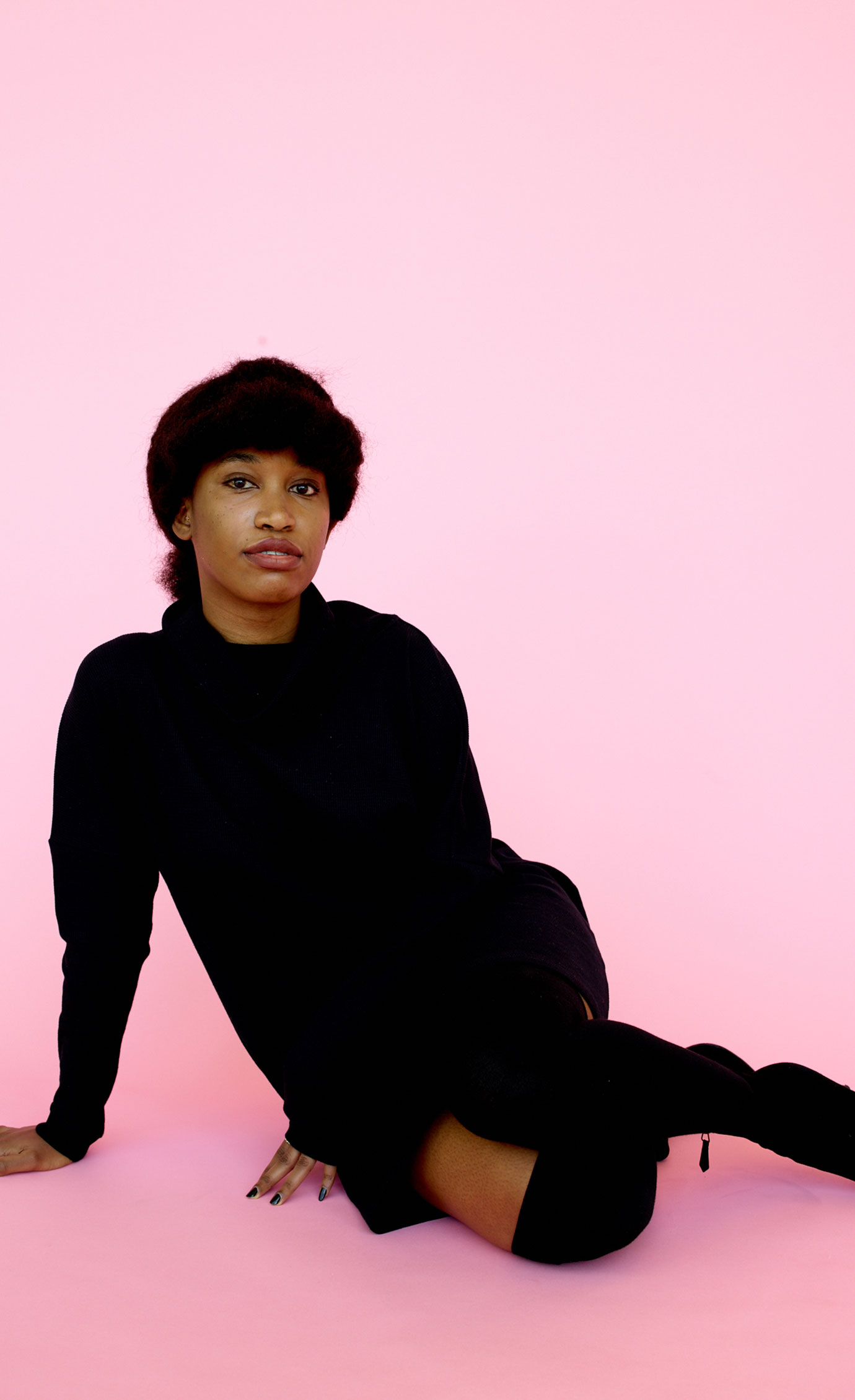 In October, Tschabalala Self opened her second solo show at Thierry Goldberg gallery—and it was notably more erotic than her first. Using the technique she established while studying at Yale, "Self" dove deeper into her exploration of the black female body through the lens of sex. The exhibition's collaged fabric and paint work made an appearance in the Studio Museum's "A Constellation" exhibition in 2015, and this year, the work popped up in key group shows curated by Ashton Cooper and Jamillah James.
How do you know a work you've made is good? I never know for sure, but I know that a work is done when all of its parts have reached an equilibrium. There must be a balance between the resolved and complex elements.
What teacher did you learn the most from in school? I have had a lot of amazing teachers throughout my schooling. I can't say there was one teacher who I learned the most from, because each teacher has taught me something unique. The faculty at Bard College, where I went for undergrad, really help shape my confidence in regard to my practice, and are still extremely supportive to this day.
What was your first gallery experience? My first gallery experience was with Schur-Narula Gallery. My friend Niki, from Bard, planned the show when he was still living in Germany. Right after my final class in graduate school I left for Berlin. Niki had just started his gallery and I had just started showing my work.
If you could trade with anyone, who would it be? Faith Ringgold.
Do you live with your own work? Would you? I have some of my own work at home, but I prefer living with other people's work.
What is the best piece of advice you've received? If you believe in yourself, collect your own work, try to keep one piece from each show.
Ode to Hans Ulrich Obrist, do you have any unrealized projects? Yes, many. There are a lot of ideas and stories I would like to express and share with others. I want to explore these topics in a number of ways, and hope in the future to have the opportunity to write, or even make films.
How did you fund your first works? I funded my first works with money from working. My materials have become more expensive as my resources have increased. My first works were all works on paper and relatively inexpensive to produce.
What are you working towards? Right now, I am working towards my solo exhibition at the Parasol unit foundation for contemporary art in London.
When you aren't in the studio, where are you? When I am not in the studio I'm at the movies, or with family and friends. I like to go out to eat, see shows, travel.
In your practice, what comes naturally to you and what do you have to force? Taking things apart and putting them back together comes naturally, however drawing has always been a struggle. I have had to approach drawing my own way, and create my own drawing language in order to articulate my subjects in an convincing and intriguing way for others.