David Adjaye is an outlier in the top tier of international architects in more ways than one. At 48, the Tanzanian-born Adjaye, who moved to the U.K. at age 13, is an unusually talented designer of spaces and structures; but the world has more than one of those. It's the passionate case he makes for what he calls "social architecture" that is setting him apart these days, pushing him toward even more prominence. To Adjaye, social architecture means creating buildings that tell a story about people, binding them together in ways that go beyond a shared form of shelter.
"From day one, I've been committed to this idea of design democracy," says the London-based Adjaye, who is socially very smooth and polished but can get heated up when it comes to this topic. "Great design is not just for the elite, it's also for everyone else because it completely empowers people."
That doesn't mean he never designs for the well-to-do—he's in part made his name from residential architecture that's at once sumptuous and minimal for art world clients like his closest friend, artist Chris Ofili and collector Adam Lindemann. But he also tackles subsidized housing in New York City, as with his Sugar Hill development in Harlem, which was completed last year and boasts a charcoal-gray corrugated-concrete façade. That range of works has brought him laurels like an Order of the British Empire, and he would seem to be a good bet for a future Pritzker Prize.
"David has truly changed the way I think about architecture, with his unique perspective on and sensitivity to the relationship between the human body and the built environment," says Thelma Golden, director and chief curator of the Studio Museum in Harlem. "He envisions buildings that are not just structures where life and culture are experienced, but places that truly shape who we are and how we live."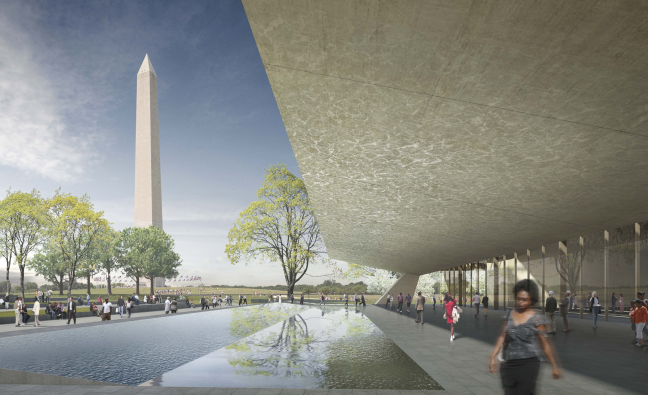 Aside from a studied asymmetry, Adjaye's work doesn't have a lot of "tells" that let you know it's his. A signature style would be "too easy," he says. "My work is really about trying to find the roots of the place where a building is being constructed. So it's not about making a patented style." To take in a broad swath of his designs, head to Munich's Haus der Kunst, which is showing the largest-ever exhibition of Adjaye's work through the end of May.
His most significant project to date, the National Museum of African American History and Culture in Washington, D.C., combines the two elements that most architects dream about: the chance to design a significant and lasting cultural structure and a huge budget to do it—more than $300 million to date. The project, part of the Smithsonian Institution and located on the last available site on the Mall, has been delayed a few times, but is now slated for completion next year.
Adjaye was an interesting choice considering that he's African but not American (he beat out many major starchitects back in 2009 to get the gig). He has poured himself into the project and came up with an ingenious structure with a three-layer corona, a nod to Yoruban art and architecture. It's clad in a shimmering cast-aluminum skin with a bronze alloy coating—a very deliberate choice. With Adjaye, form doesn't only follow function, it also tells a story. "It is based on iron work in the South," he says. "In Charleston in the 1800s, if you were African-American, you were probably in one of the guilds like ironsmithing or timber work."
Adjaye thought deeply about the museum's prominent site, and wanted to avoid the "palaces in a line" feeling that characterizes much of the Mall. "It's a very interesting hinge point between the Oval Office, the White House and the Washington Monument grounds," he says. To reduce the massing on the five-acre site, half of its nearly 400,000 square feet of program space is underground.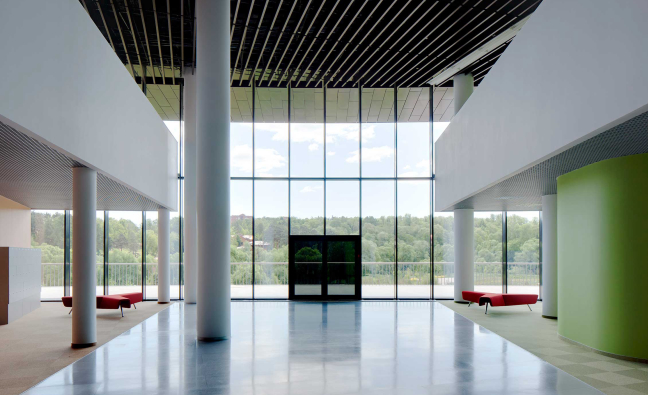 In 2010, Adjaye created an award-winning building for the Moscow School of Management Skolkovo that hides its large size by breaking up its program into several wafer-shaped volumes that appear to float above a large disc. "I said, 'Why don't we do a definitively Russian building that learns from its Russian heritage and roots,'" says Adjaye, whose abstracted shapes were inspired by the seminal Constructivist forms of Russian artist Kazimir Malevich.
On American shores, Adjaye is probably best known for the Museum of Contemporary Art Denver, completed in 2007. The building was done on a tight budget and features a two-layer translucent skin, helping it win LEED Gold certification for its insulating properties. Museum Director Adam Lerner says the building, "holds together wonderful contradictions—it's both grand and intimate, combining lofty spaces with a human scale." And, he notes the building's "constant tension in surfaces from industrial steel to refined wood," which is classic Adjaye in the way he pits opposites against one another and manages to come up with something harmonious instead of awkward.
Adjaye's unique position in his profession extends to his work in Africa—a continent that too infrequently sees high-quality work by international architects. He has half a dozen African projects in the works, including the new International Finance Corporation building in Dakar, Senegal. "To me, the perfect thing is to have an office back in Africa, my family's homeland, and to get to a point where we have significant work there," says Adjaye, whose father was a Ghanaian diplomat. "I'm really excited."
Another African project is Ghana's Cape Coast Slavery Museum, which forms a complement to the African-American museum in D.C. "We're working with both sides of the story," says Adjaye, referring to the forced migration of Africans to the United States and elsewhere. He adds that he's attempting to build "a new castle of enlightenment" (the existing structures were referred to as "slave castles"). When asked if he is worried about being typecast doing such projects, he waves it away. "I'm actually super-privileged to be doing this," he says. "I don't think you can do too many of these things." Indeed, Adjaye doesn't shy away from heavy themes in anything he does. One of the more unusual projects on his docket is MEMO, the Mass Extinction Monitoring Observatory, on the Isle of Portland just off the coast of England.
The building poses an odd challenge: creating something to address disappearance. Adjaye came up with a tower in the shape of a double helix made from Jurassic-era limestone. The double helix—the shape of DNA and hence of life itself—is also a "Babylonian vanity," he says, representing the quest for knowledge. "The project's really about awareness. The planet, our species and our relationship to that ecology—but making it tangible and visceral, not just a scientific interactive project."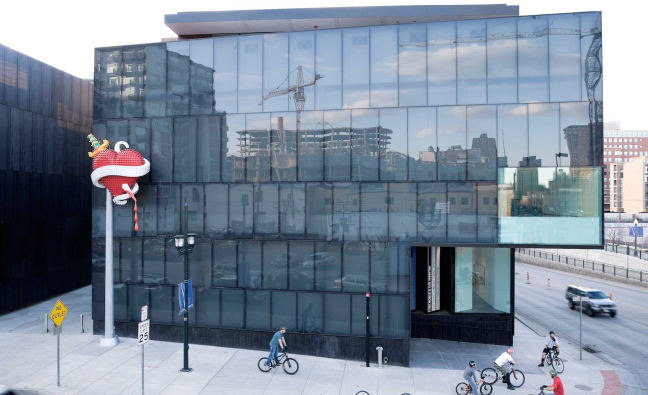 Adjaye is quite young to have achieved what he has, but the ride hasn't been without bumps. In 2009, as the financial crisis hit, his firm nearly went bankrupt and had to reorganize its debt, but he has surged since then. "It was risky and ropy," he says. "Even when you have a name, you can go down." He adds with a laugh, "It's no wonder they don't teach you anything about the business side of it in architecture school. It would make you petrified and you would never do it."
But Adjaye is moving forward with an architectural to-do list that is uniquely his own—as idealistic as you're likely to hear from someone with such global reach. "Any design that's a new way of looking at something—projects that look at social equity and making money in a different way—that is what I want to do," he says. "If you look at Adjaye Associates, it's not about making showy, spectacular things. It's about shaping the 21st century."