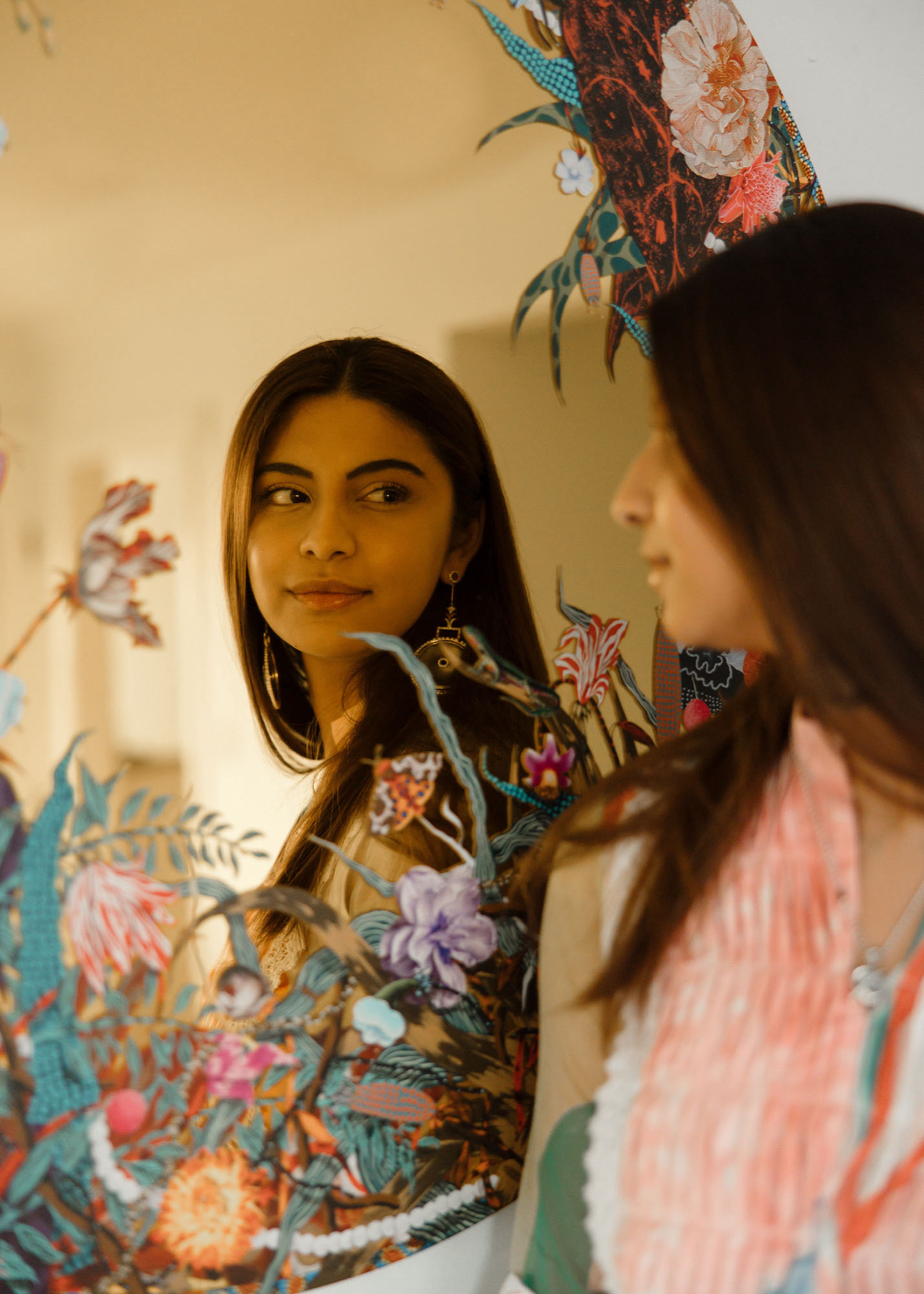 Arushi Kapoor has been in the art world since infancy. Raised in New Delhi, she grew up in a family that collected and kept the company of some of the country's most prominent artists including M. F. Husain and Paresh Maity. Kapoor found her own way into collecting, dealing, and curation later in life, through her own curiosity and gregariousness. Based primarily in Los Angeles and London, she has opened an eponymous gallery that primarily represents artists who are women and people of color, established an art advisory that caters to a number of LA heavyweights, and developed a formidable collection with a sharply honed focus. "Uplifting women has been instilled in me from a young age, and it's very apparent in my collection," she says. When collecting for herself, Kapoor identifies new talents by gut, rarely acquiring works from emerging artists without forming a genuine connection first. "It makes me feel like I'm not buying artwork from a complete asshole, which I don't want to do," she laughs.
Kapoor's artistic birthright might be one cause of her gregariousness—the multihyphenate is unapologetically frank about the art world's flaws, and never considers herself above a task when it's in service of a project that she's passionate about. On the day that we spoke, Kapoor spent her morning on the beach, filling bags with sand. The sand bags, she told me, would later be used to weigh down the easels displaying works by the artist Lindsay Dawn. In her second solo show with Kapoor, Dawn presents a new series of massive, psychedelic, erotic, mass media-inspired paintings outdoors in Miami. (The exhibition, titled "Moments In Time," is currently on view at Bob Zangrillo's House on the Venetian Islands in Miami beach.) Kapoor organized a high-profile turnout for her first solo show with Dawn, and the show sold out in its first week. "Her collectors list is amazing: everyone from LeBron James, to Russell Westbrook, to Jim Carey, and Kylie Jenner," Kapoor says. But the gallerist isn't awestruck by big names. "I like women with a story to tell," she says with a shrug. Below, she tells CULTURED her own collector origin story, shares her process for discovering new talents, and sheds light on some of the art world's open secrets.
CULTURED: What role does collecting play in your life?
Arushi Kapoor: Everything that I do—whether it's collecting, curating, or placing artworks in my clients' collections—stems from a basic set of ethics. My career kind of began as philanthropy. I'm not trying to be Mother Teresa here, but if I can improve one person's life even a little bit, it gives me joy and fulfillment. I exclusively do shows of emerging and minority artists, and my focus will always be female artists.
CULTURED: You play many art world roles. How do they intersect?
Kapoor: I want to start by saying that I am both a collector and a dealer, and people often give collector/dealers a bad rep. There are a lot of people on museum boards that call themselves pure collectors, who are dealers secretly—I know because I've bought from them. People seem to think that the two cannot coexist, but I think it's very important for collectors, galleries, and dealers to have that transparency. The art world has recently been including more women and it seems like we're progressing in the right direction. If we are, then ignoring this open secret is a big mistake I think. Everyone is secretly gossiping about it, but gossiping about something is not progressing.
CULTURED: Where did your life in the arts begin?
Kapoor: I grew up in the art world—I went to Art Basel in Switzerland when I was three years old. I learned a lot about art and artists through my family, and while I was collecting. But I definitely paid my dues. I started out working at an art gallery in LA, and I remember having to mop the floors because someone threw up from drinking too much at an opening.
CULTURED: How do you begin the process of acquiring new pieces?
Kapoor: When I'm buying, I try to reach out to the artist. I DM them and say, "Hey, I'm trying to acquire a work for my personal collection. I would love to have a quick chat with you, or I have a couple of questions I can send over." It gives me a personal connection with the artwork that I'm buying.
CULTURED: What factors do you consider when expanding your collection?
Kapoor: Artwork radiates energy and frequency. If it's going to be up in your house, your warehouse, or any of your properties, you have to be conscious about that. I'm Indian, so that culture is very close to my heart. My mom, grandfather, and uncle have been collecting M. F. Husain's artworks since I was a kid. Same with Paresh Maity, I've known him my entire life. Also, a lot of my personal collection is work by women from different countries. I got involved when I was 12 with an orphanage in India that my family was supporting, and later on I started another organization that helps orphaned girls.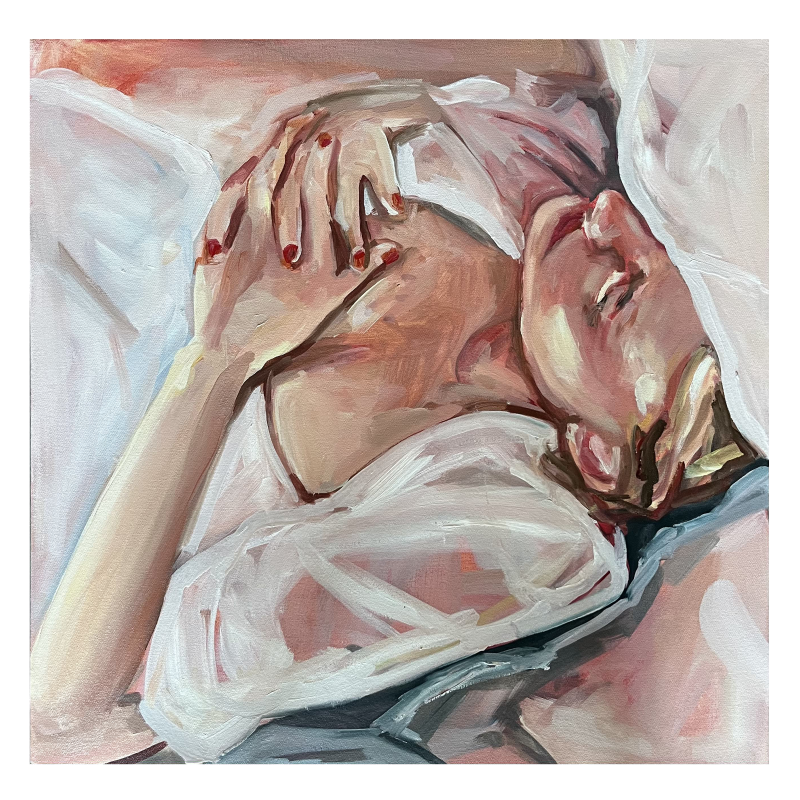 CULTURED: Which of the works in your collection provokes the most conversation from your visitors?
Kapoor: I rotate my artwork every four months. A lot of my friends have commented that every time they come to my house or I throw a party, it's a completely different home. Often, the works on display reflect my mood and energy. If I'm stressed and working very hard, the works in my house have darker tones. I think two artworks that have specifically sparked conversations, one is an Avery Wheless titled we work while we sleep, 2022. The title resonates with me because I'm literally working 24/7—if you text me at 4:30 in the morning, you will get a response within an hour. Another one is Lindsay Dawn's Blurred Lines. It's a painting of a full-bodied woman with writing on it that says "Blurred lines and confined minds." It's neon and red and lime green, super loud. It catches a lot of people's attention when they're sitting in my living room.
CULTURED: What is your process for discovering new artists?
Kapoor: Often, galleries send me emerging artists that they think I would like. Other times, I come across something online. Victor Ubah was one of those artists that I found on Instagram, and now I have a work of his in London and a new one commissioned. I have purchased from Frieze and Basel in the past, but I don't usually purchase from art fairs. I like to talk to the artist before.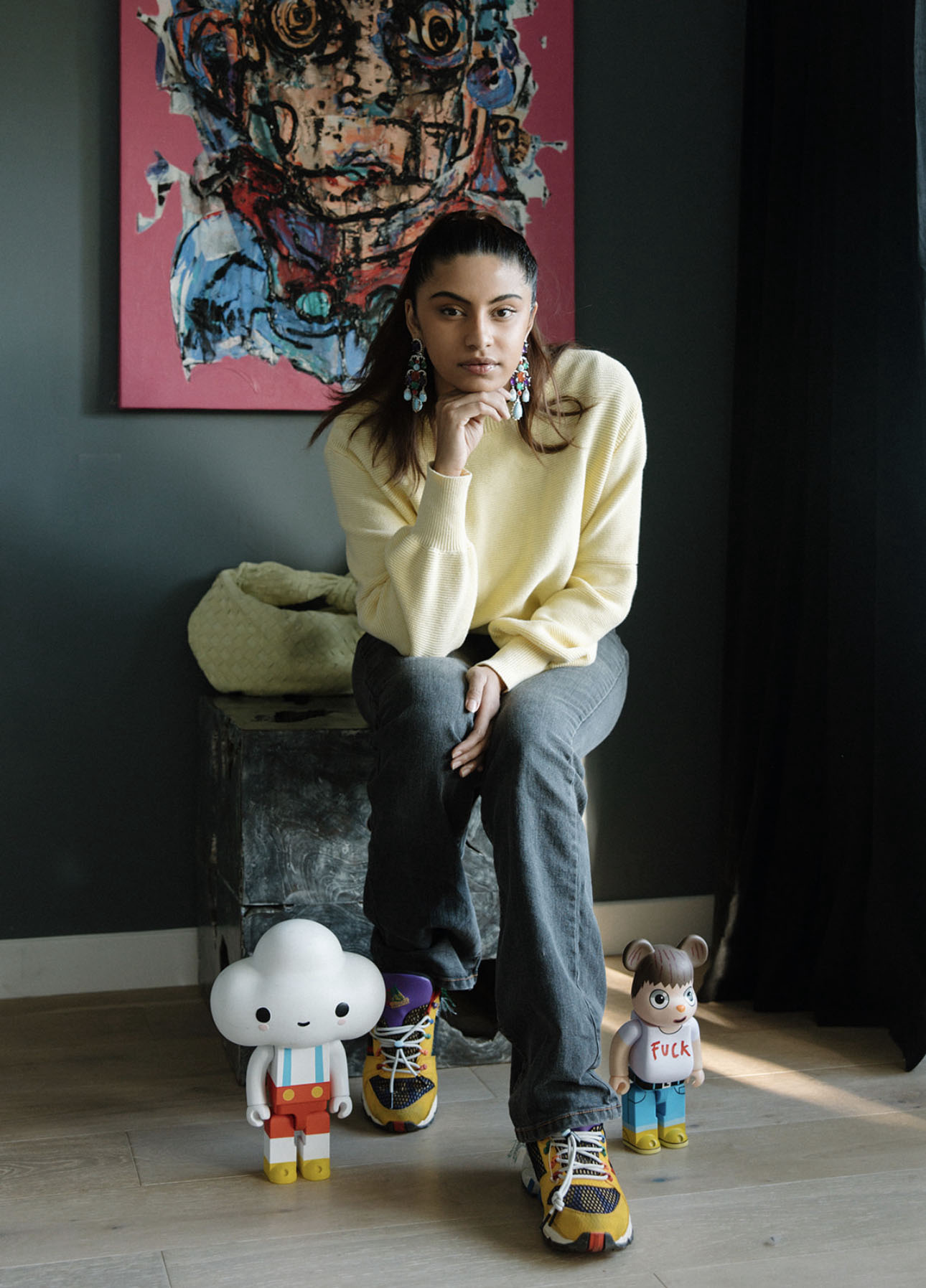 CULTURED: What was the most challenging piece in your personal collection to acquire?
Kapoor: [Laughs] Honestly, I think all pieces are challenging to acquire. If it's a good artwork, there will be several collectors in line to purchase it. Plus, from an artist's point of view, it's their baby. In my experience, it's more about how to convince an artist to give me their work, rather than the opposite.
CULTURED: Is there one piece that got away, or that you still think about?
Kapoor: There are several pieces that I wish that I had acquired. One was a work by Salman Toor. I wasn't fast enough to respond and acquire it, and I still think about it. It was a portrait of Shah Rukh Khan and Kajol, two Indian actors from the movies that I grew up on. I wish I'd closed it right then and there. I'm still gutted about that one.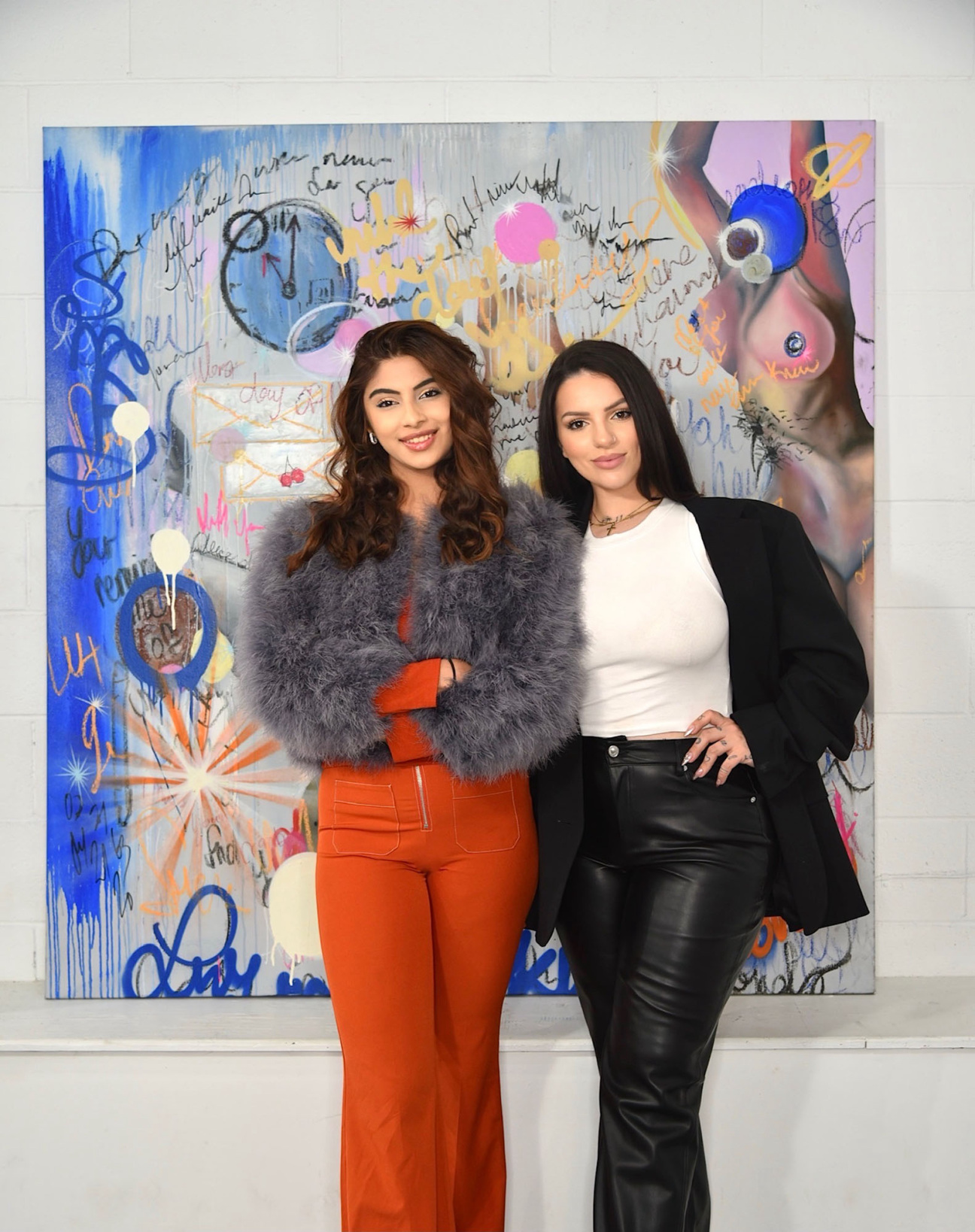 CULTURED: What can visitors expect from your new exhibition?
Kapoor: I'm curating this show of Lindsay Dawn's work in Miami with one of my closest friends, Alexa Zangrillo. We've staged it by the water, with the paintings on easels. The artworks are inspired by erotic magazines from the '60s, '70s, and '80s, blending a sensibility of the past with the mindset of today. She took a six month hiatus from painting last year because she was struggling, and couldn't get herself to paint. She came out of that funk, and psilocybin was a big part of that. Now, she paints on psilocybin, and translates her mental health experiences onto the canvases with it. You see a lot of that in the show and in her work.