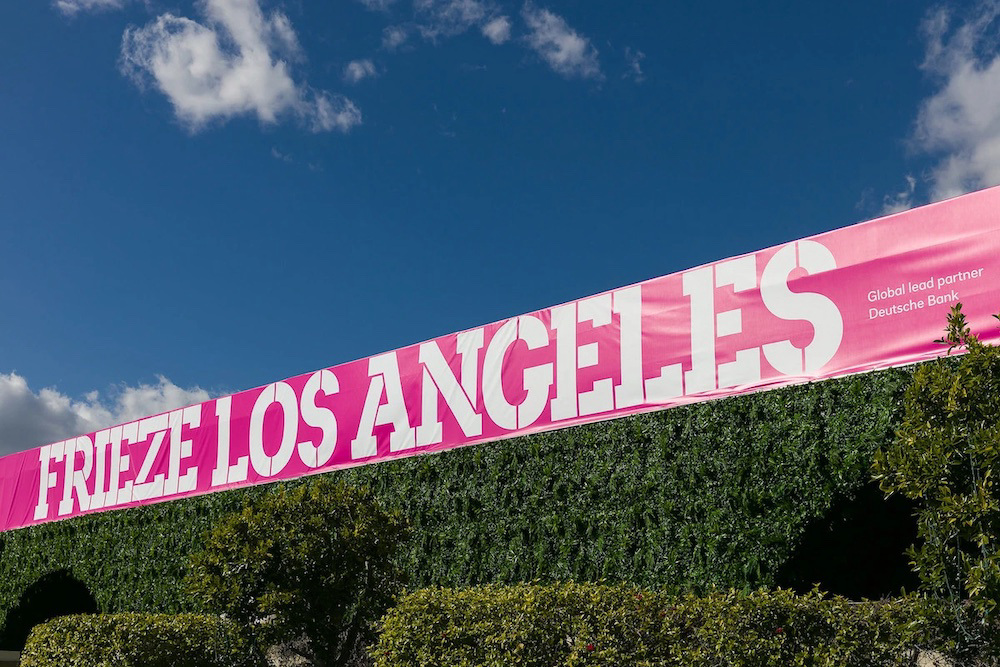 Today, at the historic Thomas Mann House in Pacific Palisades, Frieze gathered members of the press to announce the highlights of its upcoming 2023 program. Christine Messineo, director of Frieze Americas, introduced the fair's largest Los Angeles gallery slate to date. Over 120 galleries, representing 22 countries, will present works at Frieze's new Santa Monica Airport location—the sprawling main building (East Site), Barker Hangar (West Site), and public grounds. Notable booths include Nicola Vassell's presentation of photographs by Ming Smith, new and signature works by artist Peter Shire with Jeffrey Deitch, a solo presentation of paintings and sculptures by Chase Hall with David Kordansky, a presentation of paintings and drawings by Bob Thompson with Michael Rosenfeld, and countless others. The fair's Focus section, highlighting 19 galleries in operation for 12 years or less, will include STARS's presentation of photographs by Clifford Prince King, works by Bony Ramirez and Melissa Joseph with Regular Normal, and photographs by Mark McKnight with Paul Soto.
Casey Fremont, executive director of Art Production Fund, announced the non-profit's highly-anticipated slate of public works spotlighting unsung facets of LA's urban fabric. At the airport's entrance, visitors will encounter Chris Burden's towering 2011 sculpture 40 Foot Stepped Skyscraper, presented in partnership with Gagosian. A fabric monument by Basil Kincaid, nestled on the grounds, will highlight the airport's place in aviation history. In the gardens, an assemblage of rocks will serve as the backdrop for Jennifer West's video installation Hologram Phantom Limbs, 2022. In addition to these publicly accessible works, a series of performances will take place throughout the fair on the airport's soccer field.
Finally, Jay Ezra Nayssan, founder of the Los Angeles gallery Del Vaz Projects, introduced the fair's offsite program. Formerly the home of the German expat and novelist, the Thomas Mann House will become one of five historic West Los Angeles locations to host dedicated installations and performances curated by Nayssan, himself a native Angeleno. Nicola L's "Nous Voulons Entendre," a series of "wearable banners" and functional sculptures, will be on view at the Mann House, highlighting the role of artmaking in social change. At Villa Aurora, Kelly Akashi presents "Heirloom," a commentary on the artist's family history in Japanese internment camps. Del Vaz Projects, situated in Nayssan's own residence—which also happens to be Shirley Temple's childhood home—will welcome the artist Julie Becker back to LA with "(W)hole," an exhibition that unpacks the hypocrisies embedded in Hollywood history. A series of video works by Tony Cokes, titled "So To Speak," at Beyond Baroque, interrogate the real estate industry's role in mythmaking and gentrification. A one-off performance of John Cage's "Speech," last performed in 2020 by a cast including Hamza Walker and Isabelle Albuquerque, will take place at the Santa Monica Pier's historic merry-go-round. As a whole, these presentations will challenge the notion of Los Angeles as a star-studded paradise and a haven to newcomers, while embracing the city's storied history as a cultural capital of the U.S.