For his exhibition "Pedro Reyes. Return to Sender" at Museum Tinguely in Basel, Switzerland, Mexican artist, educator, and activist Pedro Reyes brings to bear his singular approach to creating functional sculptures by repurposing the fragmented remains of weapons of war––in this case, guns. In this repurposing, instruments of death are transformed into instruments of peace and reconciliation. Working within the context of the ongoing Mexican drug war, Reyes reflects on the vast accumulation of weaponry that has coincided with drug-related violence. And, he does so from an explicitly Marxist-humanist position grounded in an awareness of how the social is bound up in the material. As a 2016 visiting lecturer at MIT's Art, Culture and Technology program, Reyes and his partner, fashion designer and social entrepreneur Carla Fernández, co-taught the course "The Reverse Engineering of Warfare: Challenging Techno-optimism and Reimagining the Defense Sector (an Opera for the End of Times)." As such, Reyes's work is often both pedagogical and theoretically rigorous, and draws on his personal perception of drug-related conflict as a Mexico City native.
In the past, Reyes has staged elaborate and thoughtful social interventions, variously involving aspects of theater and often in concert with educational and governmental organizations. For Palas por Pistolas (2008)––a program supported by the Art in Embassies program of the U.S. State Department––he gathered 1,527 weapons, 40% of which were of a high-powered military grade. As his website reports: "These weapons were taken to a military zone [where] they were crushed by a steamroller in a public act." After being crushed, the weapons were melted and turned into 1,527 shovels. Since then, the shovels have been used to plant trees at various forums in successive acts of public reconciliation. In a related work, Disarm, 2012, Reyes repurposed 6,700 weapons seized by police in Ciudad Juárez in order to produce a collection of musical instruments that could be played by musicians, often his friends. He has gone on to create a thematic series using the same methods, such as Disarm (Mechanized) I, 2012-13, which automates the percussive act of music making through an array of eight separate instruments that form a kind of robotic band.
For this exhibition, the second of the two existing versions of Disarm (Mechanized) II, 2014, is in dialogue with Swiss artist Jean Tinguely's permanent installation Mengele-Dance of Death, 1986, which repurposes materials from a barn destroyed by a fire near Tinguely's home. For the entirely new body of work Disarm (Music Boxes), 2020, Reyes acquired gun barrels directly from the manufacturer which were "destroyed in order to create resonating bodies." Using rotating hand-cranks, the boxes churn out well-known works of music from the respective manufacturer's country of origin. One music box made with repurposed "Glock pistol parts" plays a tinny Mozart tune. In another, "Beretta barrels" play Vivaldi. Though the boxes emit precious metallic tones, there is an eerie awareness of the violence bound up in these expressive machines. It is this high contrast, between beauty and brutality, that makes these works so powerful.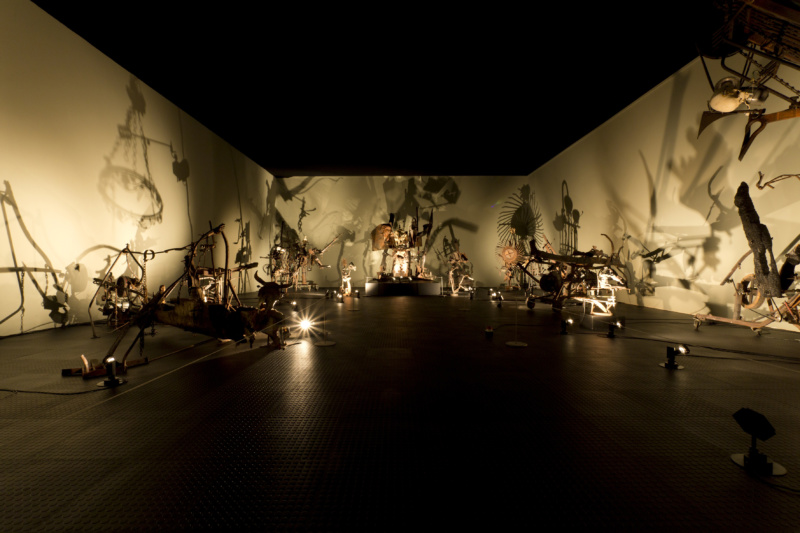 But the allusions to violence Reyes employs are not cheap nor aestheticized. Rather, the artist engages in acts of transubstantiation. He isn't dealing directly with themes of Catholic religiosity, but his process has a similar structure. The machines sublimate the raw physical terror of weapons of war and, in turn, transform instruments of death into vessels of musical transcendence. In the context of ongoing drug-related conflict in Mexico, this work is as cathartic and critical as it is charming and sublime. As Reyes himself believes, "the physical act is always accompanied by an idealistic one and appeals to the spiritual dimension of this quasi-alchemical operation towards the good." Beyond this transcendent aspect of the work, Reyes's practice is also grounded in a desire to promote practices of "up-cycling": the repurposing of discarded materials for new productive uses in a wasteful age––a practice more urgent now than ever. In sum, Reyes's work reconciles the material and the metaphysical and, in affect and effect, is as idealistic and sculptural as it is educational and purposeful.
"Pedro Reyes. Return to Sender" is on view at the Museum Tinguely in Basel, Switzerland through November 15, 2020.